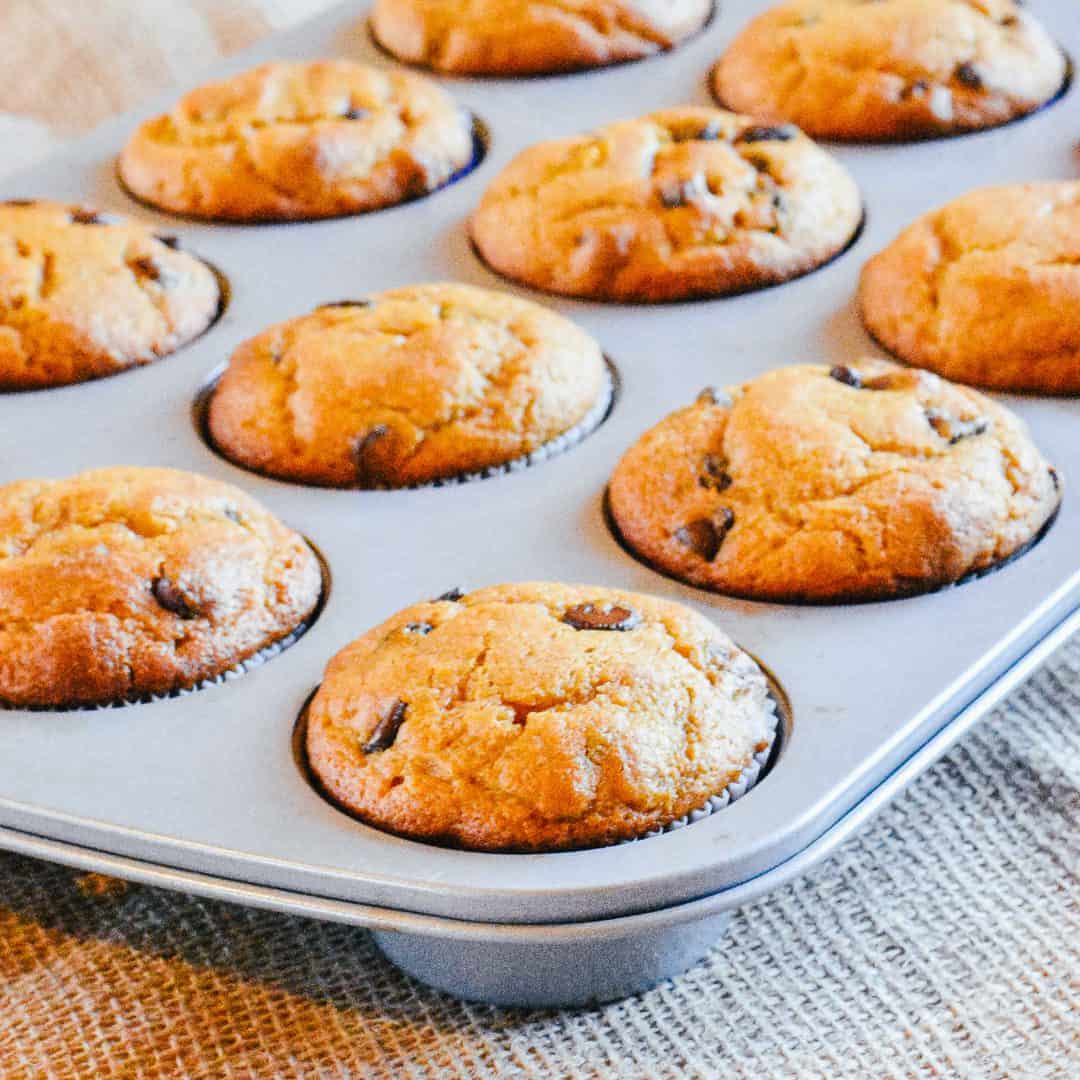 If you're going to bake one thing this fall, it should be this pumpkin chocolate chip muffins recipe!
It's the best pumpkin muffins you've ever had, plus chocolate chips…what could be better?! 🙂
I've always baked pumpkin muffins in the fall, but this is the first time I've added chocolate chips. I was skeptical at first. But after one bite these became my new go-to favorite fall treat.
And they disappeared quicker than a blink in our house. It's a good thing this recipe makes 24 muffins.
This pumpkin chocolate chip muffins recipe is a tasty balance of pumpkin and chocolate. It doesn't over-do it on the pumpkin spices so that both elements can shine! Here's the recipe:
Time to cook: 
Prep time: 10 minutes
Cook time: 20 minutes
Makes: 24 muffins
Ingredients: 
4 eggs
2 cups white sugar
1 cup vegetable oil
1 (15 oz) can of pumpkin
3 cups flour
2 teaspoons baking powder
2 teaspoons baking soda
2.5 cups semisweet chocolate chips
1 teaspoon ground cinnamon
1/4 teaspoon nutmeg
1/4 teaspoon ginger
1 teaspoon salt
Instructions: 
1. Pre-heat oven to 400 degrees.
2. Grease two 12-count muffin tins or add paper cups.
3. In a large bowl, beat the eggs. Mix in the sugar, pumpkin, and vegetable oil.
4. In a medium bowl, mix: flour, baking soda, baking powder, salt, cinnamon, nutmeg, and ginger.
5. Add the flour mixture to your egg mixture.
6. Fold in the chocolate chips.
7. Spoon into the muffin pans.
8. Bake for 15 – 20 minutes, or until a toothpick inserted into the middle of a cupcake comes out clean. The tops will be golden brown.
Enjoy!! Let us know how your muffins taste in the comments below!