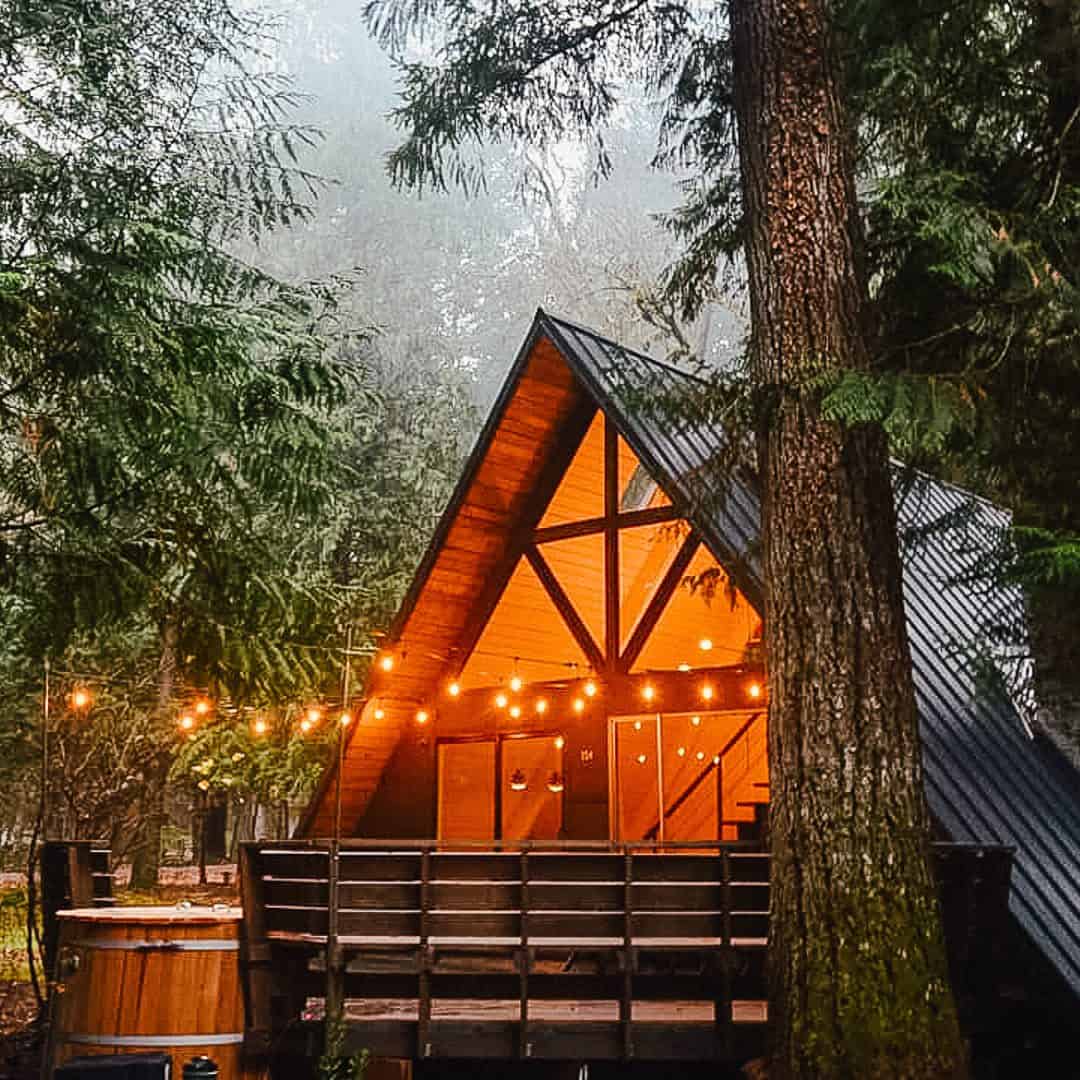 Little Owl Cabin is an A-Frame located in Packwood, WA. It's beloved for its forest surroundings, magical atmosphere, and picturesque cedar soaking tub (photo below!).
The story of Little Owl is nothing short of inspiring: when Little Owl came on the market, the owner Ryan had just quit his job to learn a new career. But once Little Owl showed signs of taking off, he went full-time managing the cabin business.
Little Owl experienced quick success (90% occupancy within a couple months…) and Ryan started to expand his cabin operations. He bought and renovated a second, third, and now fourth cabin.
In this featured cabin post you'll read about:
How the owners found their ideal cabin after years of looking
How a YouTube crash course in carpentry & electrical & plumbing led to the first renovations of Little Owl
Some of the best moments from Little Owl & the owner's 3 additional new cabins
Keep reading to discover how the success of Little Owl came to be in an interview with owner Ryan:
Tell us a little bit about your cabin!
We actually have four cabins. Three are currently available on Airbnb, and the fourth will be coming online later this month. All are located in Packwood, Washington, just a few miles from Mt. Rainier National Park. We have some of the most breathtaking hiking anywhere on the West Coast, and there's a great ski mountain just 20 minutes away. Washington wine country is just 1.5 hours away on the sunny and warm side of the Cascade Range.
Three of our cabins are A-frames.We love their tall ceilings and simple, open floorplans. There's just something magical in that simple shape that radiates warmth and awe.
View this post on Instagram
We also have an old Park Service cabin that was built in the 1930s in Mt. Rainier National Park, then moved to Packwood in the 1960s. It's tiny, very old, and we've tried to honor the period in which it was built in our choice of colors, materials and decor. It's a total time capsule.
View this post on Instagram
What made you want to buy a cabin?
We had been looking for a cabin for several years, and stayed in several vacation rentals near National Parks and ski resorts. Most of those places were great, but we always left with a long list of things we'd do differently. I wanted to change the art, toss the pillows, paint the walls, or just move them. In general, they were all just a little too chintzy and overdecorated, with too many Grandma vibes. I just felt certain that we could deliver a better product and experience, so when we found Little Owl in 2015, we pulled the trigger right away.
View this post on Instagram
What was the buying process like for Little Owl? How did you decide to also buy cabins 2, 3, 4?
We found the listing for Little Owl about an hour after it went live. I was instantly ecstatic. I woke up my wife at about midnight, showed her the listing, and told her we'd be driving 2.5 hours first thing in the morning to go look. I felt certain that it wouldn't be on the market past the weekend. It was the right size; it was enveloped in mature trees, backed up to National Forest, had a stream out back, and all the creature comforts like plumbing, electrical and septic.
We were the first to look at it, and we saw brokers lining up out front to show their customers, so we made a full-price offer on the spot. It needed quite a bit of work, but the fundamentals were all too solid to pass it up.
When the renovations were finally complete, we put it on Airbnb and estimated that we might break even each month with the rental income. Within a couple of months, we were at 90% occupancy, and usually breaking even by the first week. I had quit my old job to learn a new career before we bought Little Owl, but I put that all on pause after we realized there was a real business in cabins and Airbnb. A year later, we bought Ohanapecosh, then Chateau Marmot. We're on our fourth cabin now (The Pine Marten), which I think will probably be our last.
View this post on Instagram
What are some favorite memories that you have of the cabin?
Cabins are just the best places to host friends. We've discovered some amazing hikes from our back yard, had lots of boozy conversations around the fire pit, all of which are unforgettable. Building the deck on the back of Little Owl was my first real renovation project, and that was intensely satisfying. Summer weather here is perfectly sunny and mild nearly every day, so just being outside, building something, and pushing my professional boundaries that summer was pretty special.
Has the cabin required much maintenance or renovations?
Yeah, just a little. Nearly everything, actually, and finding people to do the work in an area this remote was a lot harder than we assumed when we bought. After placing countless calls to contractors, and hearing back from none, I decided to take a YouTube crash course in basic carpentry, electrical and plumbing. Some of my maiden efforts were pretty sad, and I'm still a little embarrassed at some of the work I did at Little Owl, but it's all holding up pretty well. I never imagined that I had any aptitude for home renovations, and I'm hardly an expert, but it's a lot more fun and rewarding that I would've guessed. There's a lot of satisfaction in knowing that I can usually design and build exactly what I want, and know that it's built well.
Your cabin is in an incredible location near Mt. Rainer National Park! What are some of the favorite ways to spend time while there?
The hiking here is unbeatable. We're surrounded by three inactive volcanoes–Mt. Rainier, Mt. Adams and Mt. St. Helens. We have Mt. Rainier National Park to the north, and National Forest on the other three sides. Below the tree line, we have waterfalls, streams, lakes, and enormous centuries-old trees. Above the tree line, we have breathtaking views of the Cascade Range, and wildflowers for miles in the summertime. In the winter, we're just 20 minutes from a great little locals ski mountain (White Pass), which also has some spectacular alpine trails for snowshoeing and cross-country skiing. Outside of maybe November and April (wet months), we don't really have a low season.
View this post on Instagram
How can readers stay at Little Owl Cabin?
Everything's here: littleowlcabin.com.
About Little Owl Cabin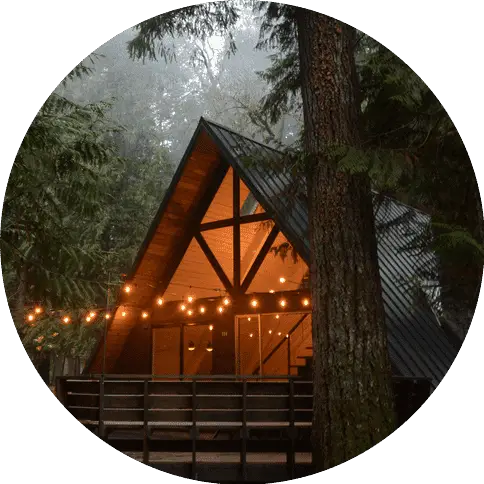 Little Owl Cabin is an A-Frame cabin located in Packwood, Washington. Just miles from Mount Rainier National Park, Little Owl offers the best of the PNW.
After the success of Little Owl, owner Ryan went on to buy & renovate 3 more cabins: Chateau Marmot, Ohanapecosh, and Pine Marten. All are available on Airbnb, with the exception of Pine Marten, which will be added soon!
To follow along with the stories of these incredible cabins (and see the MOST MAGICAL photos) check out @littleowlcabin on Instagram.
For more information and to book a stay, see their website: LittleOwlCabin.com.