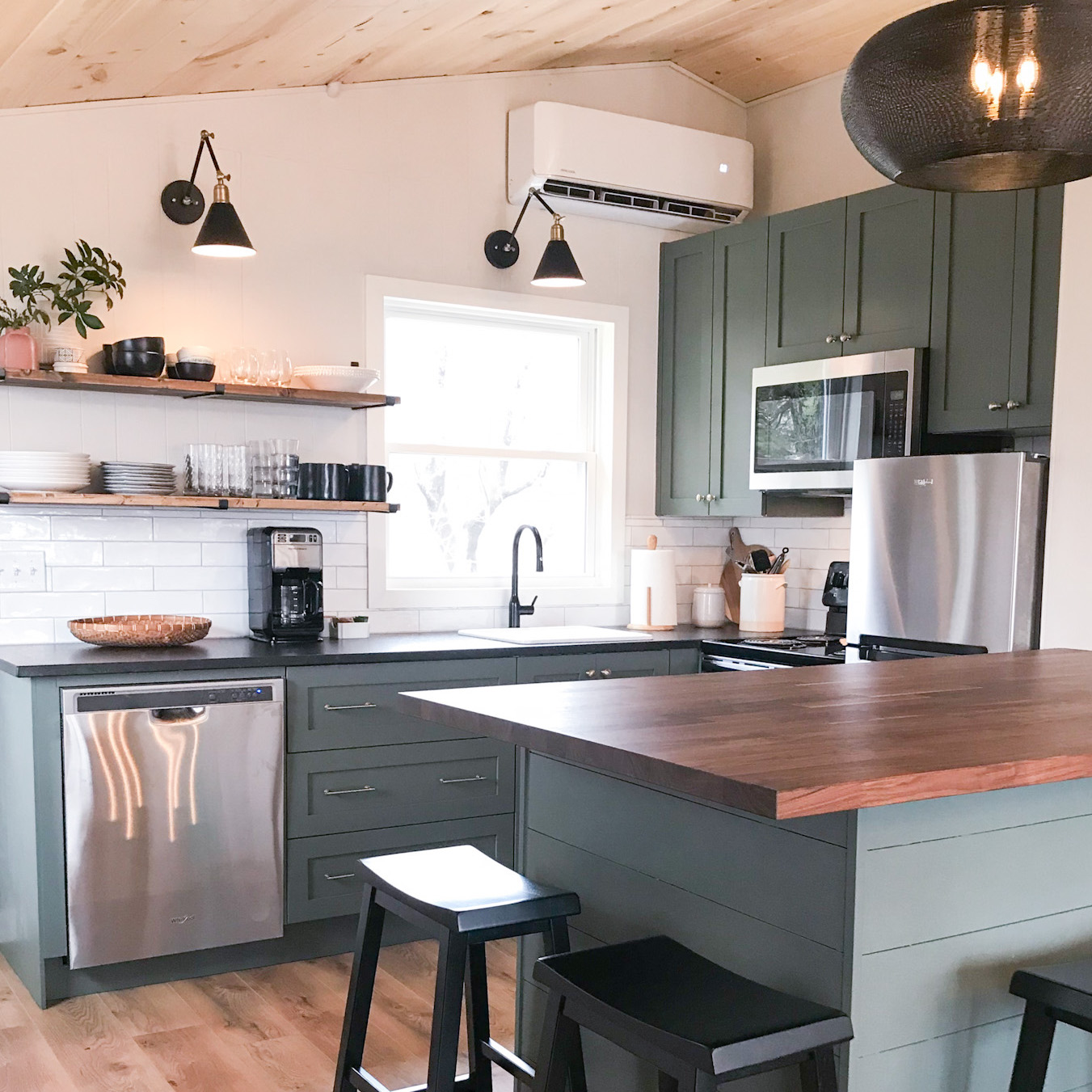 The Hillside House is a stunningly renovated cabin in the Blue Ridge Mountains of North Carolina. Keep reading to discover how the owners Lauren & Cameron transformed this cabin into a picture-perfect space for guests.
And for potential cabin owners: Lauren gives invaluable tips + lessons that they learned in the process of buying and renovating their cabin. You'll want to take notes! 🙂
Tell us a little bit about your cabin!
Our cabin was originally built in the 1960's, and is one of 8 on our street that had been built at the same time – we've been told these were the cabins the contractors lived in while building much of the Seven Devils community that our cabin is in. They were originally only meant to be 'summer cabins' but thankfully they were winterized a while back.
The cabin is compact 600 square feet, but the pitched ceiling makes it feel so much larger and more open – a lot of people don't believe the square footage and we've definitely found ourselves double-checking it before!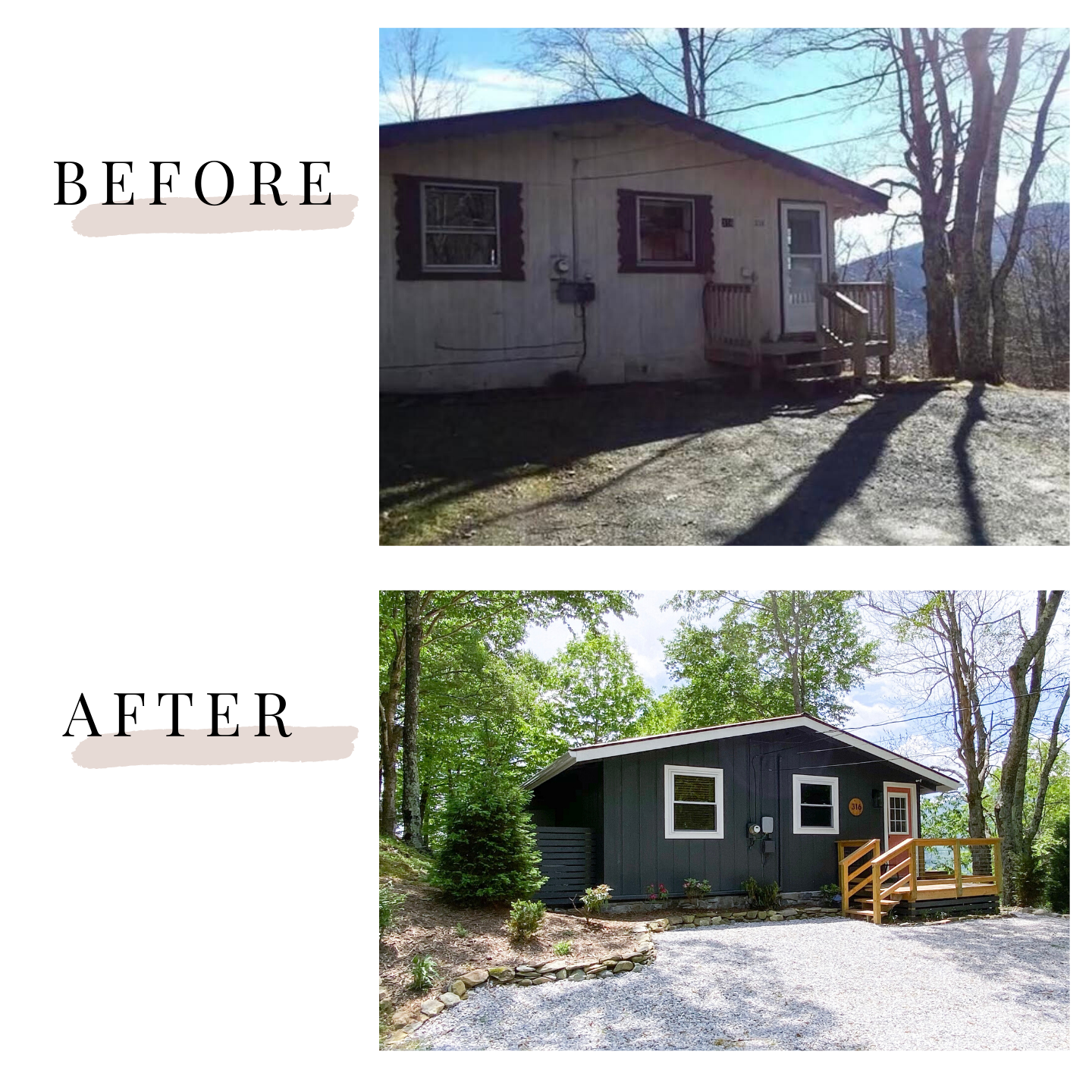 What's unique about our cabin, is that we have a perfectly framed view of Grandfather Mountain (one of the most recognizable mountains in the Blue Ridge and believed to be one of the oldest mountains in the world by geologists), as well as a large flat yard which is not common in our area – it's very rare to come across a view like ours without a hefty price tag attached!
The NC High Country, as our area is called, has a very relaxed day to day pace and is home to endless activities outdoors such hiking, cycling and mountain biking, trout and fly fishing, skiing and snow tubing during the winter months, and many wonderful restaurants and breweries.
What made you want to buy a cabin?
It's something we had always talked about wanting to do someday – we'd travel and stay in a rental, and would look around and dream up what we'd do differently: repaint the walls, arrange the furniture differently, get rid of the clutter, improve the outdoor spaces.
It was fun to visualize the improvements. We just weren't seeing anything in the areas we travel to frequently that weren't decked out floor to ceiling in plaid, pine trees, or bears. You don't have to follow the 'cabin theme' in order to create a cabin experience!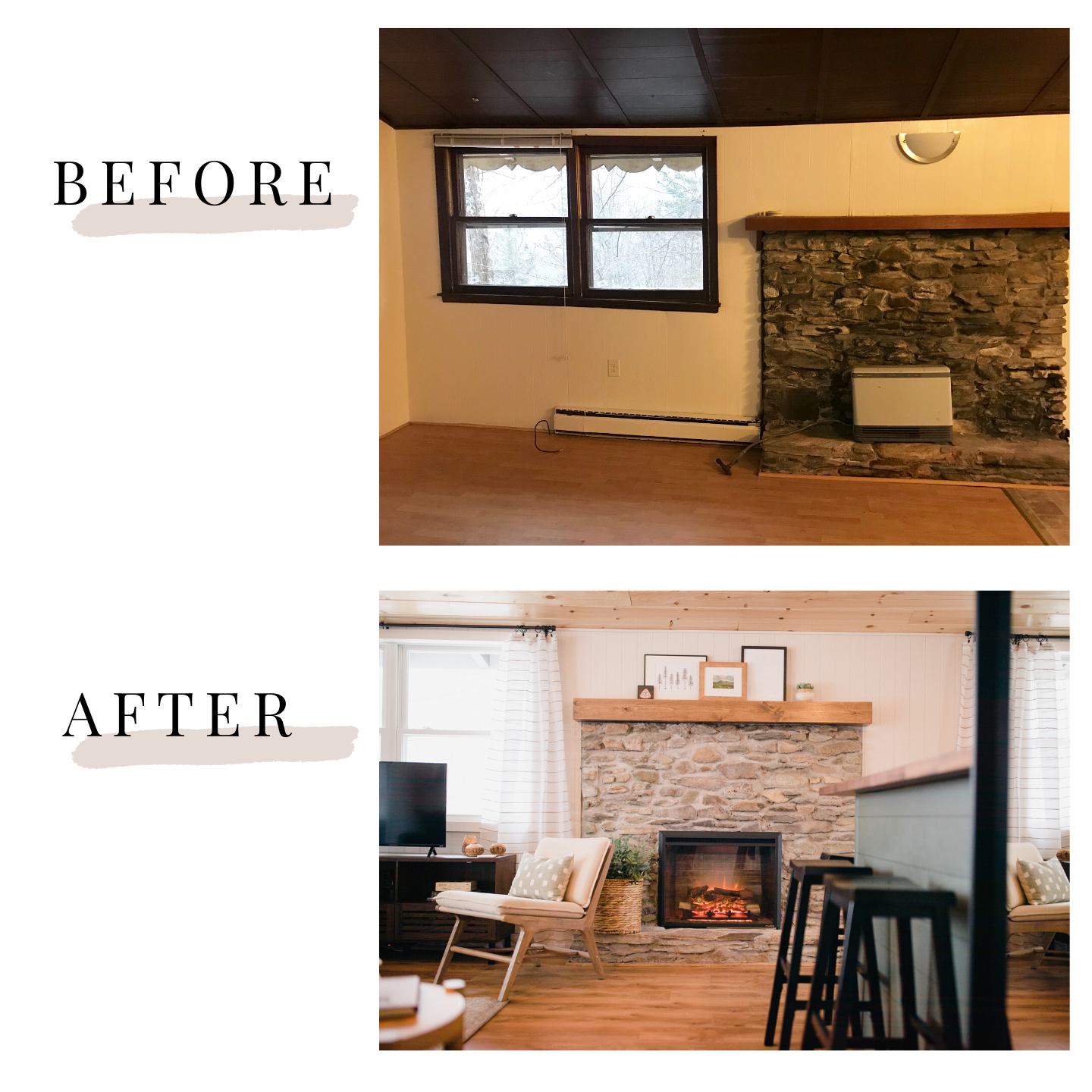 We felt like we could fill a gap for those who were seeking out the same type of getaway we were always searching for ourselves.
We looked casually for a while, but nothing seemed special enough or would have been worth the amount of work we'd have to put into it. The budget for purchasing and renovating the cabin was relatively small – so the options were not endless. Finally we saw this forgotten beige looking cabin and the view, and knew right away that this was it.
What was making the renovations to your cabin like? Do you have any lessons learned or takeaways that you can share?
It had ups and downs! Seeing the cabin take shape, and having it turn out just as you imagined if not better was such a satisfying feeling, especially when you are doing all the work yourselves! We live about 2.5 hours from our cabin, so all the work was done over the course of nearly 11 months of weekends.
When you are renovating to list a cabin, the pressure is on to get it listed and ready for guests which really helps to keep the momentum going. We were working full time at our jobs in Charlotte, and then coming home at night and pricing things out online or planning out the projects for the next weekend.
There was such a sense of accomplishment at the end of each weekend as things started to really take shape – the back deck and kitchen are two of our favorite spaces that we worked on that kept us excited.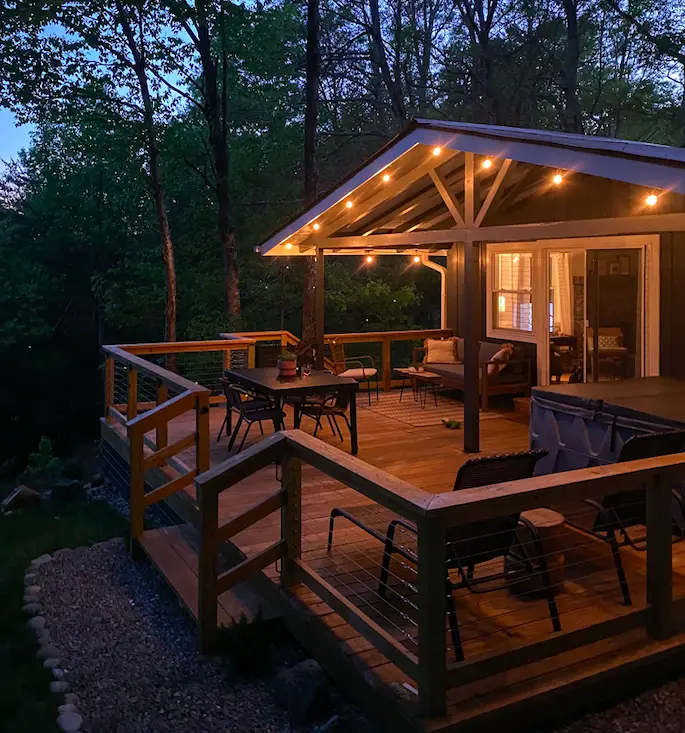 While Cameron and I are both very handy and capable of doing a lot of things – we could never have done this without the help and advice from his dad. Cameron's dad has a lot of remodeling experience so he was able to guide us or offer advice when needed, and he is also an electrician which saved us a lot of money. We can never thank our families enough for their help, excitement, and encouragement. A lot of people thought we were crazy early on when we showed them those listing photos of our 'cute new cabin!
As far as lessons learned and takeaways – there are so many. First of all, be prepared to lose a lot of your free time! Have a game plan for each weekend or month, and compare pricing as much as possible. Don't be afraid to ask for bulk discounts or any discounts in general, especially with some online vendors! We were able to save a lot of money by waiting for sales, or already having items selected so that we could make sure to get them when the pricing was low.
What was the process like to get your cabin ready for listing on AirBnB?
Long! We initially thought we were in for a 6 month renovation, but wow we were wrong! Once we set more realistic expectations for ourselves (and it wasn't as much as a construction zone) we were able to get a good feel of things when living there on the weekends.
We thought about what we would need in order for someone to have the 'perfect' stay and checked the list off each weekend. Since we had family with us most weekends, we were able to see what was needed and what was not needed for 4 people to comfortably stay in a 600 sq foot cabin.
Everything needed to be efficient, have a purpose, and be the right scale! We also test drove it with friends a few times, which eased our minds before our first Airbnb guests arrived, and was a fun reward for us and all our hard work.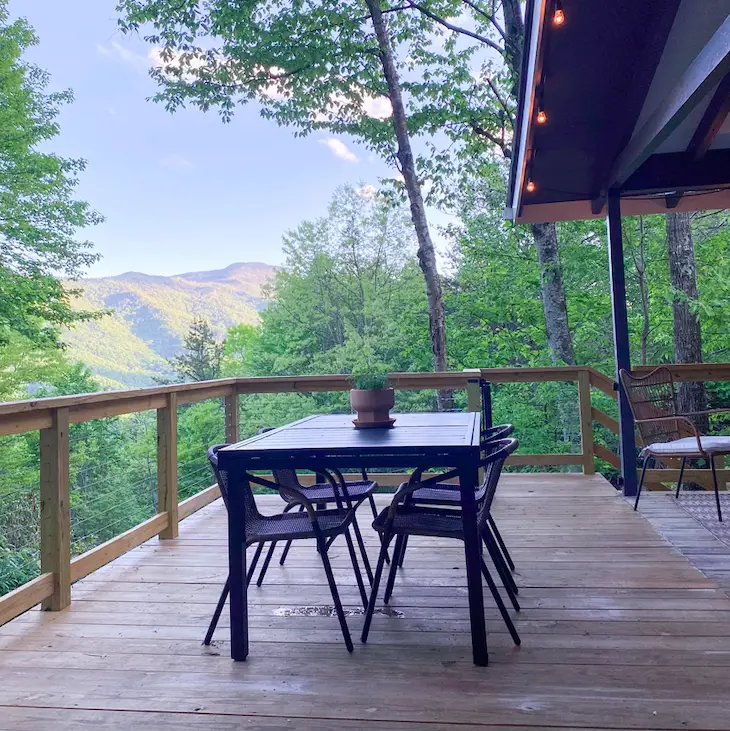 What are some favorite memories that you have of the cabin?
There are so many. Because we were there almost a full year, we saw all 4 seasons and the weather and landscape changes dramatically – by the hour some days – so that was really cool to watch happen throughout the year.
The weekend we finished the ceiling was great – we were able to visualize how the interior was going to look and it was just so exciting to finally see it taking shape. That was the first big project that got completed fully, we left the pine boards natural and it makes the cabin feel so bright and airy.
We spent so many nights sitting around the campfire having drinks and re-capping the day, while watching the sunset over Grandfather Mountain or sitting under the Milky Way and watching for shooting stars. It was always a perfect way to end a long day of work.
Anytime, still to this day, that we bring friends or family who haven't seen the cabin is such a fun moment. We love sharing this place with people we love and are looking forward to the many weekend trips for girls weekends spent drinking wine and laughing, or guys weekends spent mountain biking.
Where do you get inspiration for interiors/design/decor?
I have a background in interior design and work in a residential design firm currently, so this was a dream project for me. We knew we wanted to keep the interior fairly neutral with wood tones, greens, adding in some high contrast, and there is a lot of texture between the ceiling and the wood paneled walls.
Sticking to a strict color variation palette, and being limited on space, it really narrowed down what we ended up bringing in and using. It also made for easy decision making when I'd see something that I liked. We strived for something that is comfortable and inviting while keeping everything fairly minimal and quiet.
One thing we are complimented on by a lot of our guests is the different lighting in the house – we've put 3-way lightbulbs in nearly every lamp, and the overhead lights and outdoor string lights are all on dimmer switches.
This goes so far in setting the mood when you just want to unwind and relax. We were inspired by the surrounding area for a lot of the art in the house – we have a vintage ski patch from when Seven Devils was a ski resort town, and a topographical map of Grandfather Mountain done by a North Carolina artist, just to name a few. Mainly, we wanted it to feel like a cabin without screaming 'cabin' in your face!
A note we'd like to add about sharing our cabin: As rewarding as seeing the final finished cabin is, it's nothing compared to the joy of hosting!
We cannot imagine having this cabin and not sharing it with others. We've loved interacting with and getting to know our guests, and it's such a wonderful feeling knowing they have chosen to stay with us and that they are creating memories someplace that is so special to us.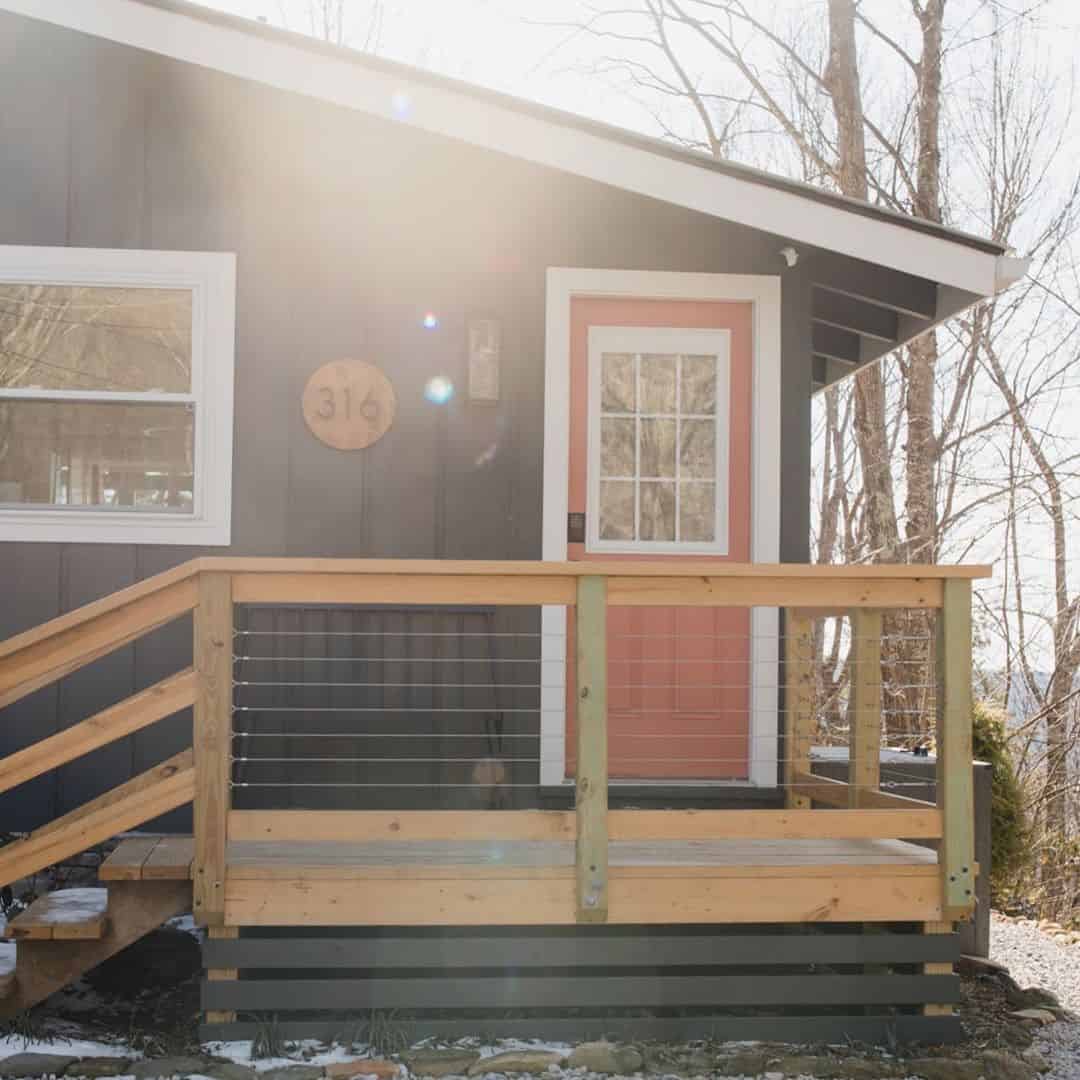 ABOUT THE HILLSIDE HOUSE & HOW TO BOOK YOUR STAY:
Book your stay here: www.airbnb.com/h/thehillsidehouse
For more photos of this GORGEOUS cabin follow along on Instagram: @the_hillside_house.
About The Location:
The location of our cabin is amazing – we are less than 5 minutes from the largest snow tubing park in the Southeast, minutes from the Blue Ridge Parkway where you can drive for miles and miles and access breathtaking views and countless hiking trails.
We are about 20 minutes each from the quaint mountain towns of Blowing Rock, Boone, and Banner Elk – all offering great dining, shopping, and art galleries. We are only about a 15 minute drive from Grandfather Mountain State Park where you can spend the day hiking and enjoying the mountain.