Your home is your castle. Whether that castle is a cabin, an apartment, or a normal-looking suburban house, you want your home to feel warm, welcome, and safe. There are plenty of ways to create a cozy cabin with throw pillows, neutral-toned blankets, and cups of tea. But there is a great way to hack into cozy-fying your cabin that looks amazing and adds a lovely flare of ambiance… lighting!
The lighting you use in your cabin is one of the defining factors of how cozy you can make your space feel. There are lots of tricks and tips to maximize the coziness of your cabin with temporary and permanent lighting fixtures. We have gathered the best of the best here for you to dive into and try out!  
Are you interested in tips on decorating your cabin? Check out my article Cabin Interior: 15 Ideas For Creating a Truly Unique Space.
Dim the Lights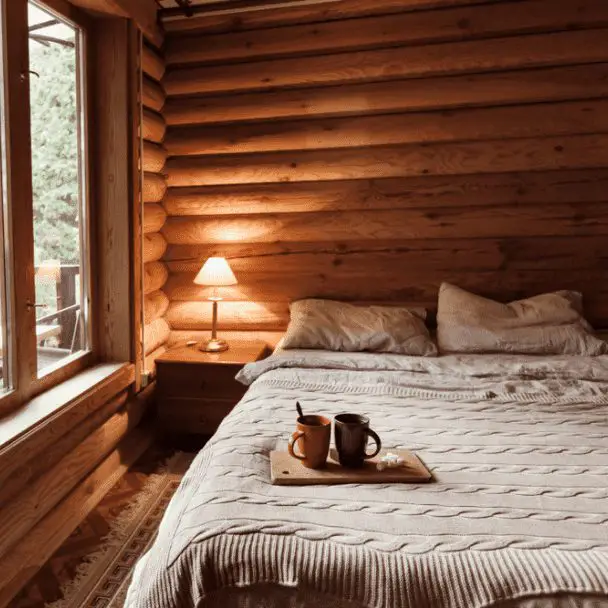 If you do not have a dimmer switch on your light switch panels, it may be time to upgrade! Dimming the lights when you want to invoke the coziness of your cabin is a perfect non-permanent solution.   This way, you still retain the functionality of having bright lights when you are cleaning, working, or cooking. But when you are relaxing, hosting, or in a quiet and peaceful mood, you can dim the main overhead lights to a more calm snuggly tone.  
When the overhead lights or the central light source in the room are dimmed but not entirely out, you can use accent lighting to help boost the atmosphere of the room! Find the Lutron toggle dimmer switches at this link!
Accent Lighting
Accent lighting is a vast and essential part of creating any mood in a space, especially if you are trying to create a cozy cabin. You can find pieces that complement the aesthetic of your home in brighter light but function as a beautiful component of the space when lights are dimmed or the sun goes down.
Think of things like pink salt lamps, stained glass candle holders, or fairy lights draped over the mantle! There are a ton of different accent lights you can play with.   The key is to find one of two accent lighting pieces that stand out in darker atmospheres. Those pieces will draw the eye in. Other smaller and less exciting pieces like tealight candles can add warm and flickering light to the rest of the space. Check out this Himalayan Pink Salt Lamp Stained Glass Candle Holder Fairy Lights – 20 Pack.
New Bulbs
If you do not have LED bulbs in your home, it is time to get some! LED bulbs are better in so many ways. First, they do not use as much energy as incandescent bulbs. So they can save you money on your electricity bill. You can also purchase LED bulbs with color temperature to make the space feel warmer and cozier without needing to go through a whole setup.  
Try getting LED bulbs that have a warm color temperature. For example, 3000K is sure to immediately make your cabin feel warm, cozy, and safe. However, make sure that you buy enough bulbs for your whole house, and all the bulbs are the same color temperature. Otherwise, you will tell the difference when you go from a warm color temperature room to a cooler one.  
Diffused and Layered Lighting
Layering your lighting is a great way to create functional light that feels inviting and cozy. Different lamps with different shades and brightnesses can create a lovely, overlapping, warm texture in the space.   You can achieve this by using a variety of other lighting fixtures in your space. Try glowing lamps like the salt lamp mentioned earlier, floor lamps, and light-diffusing lamp shades. Try including lamps with different shapes and shades to create soft shadows around the space. You can also have desk lamps or reading lights for a more functional light.  
Candles For Cabin Lighting
Candles have been a method of cozying up a room for centuries. They cast very soft shadows with flickering bursts of light that have entranced and soothed humanity since we first gathered around a fire. We grew, told stories, created art from the fires, and now we exist today in our own intricate and beautiful lives. What better way to create a cozy atmosphere than with candles? You can get candles in all shapes, scents, and sizes to fit around your cabin and space to make those comforting shadows. Play with candles in the corners at different heights to create fun reflections into the room as the light bounces out of the corner.  
Uplighting
A more permanent solution to creating a cozy cabin is to invest in uplighting. Uplighting light fixtures shine light directly up against the wall and ceiling of a home to distinguish between the upper and lower parts of the room.   This method is perfect for higher ceilings that tend to become dark and gloomy. Plus, uplight can create some beautiful shadows that can feel almost candle-like! Uplighting requires a lot more thought and money than our other solutions to creating a cozy cabin. But it is a solution that you can implement and not have to worry about maintaining.  
Canopy Cabin Lighting
Getting strings of lights and stringing them over the ceiling of a room is a great way to add a unique and cheap flare of coziness to your cabin. You can use strings of lights like the ones linked below to give your space a warm, cozy, and rustic feel.   Plus, these lights are often bright enough that you can turn them on and turn off the overhead lights to experience a lovely and peaceful moment in your cozy little cabin! Check out these