This featured cabin post is an in-depth interview with the owner of one of the MOST beautiful cabins that I've ever seen: Sweetwater Cabin.
Owner Cara has an eye for detail, a talent for getting projects done, and the space that she has created is incredibly stunning.
Keep reading for decor inspiration & valuable insights into the cabin buying, decorating, and renting (Airbnb) process!
Tell us a little bit about your cabin:
Sweetwater cabin was built roughly 15 years ago by a local family, we discovered her this Spring and fell in love immediately. I saw so much potential in the strong bones and love and care that had gone into her construction.
Her original owners are a family of plumbers, electricians, and all-around handymen and -women who poured their hearts into building her, and I'm reminded of that every time we're there.
Our neighbors told us they used to see the owner and his wife up on the roof themselves, thoughtfully placing each log and shingle. Especially nowadays, it's hard to find care in construction like that. We consider ourselves so lucky to have found her.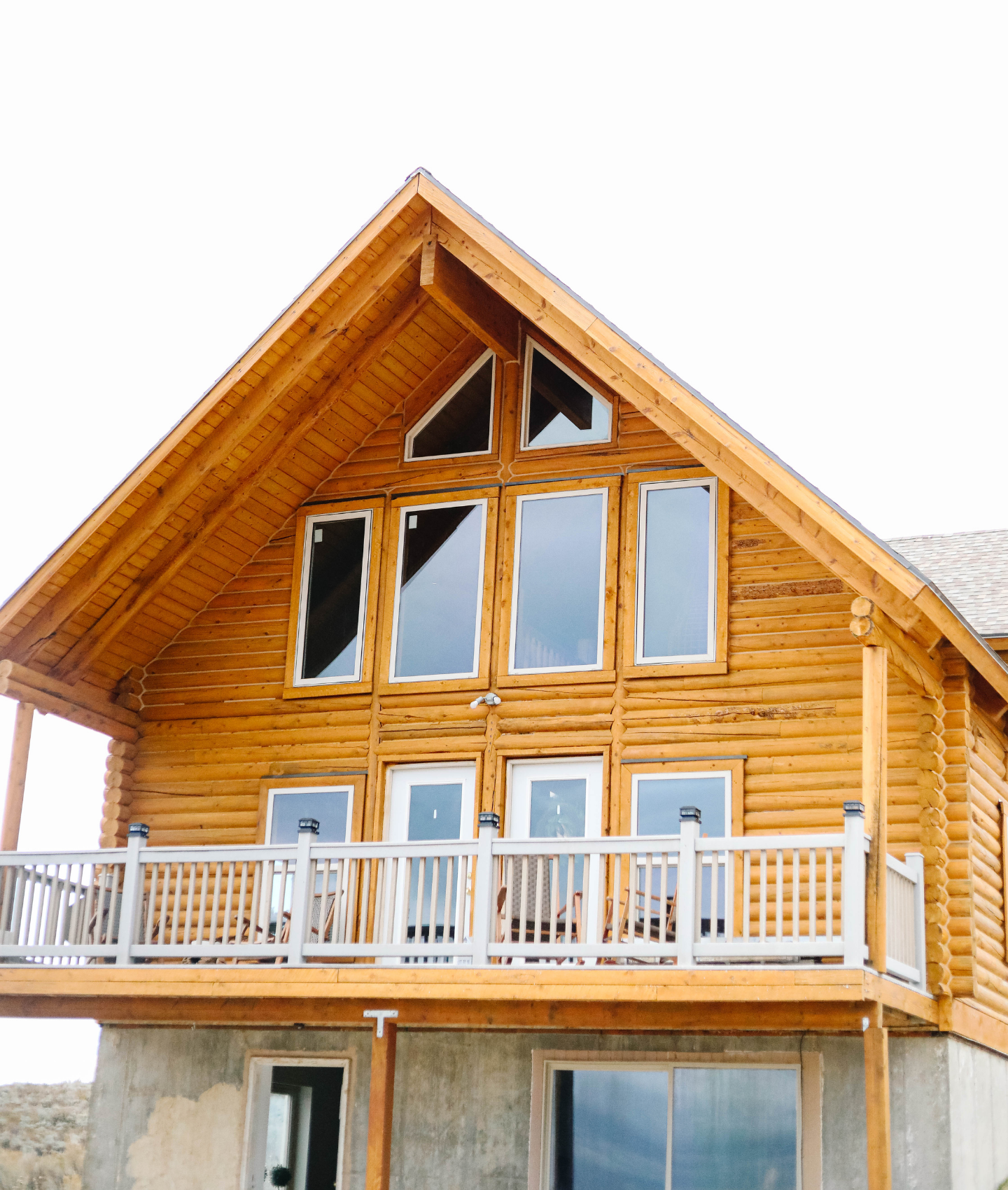 What made you want to buy a cabin & how did you find yours?
I'm originally from Philly, so I'm an ocean girl by nature. But living in Utah definitely gives you the itch for a cabin and the rustic life. And what started as a tingle became a full-out fever when quarantine hit.
Originally, I'd wanted a cabin in Montana, since my husband's from Bozeman and his parents still live there. I love Bozeman. But 7 hours every weekend was a bit much, even for remote working. My son's in school full time, so it just wasn't feasible.
So I reluctantly moved further south, and landed on Bear Lake, where the bright blue water lends itself to a Caribbean beachfront fantasy. When I saw the water first-hand, I knew this was the place.
We'd been looking for about a year, but couldn't buy until we'd sold our house back in Annapolis, MD, which we'd been renting for three years. That didn't stop me from scouring Zillow every day, though!
When our house back East finally went up on the market, I knew it was time. The stars aligned for us, and this Sweetwater abode became available around the same time. So, naturally, we jumped!
It had everything I could possibly want: Beautiful logwork, a cozy loft for the kids, a big deck we'll one day hope to transform into a full wrap-around, a fully functioning kitchen with brand new appliances, two full bathrooms and a half bath, over an acre of land, and a walk-out patio overlooking the most gorgeous view of the pristine, teal blue water backed by looming mountains.
What more could a water-lover ask for?! It was simply perfect. I won't lie; I was very stressed waiting for our contingency to come together. But we finally sold our Annapolis home, and the next week the cabin was ours! It was like an actual dream come true.
What has the process been like renovating/decorating the cabin?
I am the most impulsive and impatient person when it comes to interior design (or anything aesthetic). I'd been visualizing how I'd transform the cabin from the day we put in our offer, so everything was aligned in my head. (I don't use vision boards because my entire brain is one big, dynamic vision board itself hah.)
Every night, as I fall asleep, I pick one room in the cabin and I transform everything within it in my head. Then I spend weeks scouring the Internet for all the deals I can find that'll help bring my vision to life. If I can't find it online, I DIY it. (I like to say that I put the 'Impatient' in DIY lol). It's sometimes tough balancing my vision and need for creativity with a responsible budget, but there's almost always a way to make it happen.
We were lucky, too, because the owners left almost everything with the house. We acquired several log beds, our dining table, log nightstands, a hand-carved log coffee table, and countless other items. We probably kept 1/10 of it all (which made for a VERY hefty landfill trip afterwards), but it certainly helped with some of the decorating.
I brought a lot of the additional furnishings from our home. I chose a navy/forest/grey/white/black color scheme with gold accents, and went from there.
Anything in our house that fit that theme (books, linens, furniture, glassware, etc.) was brought up to the cabin. It gave my husband peace of mind because not only did it save us money, but it decluttered our primary home, too. And it gave me peace of mind because it meant I didn't have to wait more than 12 hours to start furnishing everything! My kind of project.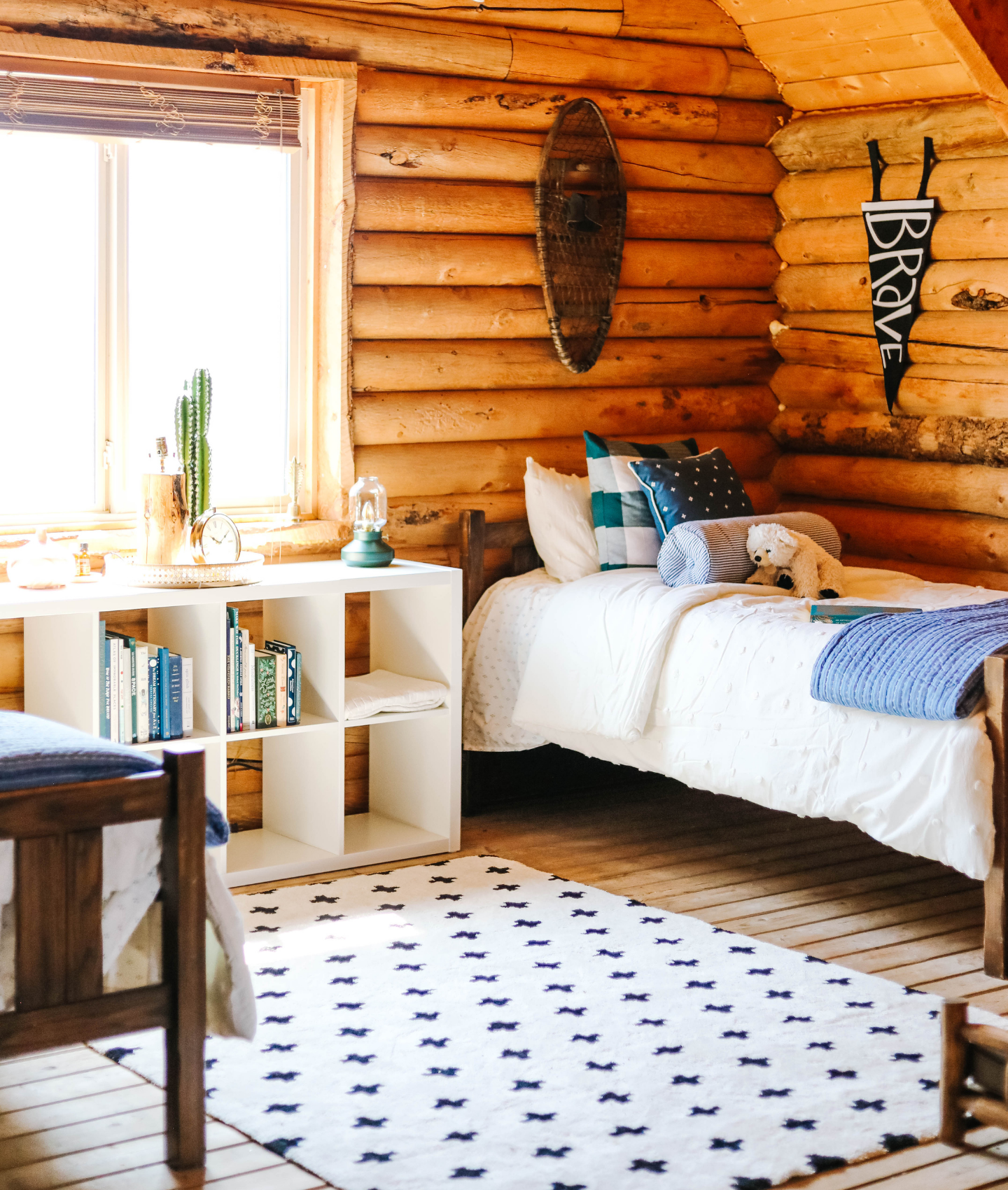 How have you found time to decorate & do DIY projects around the cabin? (It seems like you guys have transformed it quickly)!
Again, I'm the most impatient person you'll ever meet, haha. I hate wasting time, so we got right to work transforming the property into one we could immediately enjoy.
Within a weekend, we'd cleared and cleaned the house and done some basic furnishing; and within one month of going up every weekend, it was pretty much good as new!
Nowadays, when we go up we'll pick 2-3 projects to work on over the weekend. Our hope is that everything will be finished by Christmas, when my family comes to visit. Not too shabby for a place we bought in August!
Sometimes it's a matter of prioritizing which projects you can do yourself in a short time frame, and which should probably be left to the professionals. We had experts do the staining and chinking, and we'll eventually have a contractor insert French doors for the patio walkout and landscapers help with grading, but everything else is pretty doable if you can get creative about it!
It also helps that I can't sit still, so the moment I wake up, it's boots to the ground and we're off working on projects. Before/afters really energize me, so it's helpful to keep the end goal in mind and work toward that vision.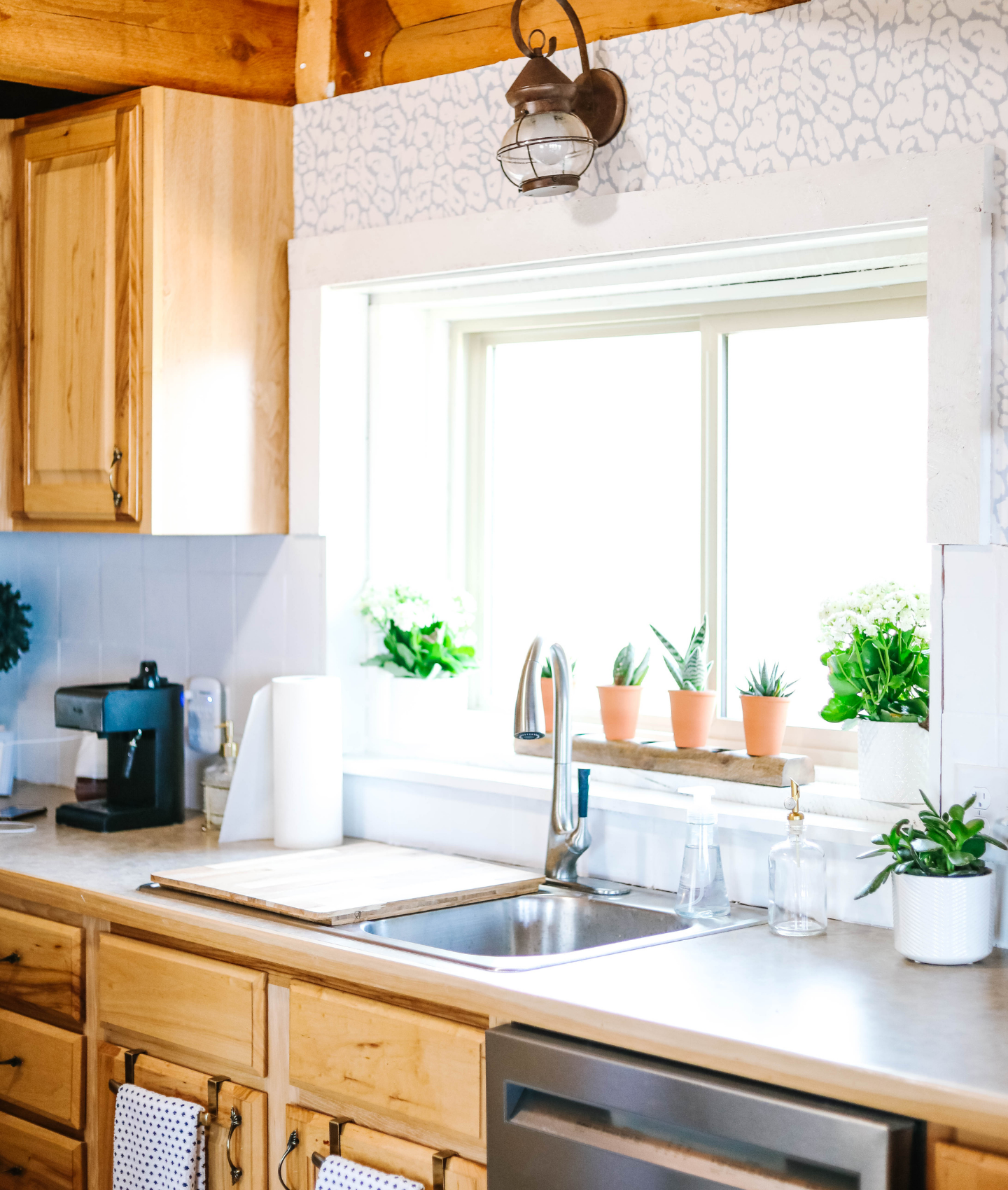 The way your cabin is styled is gorgeous! Where do you get inspiration?
It's funny because this color scheme has always been my favorite. Over the years, I've tried incorporating it into my own home, but it never felt right. See, my home is very candy colored – blushes, powder blues, whites, with a hint of emerald – so when I try to add navy and forest green (because I love those colors), it would work, but not well.
So when I began visualizing the cabin's decor, I actually had a similar color scheme in mind to the one I have at home. But as I began bringing items up and placing them, I realized that all I was bringing were the navies and the forest greens.
And as I did it, my first home actually became more cohesive. At this point, the cabin's scheme is navy/forest/grey/white/black, while my primary home is blush/powder blue/white/gold. And both work so well now!
For me, it's always been helpful first and foremost to solidify a color scheme. That way, if you see something you love, you'll know right away whether it'll fit in your home. (For example, I sometimes see an adorable item that I desperately want, but it's in a yellow or a red that would just never fit into my decor. It's much easier to walk away at that point, knowing it would never work out. Kind of like a bad relationship, amiright?
What was the process like to get your cabin ready for listing on AirBnB?
We'd tossed the idea of listing our cabin back and forth for a few months, honestly. We bought it with the full intention of just enjoying it ourselves. And I am VERY territorial when it comes to my 'stuff'. (Madonna anyone? I am a material girl to the max hah.)
But I began realizing that we would only get up there on the weekends. That, and it's so exciting to be able to share your passion with people. And a big passion of mine is creating cozy, beautiful spaces where people can enjoy themselves and make meaningful memories. So I thought, why not? Worst case, no one rents. And then we're no worse off!
So I created an AirBnb account, and within 30 minutes I had my listing up. A few days later, I received my first booking for next July. Turns out people like cozy memory-making as much as I do!
I won't lie; I'm a bit apprehensive about the horror stories I've read about some renters, but the stories about charming visits and repeat customers puts me at ease. I love the idea of someone loving our cabin as much as we do — especially with all the love we've put into it during an otherwise challenging summer.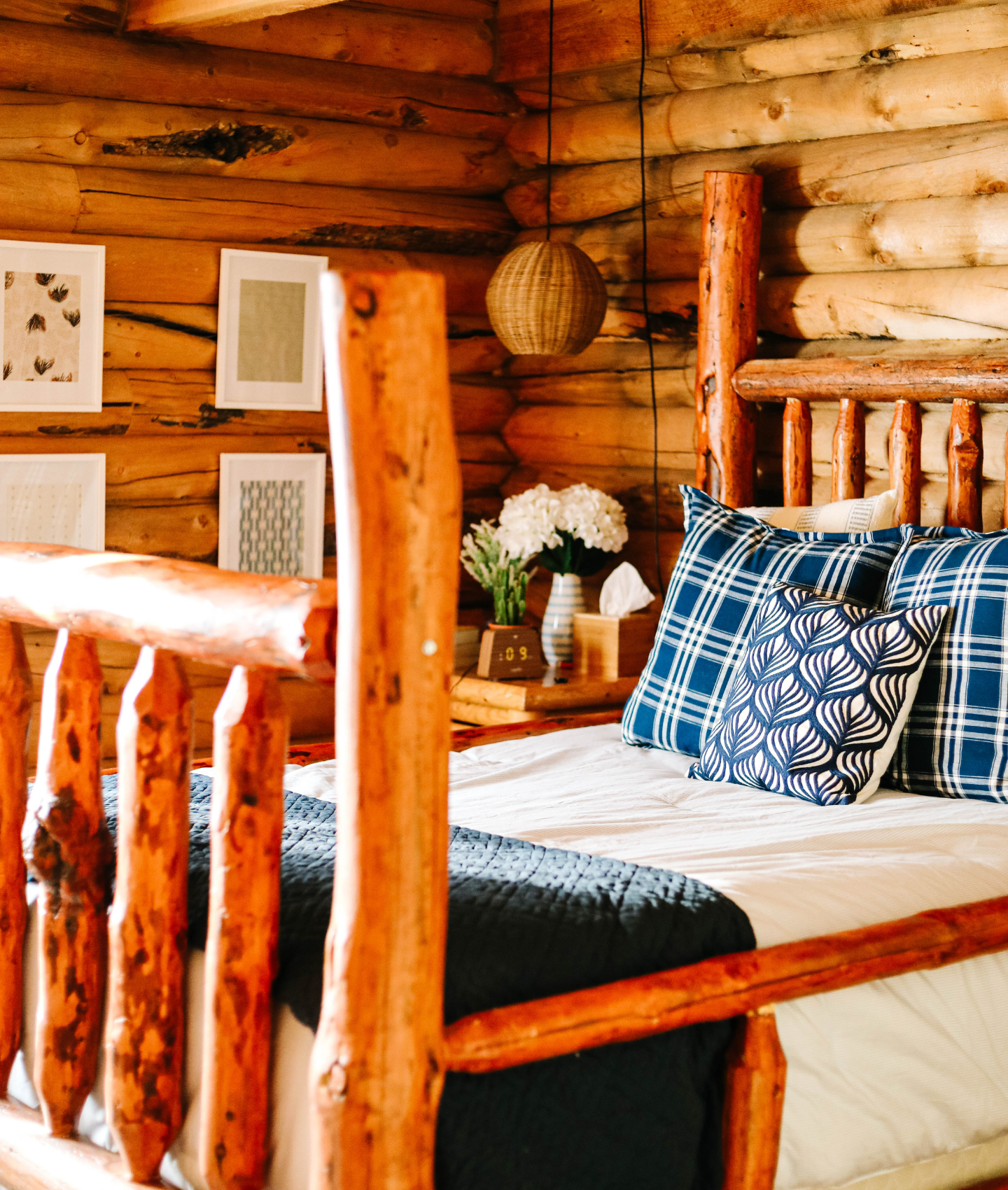 About Sweetwater Cabin & How to Rent
Our cabin will be available to rent starting in April! (Earlier, if we can finish all of the little projects we have on our To Do list to make it renter ready!).
I'm also hoping to include a little swag shop incorporating my artwork of the cabin for renters who love hand-drawn souvenirs as much as I do.
Feel free to reach out any time with questions concerning your rental, and we will look so forward to making your stay a cozy one!
And the best part of Sweetwater Cabin? It's a small hop, skip, and jump from Megan's cozy Jackson Hole cabin! Talk about cozy, amiright??
Follow along on Instagram in the meantime!
In the meantime, if you'd like to follow along with some of the before/after transformations, you can follow the journey at @honey.n.hive on Instagram!