These are the 30 best cabin-inspired gifts from Amazon. Whether you're shopping for Christmas, a birthday, a housewarming gift, or any other special occasion — this list has cabin gifts for everyone.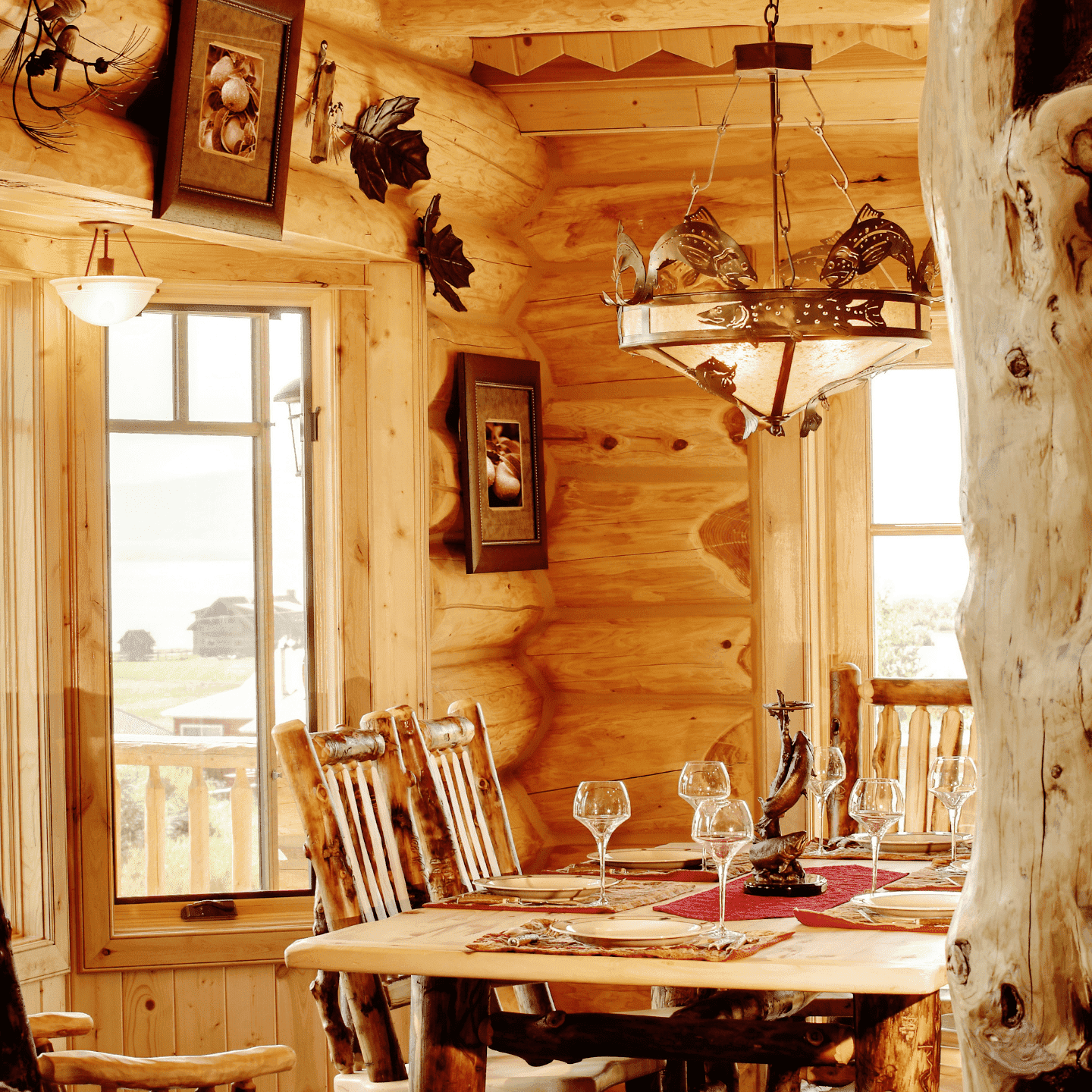 The 30 Best Cabin Gift Ideas From Amazon 2020
Disclaimer: This post contains affiliate links. If you purchase through one of these links I may make a small commission at no cost to you.
---
1. Yankee Candle Mountain Lodge Scent
Every cabin should have this candle: it's the smell of a mountain lodge nestled in the forest with a fresh summer breeze. It's welcoming and peaceful, perfect for days at the cabin.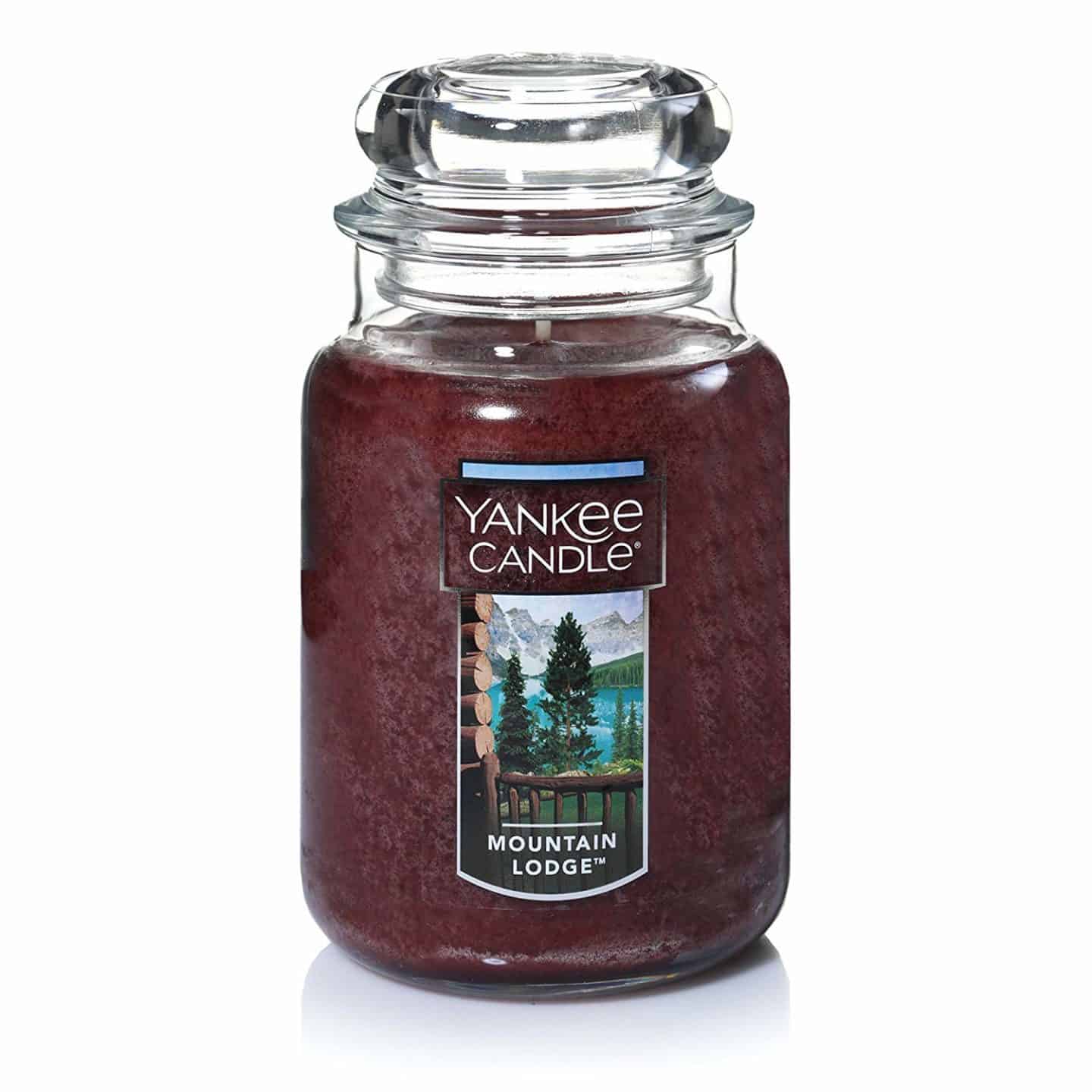 ---
2. Bear Salt & Pepper Shaker Holder
No cabin is complete without a few bear decorations. Start with this charming black bear who will hold your salt and pepper.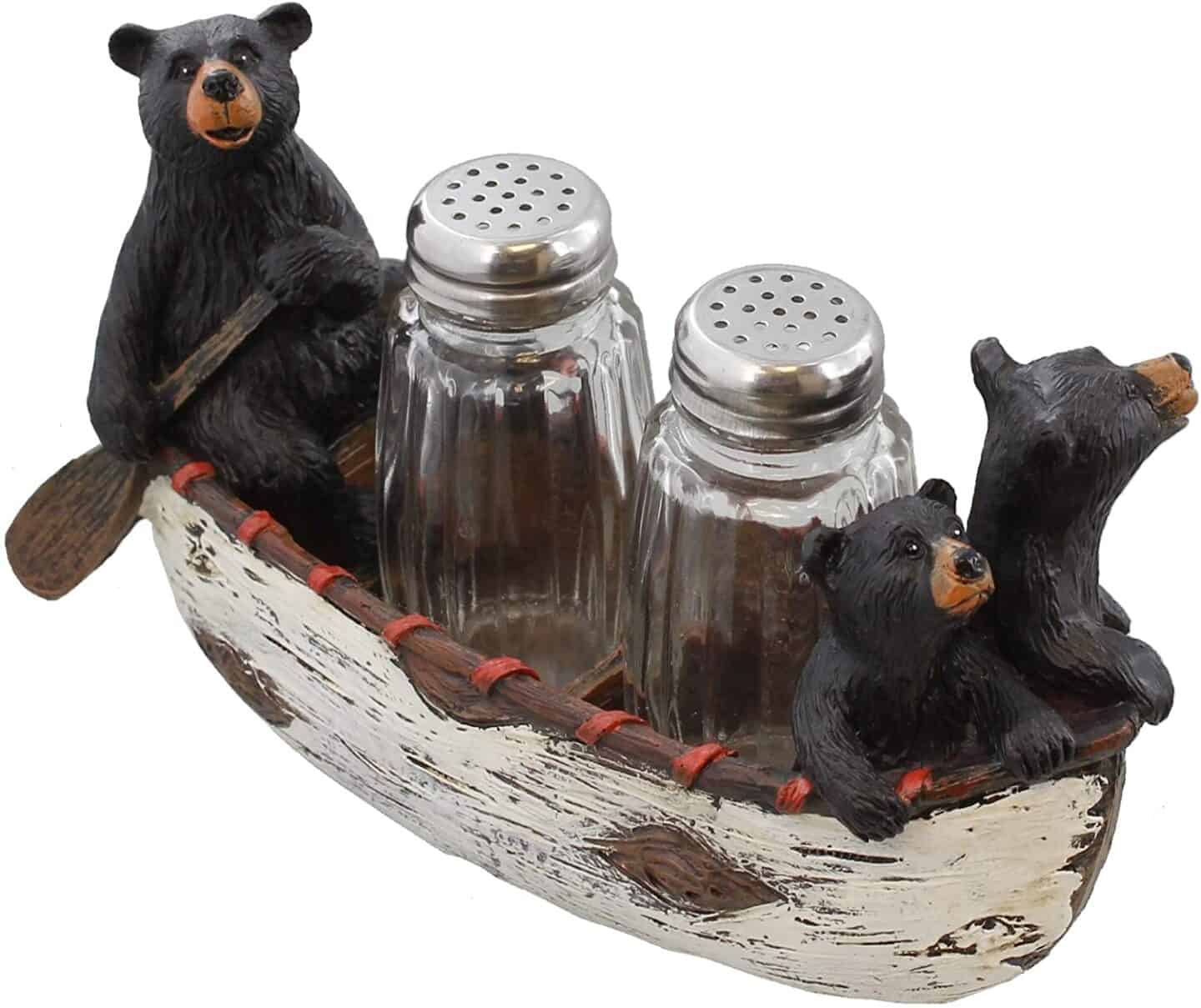 ---
3. Buffalo Plaid Storage Caddy
This is one of the best cabin gift ideas because it's practical & buffalo plaid. You can never have enough buffalo plaid at the cabin. And you can use this for storage, picnics, day trips, lake trips – anytime you need a grab-and-go bag.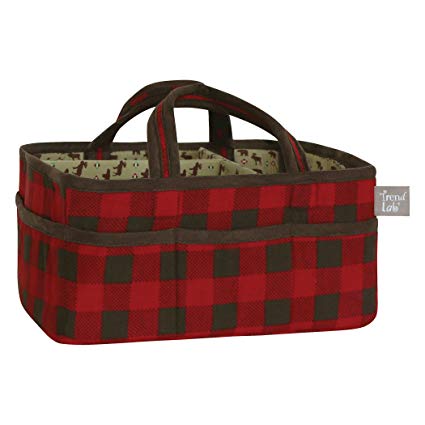 ---
4. Cabin Life Wooden Magnet Set
For the cabin enthusiast in your life, these magnets will make them smile. They're rustic, durable, and just what the cabin fridge is missing.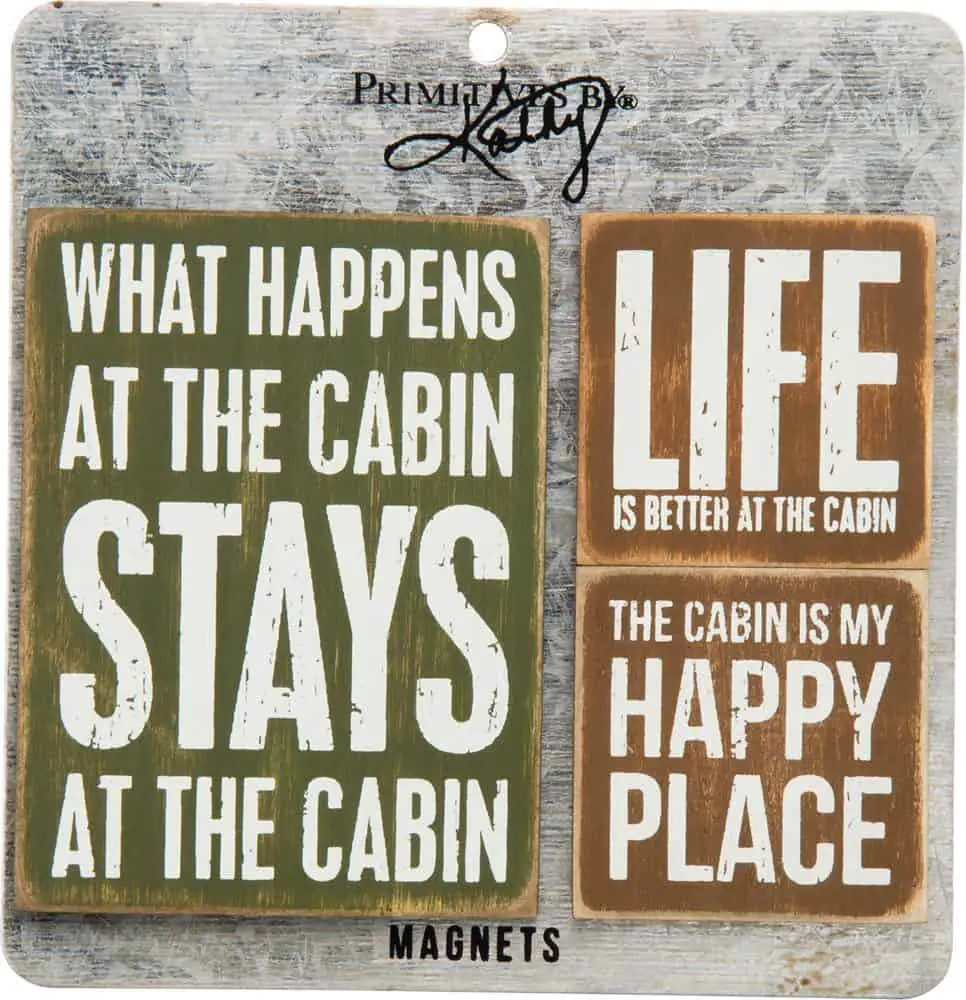 ---
5. Life is Better at The Cabin Buffalo Plaid Flag
A charming sign for outside your cabin, complete with buffalo check design and bear.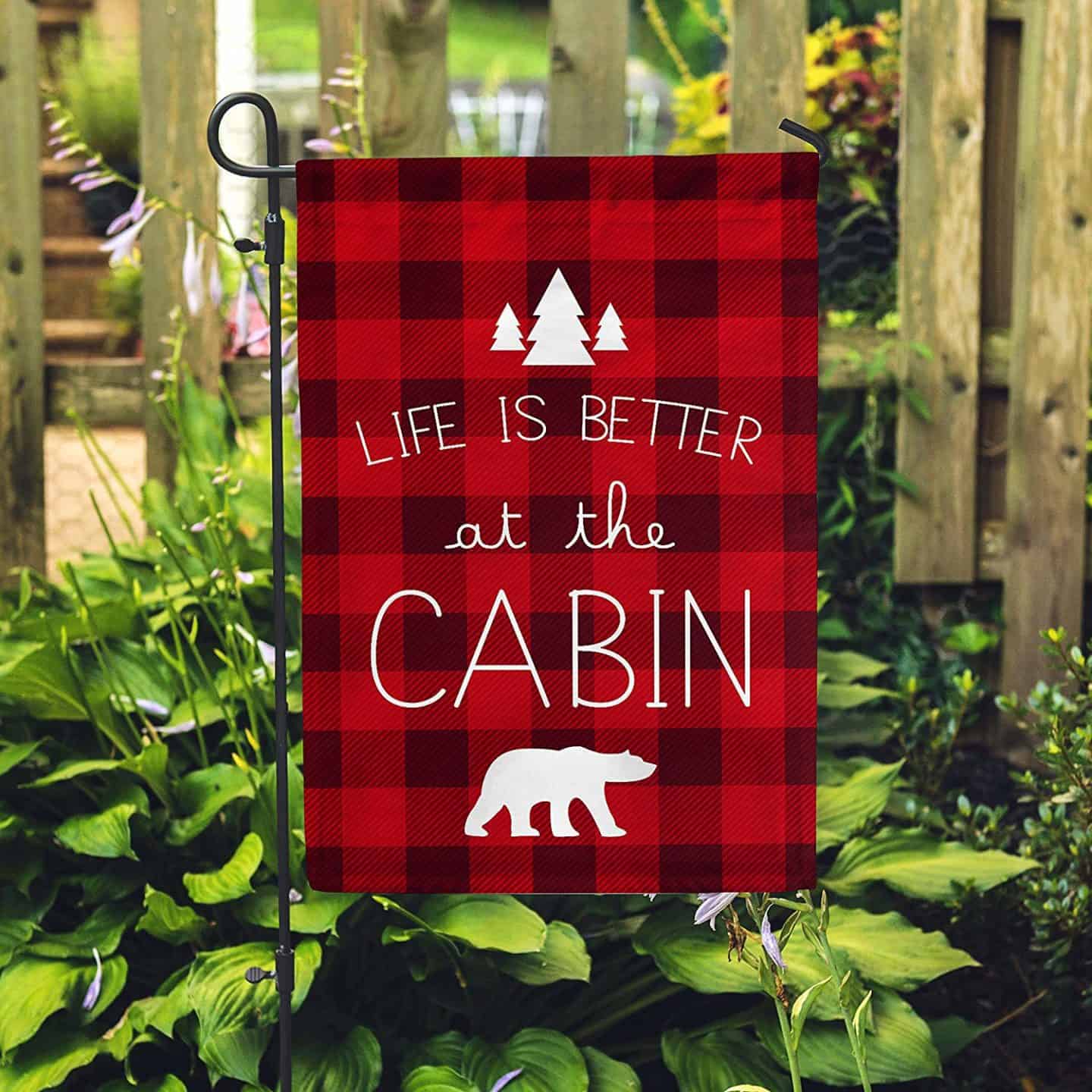 ---
6. Moose Wine Holder
If you're looking for a gift for someone who has a cabin and also happens to love wine – look no further. It's a statement piece, wine holder, and conversation starter all in one 🙂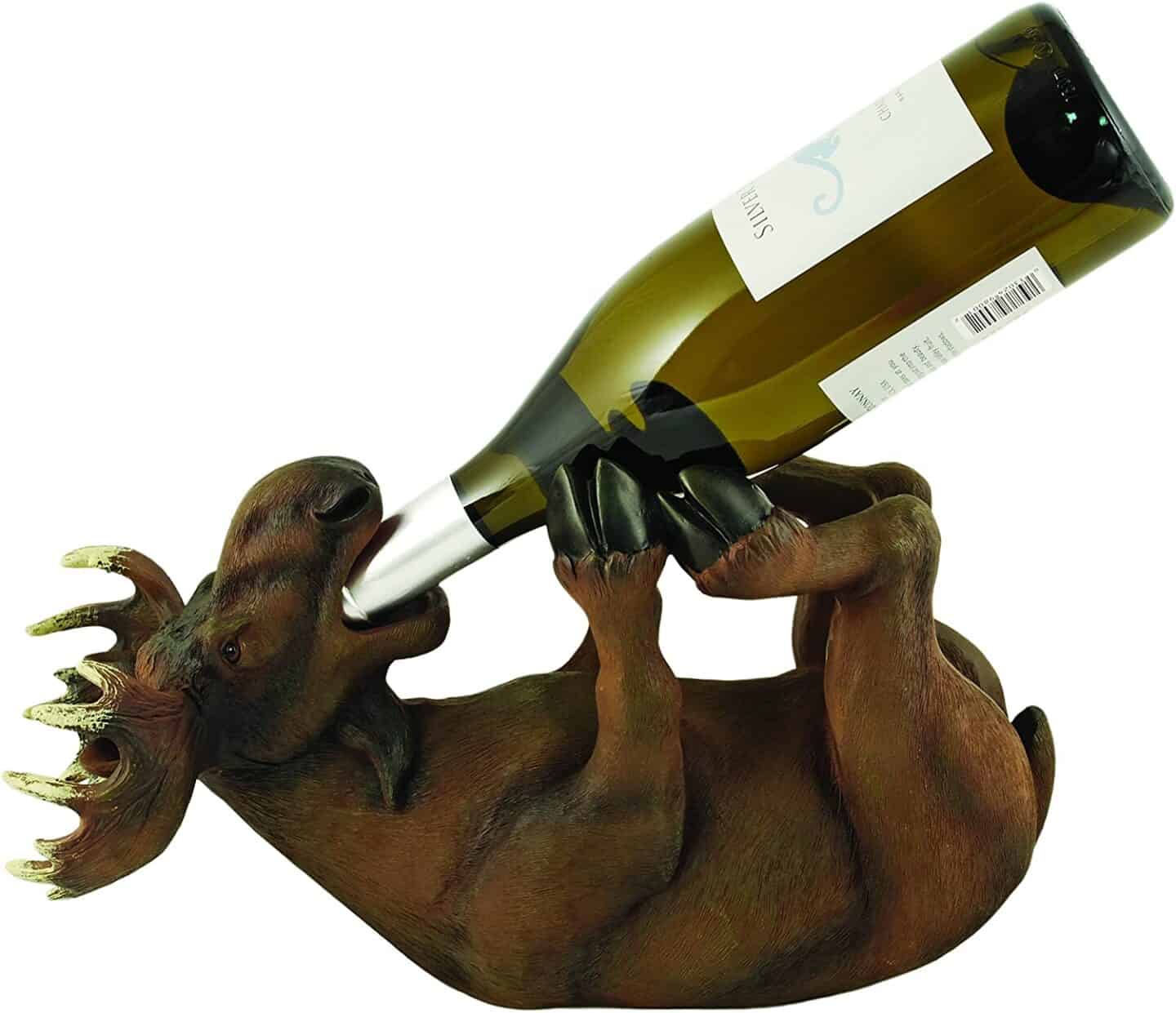 ---
7. Oven Mitts Bear Hands
PAWfectly bear-themed for your cabin kitchen, these oven mitts that are in the shape of bear hands make cooking or baking endlessly entertaining. Especially popular with kids.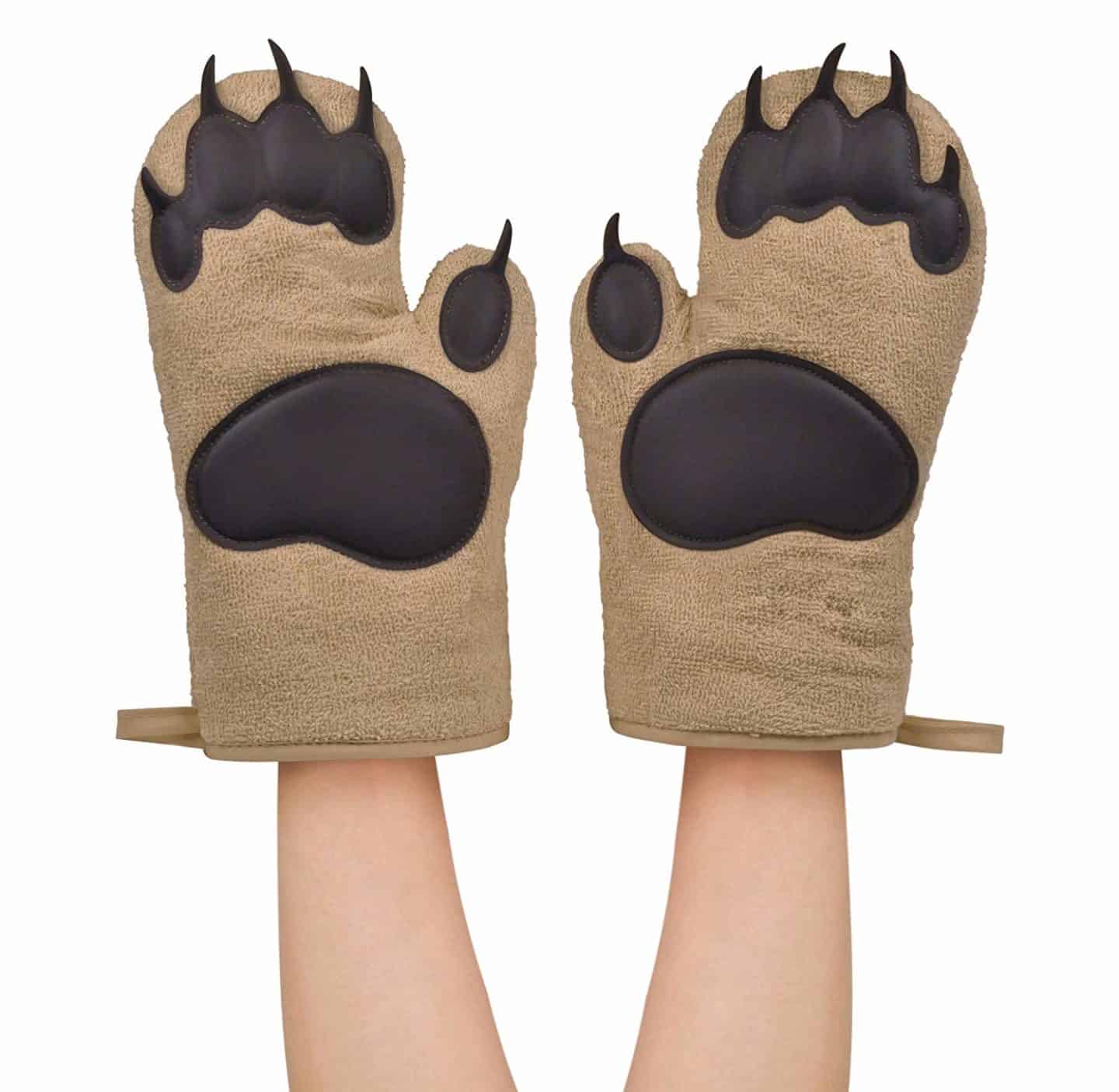 ---
8. Cabin Life Adult Coloring Book
For when you just need to escape the stresses of modern life: relax as you enjoy the simple life through this adult coloring book with pages and pages of cabin life. Bonus fun if you gift this with a bottle of wine and a cozy blanket.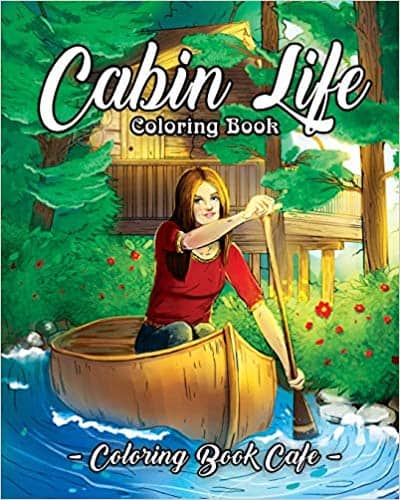 ---
9. Log & Timber Home Living Magazine Subscription
Log Home Living Magazine is the go-to for anyone who loves log homes or cabins. It's a gift that keeps on giving when you buy the yearly subscription:
---
10. Bears Canoeing Coaster Holder + Coasters
Have you ever seen anything cuter?! Everyone needs coasters, so why not gift them in a canoe being steered by black bears: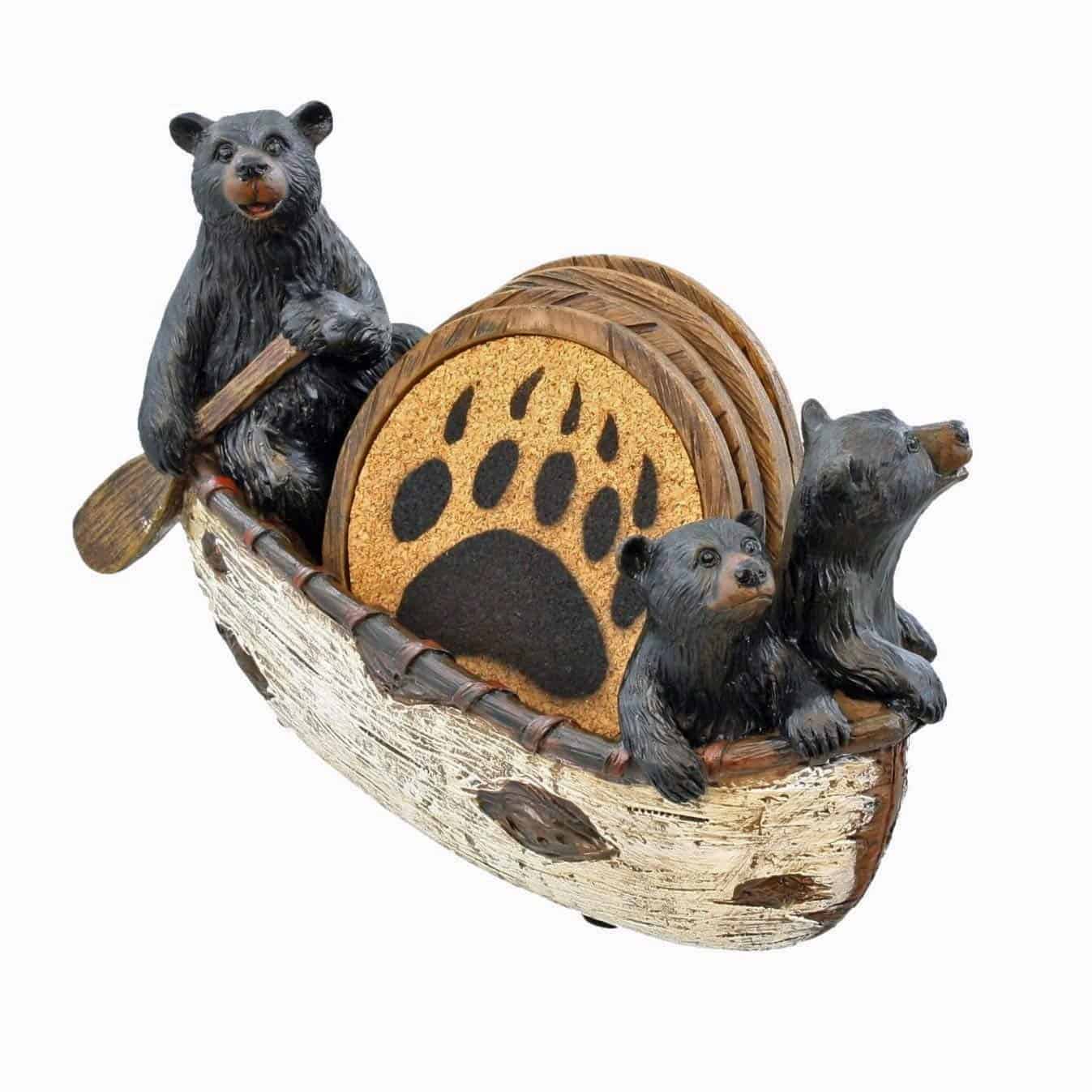 ---
11. Checkered Christmas Cabin Kitchen Towels
For some extra seasonal holiday spirit, gift these checkered kitchen towels. Inspired by wildlife, they're a thoughtful Christmas gift for a cabin kitchen.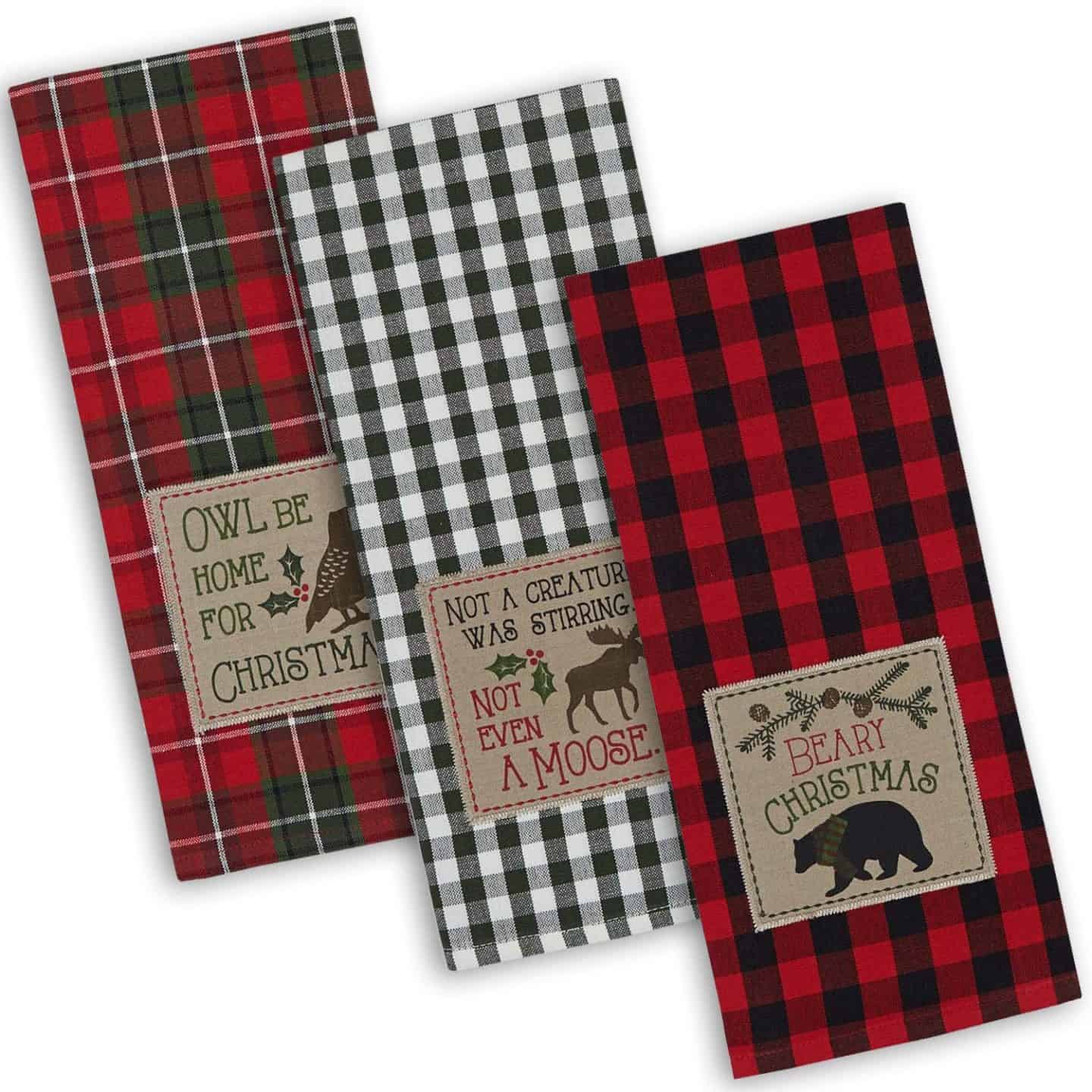 ---
12. Your Cabin in The Woods Book – From Cabin Dreams to Reality
This is an ideal gift for the cabin lover in your life, especially if they don't live in a cabin yet. Reading this book is all about making your cabin dream a reality, appreciating the beauty of nature, and building with your own two hands.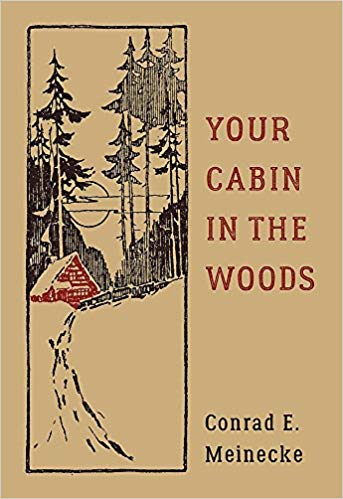 ---
13. Wildlife Floor Mat
First impressions are everything. And this mat is a stylish addition to any cabin entryway. Gift it or buy it for your own can to add some extra rustic vibes and a practical protection to your floor.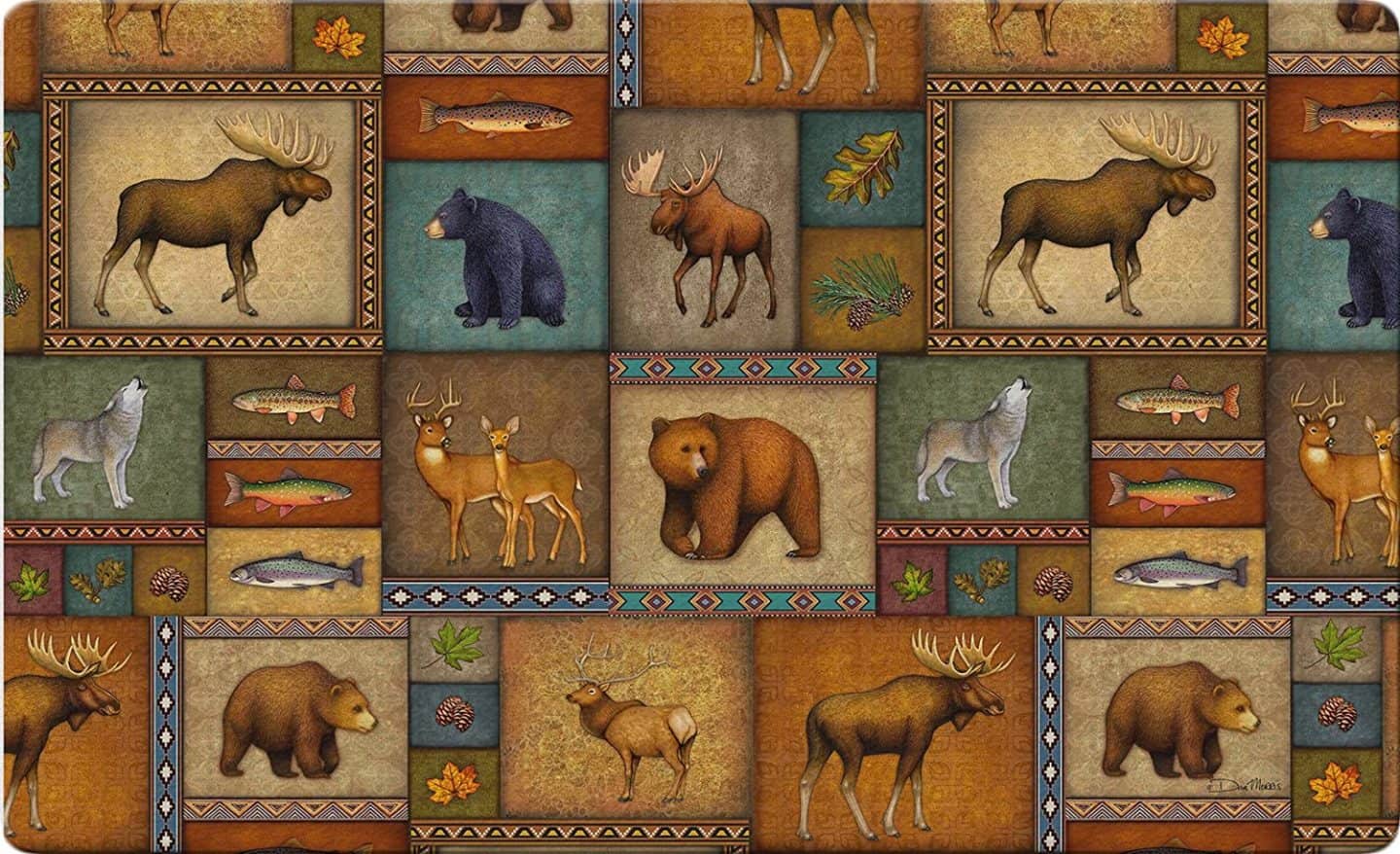 ---
14. Black Bear Rustic End Table
I'm not sure what's better: the fact that this is bear, that he's holding up a plate as an end table, or that he's really cute!!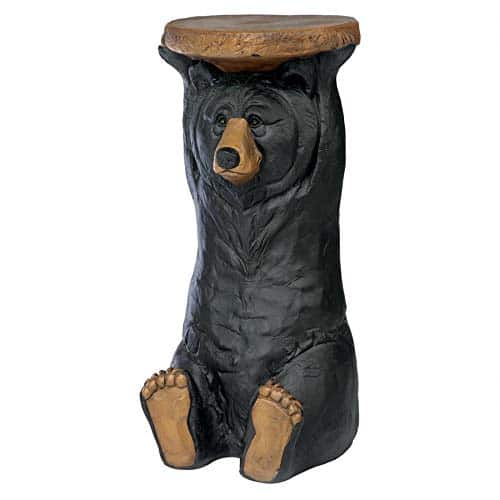 ---
15. Cabin Sweet Cabin Pillow
Add a rustic touch to any room with this charming cabin sweet cabin pillow.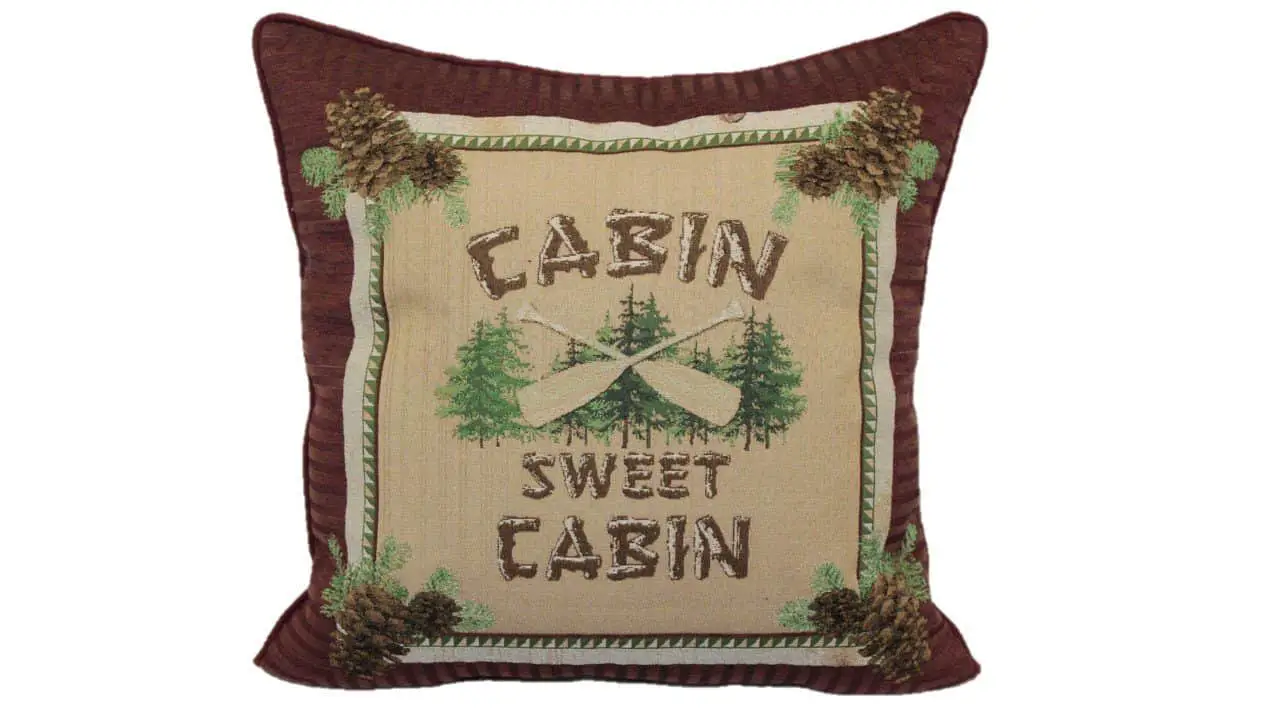 ---
16. Rustic Bamboo Cheese Board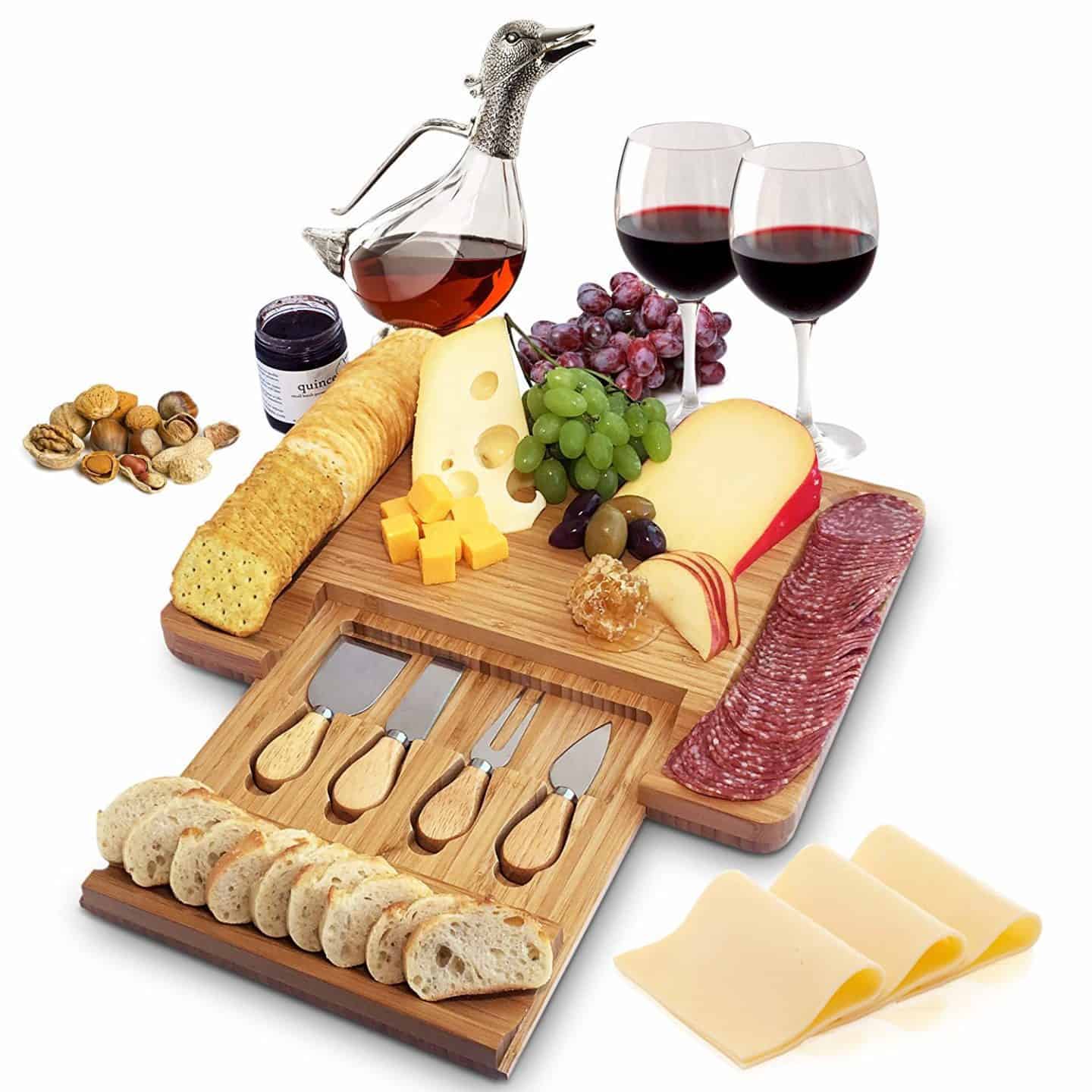 Cabins come to life when you have guests over, and what better way to entertain those guests than with a cheese board? The perfect gift for someone who also loves cheese, wine, entertaining – or who just needs some help in the kitchen!

---
17. Stainless Steel Large Stemless Wine Glasses
A classic pairing for the above cheese board: wine glasses! These are the best for cabin life because they're insulated and durable. Take them out by the campfire, lake, or while you watch sunset on the porch.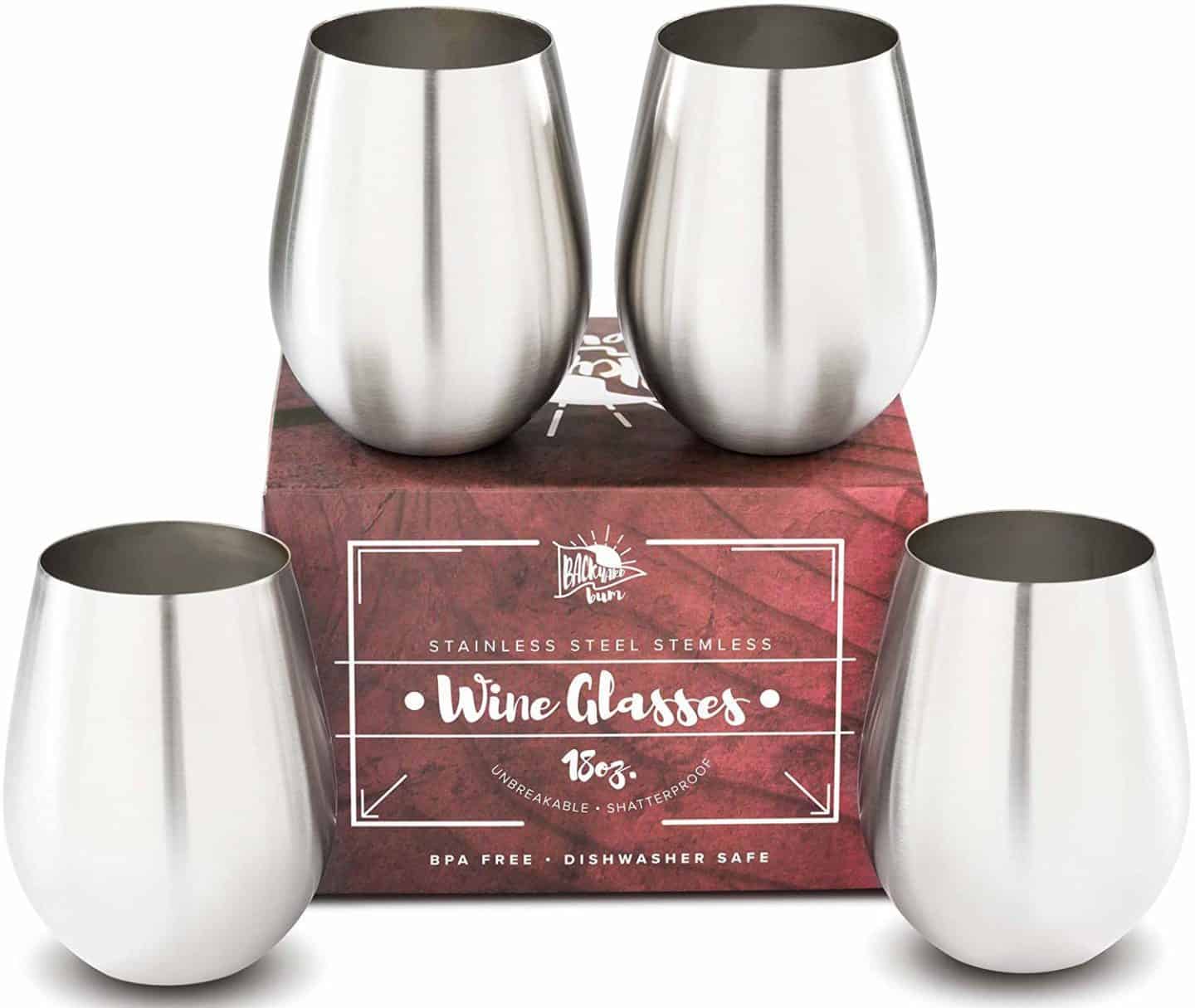 ---
18. Personalized Deer Clock (with Name & Year Added)
This personalized gift features a deer design and the ability to customize the date and name. For a gift with a more personal touch, this is a go-to: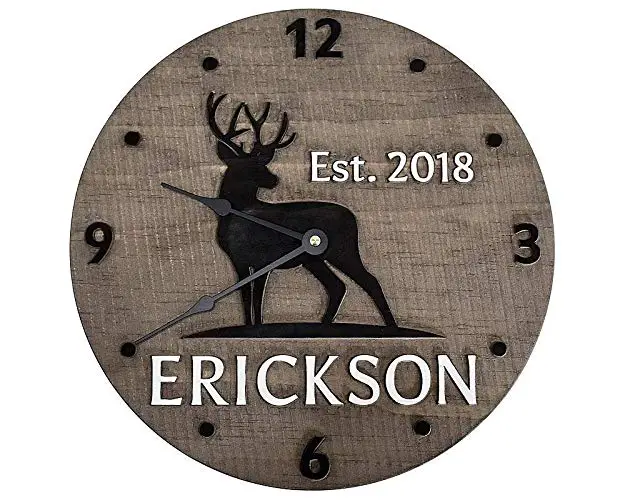 ---
19. Advice From a Bear Funny Throw Pillow
It's impossible to read this pillow and not chuckle. Gift it to someone who needs a laugh or to your special someone for a subtle message 😉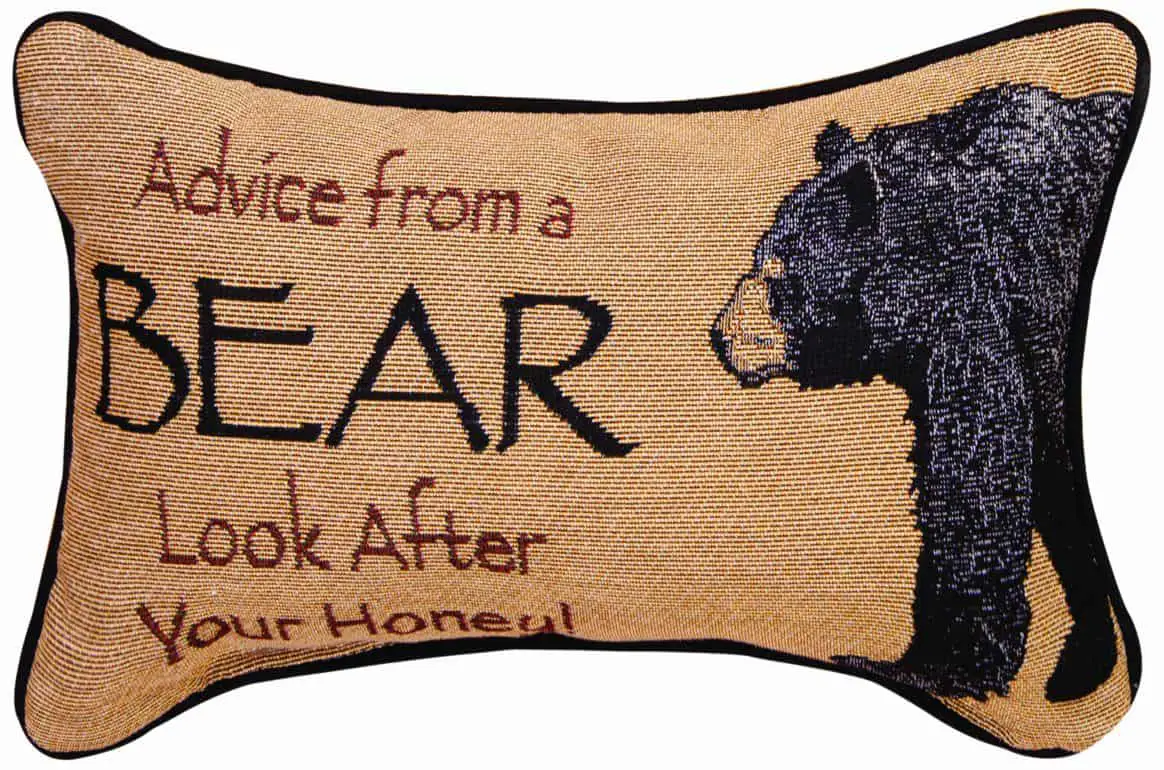 ---
20. Classic Lincoln Logs
A classic log cabin toy. Fun for adults and kids alike. An afternoon spent playing with these is an afternoon bringing the magic of log homes to life.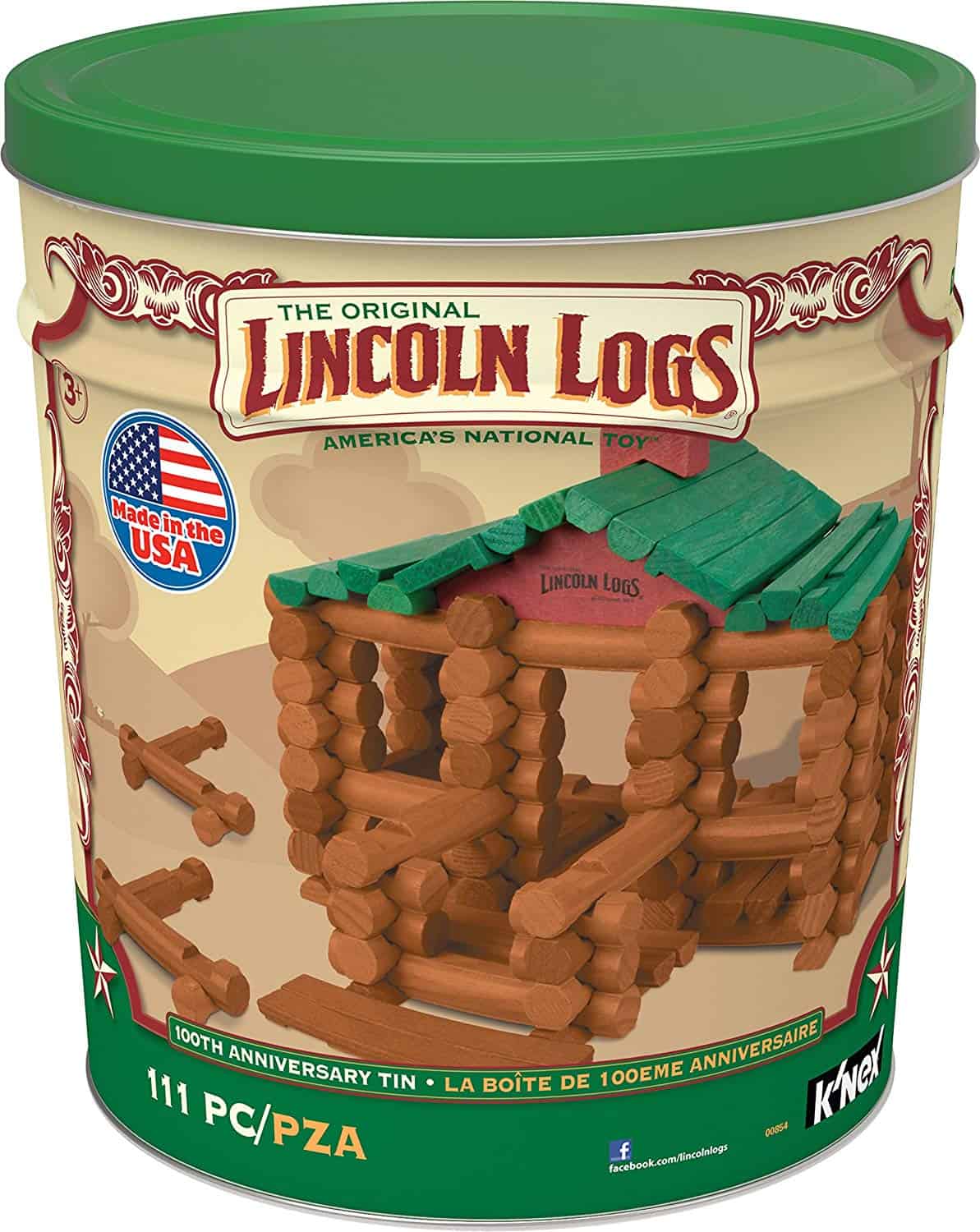 ---
21. Compact Cabins Book: Simple Living in 1000 Square Feet or Less
This book is full of cabin inspiration: admire it's 62 cabin designs, dream of cabin life, and take away valuable tips for making the most of a space.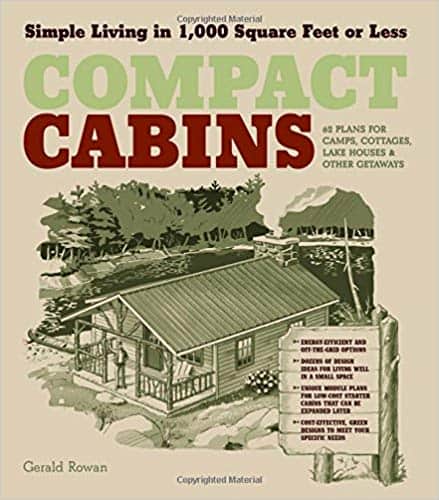 ---
22. Mama Bear & Papa Bear Mugs
Mugs are always a good choice for a gift, and these are the one's that you want for the cabin! They're durable, ceramic – and best of all: have cute bear designs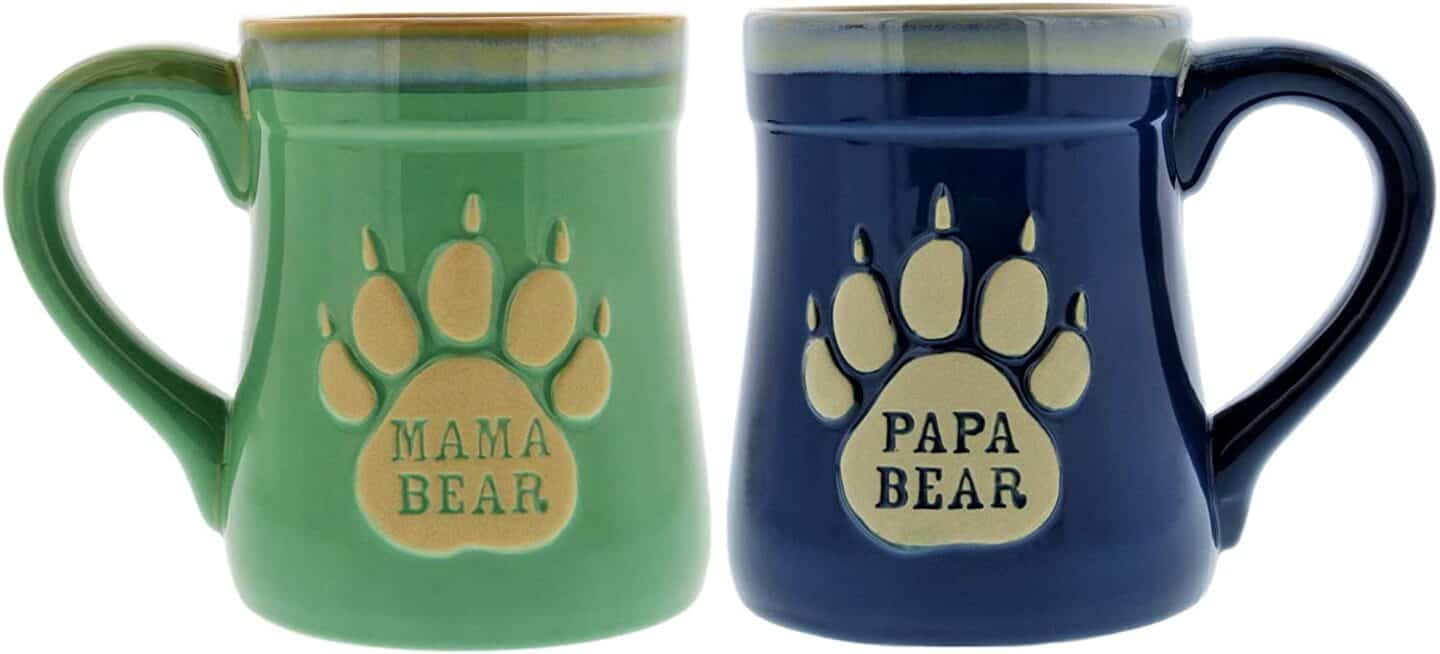 ---
23. Cabin Plaid Flannel Sherpa Throw
Did I mention that no cabin can have too much buffalo check?! Or too many throw blankets? This one is both, and it's cozy and warm for those long winter nights.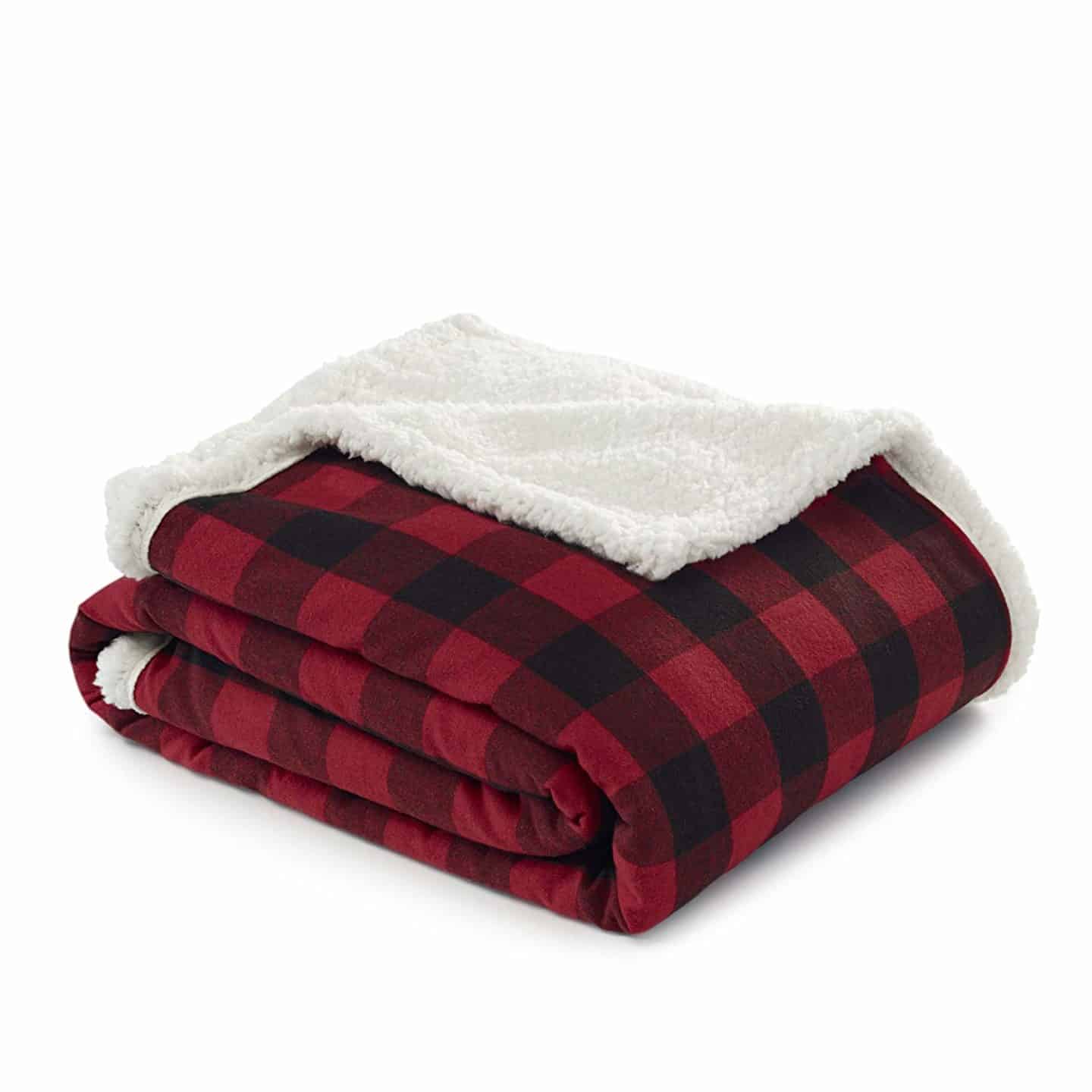 ---
24. Cabin Themed Coasters in Mini Log Cabin
This one is a favorite because it adds a lot of rustic, cabin charm to a room without taking up space or breaking the bank: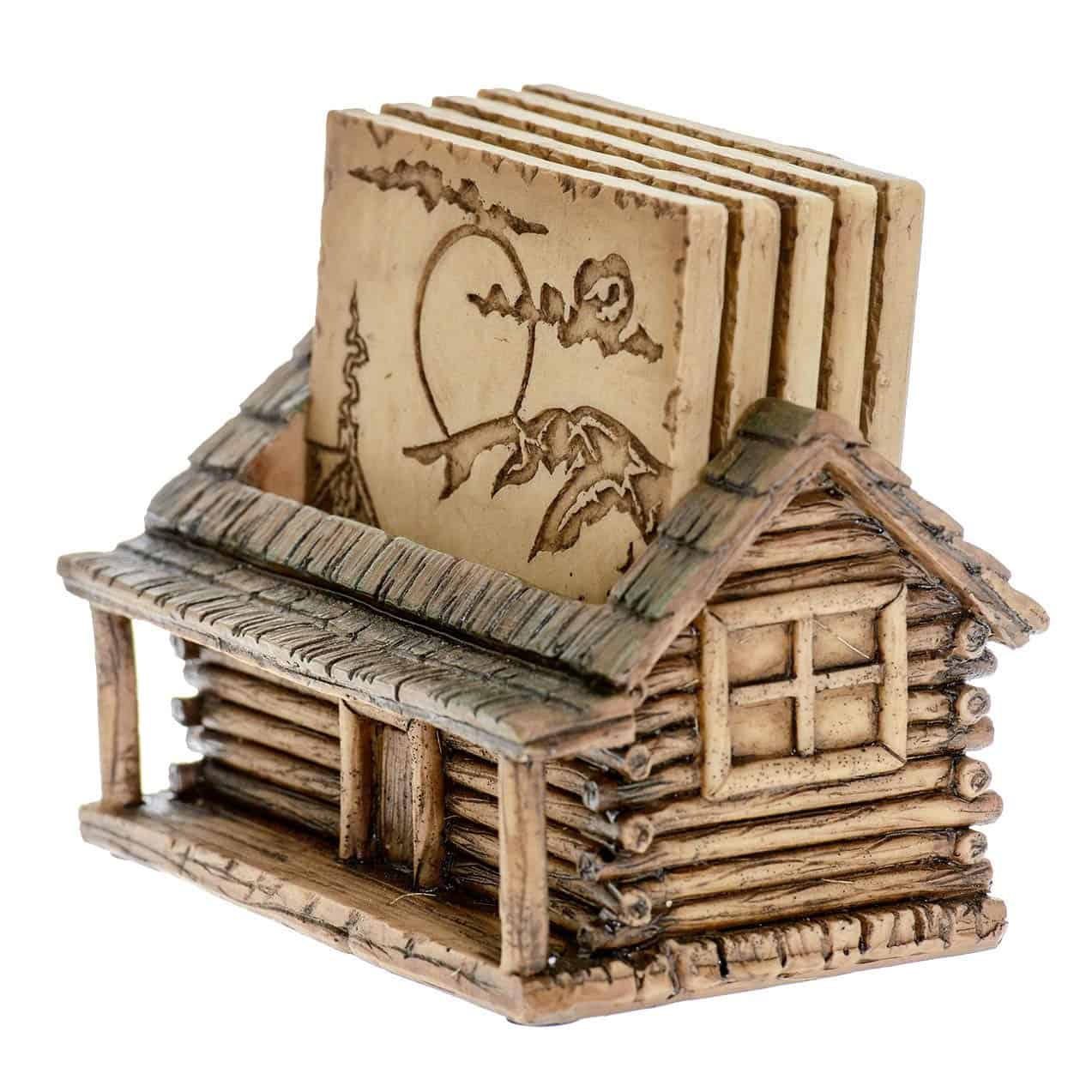 ---
25. Woodwick Trilogy Cozy Cabin Scent
Imagine sitting by a crackling hearth in a log cabin made of fresh pine timber. The smoke circles out of the chimney as snow peacefully blankets the roof. You laugh with your closest friends and have a sense of nostalgic comfort.
THAT'S WHAT THIS CANDLE SMELLS LIKE.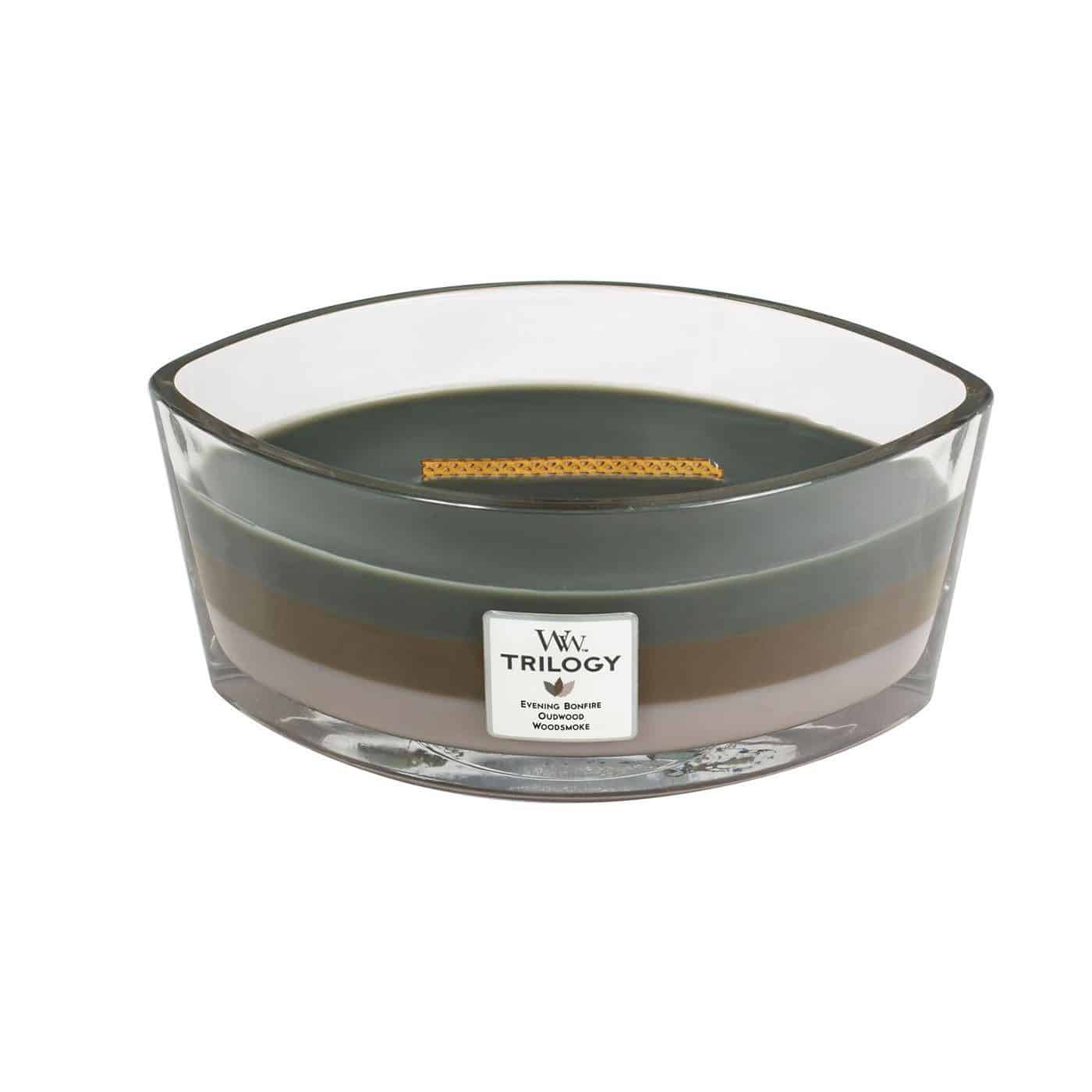 ---
26. Cabin in The Wild: Advanced Jigsaw Puzzle
Part of the beauty of cabin life is stepping away from technology (phones, computers, etc.) and spending time with family. What better way to do that than a fun jigsaw puzzle?! This cabin scene is relaxing and advanced enough to keep it entertaining!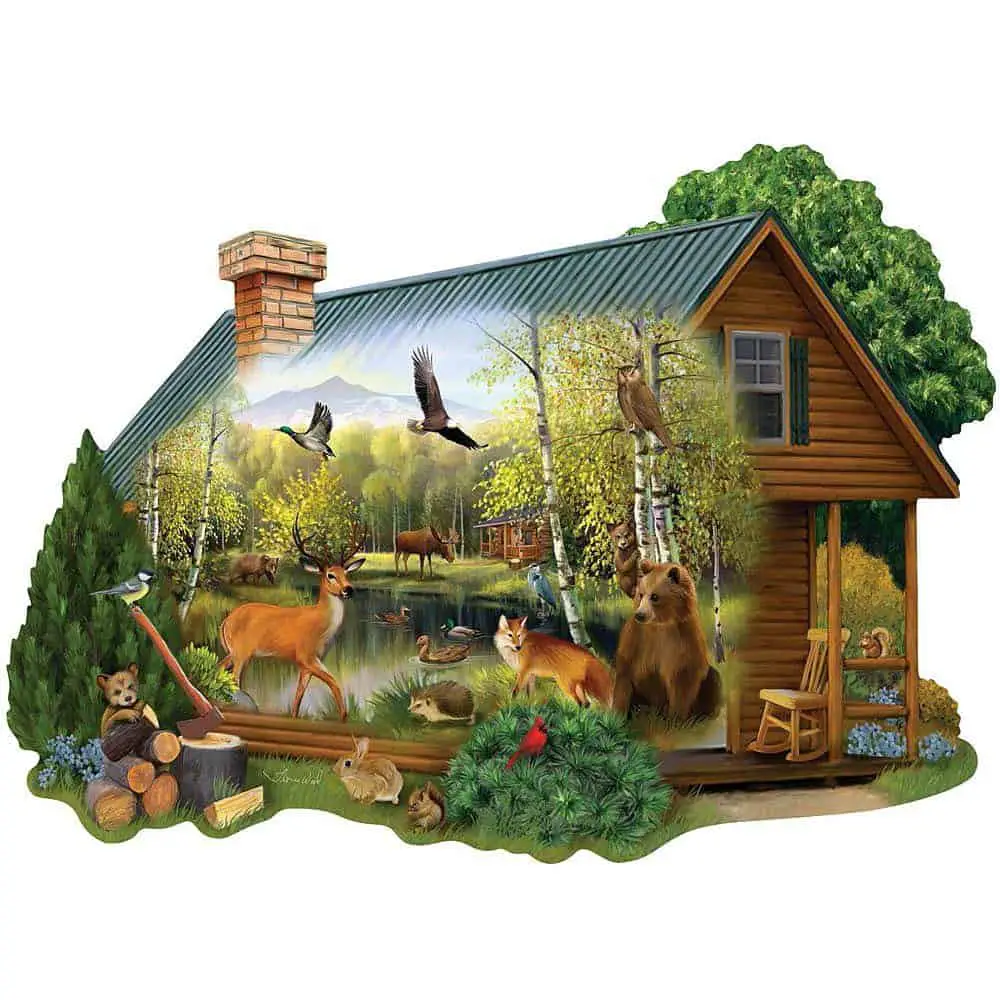 ---
27. Vintage Wildlife Pillow Covers
Especially around the holidays, our cabins can use a seasonal touch. These pillows are inspired by the Christmas season and feature silhouettes of wildlife: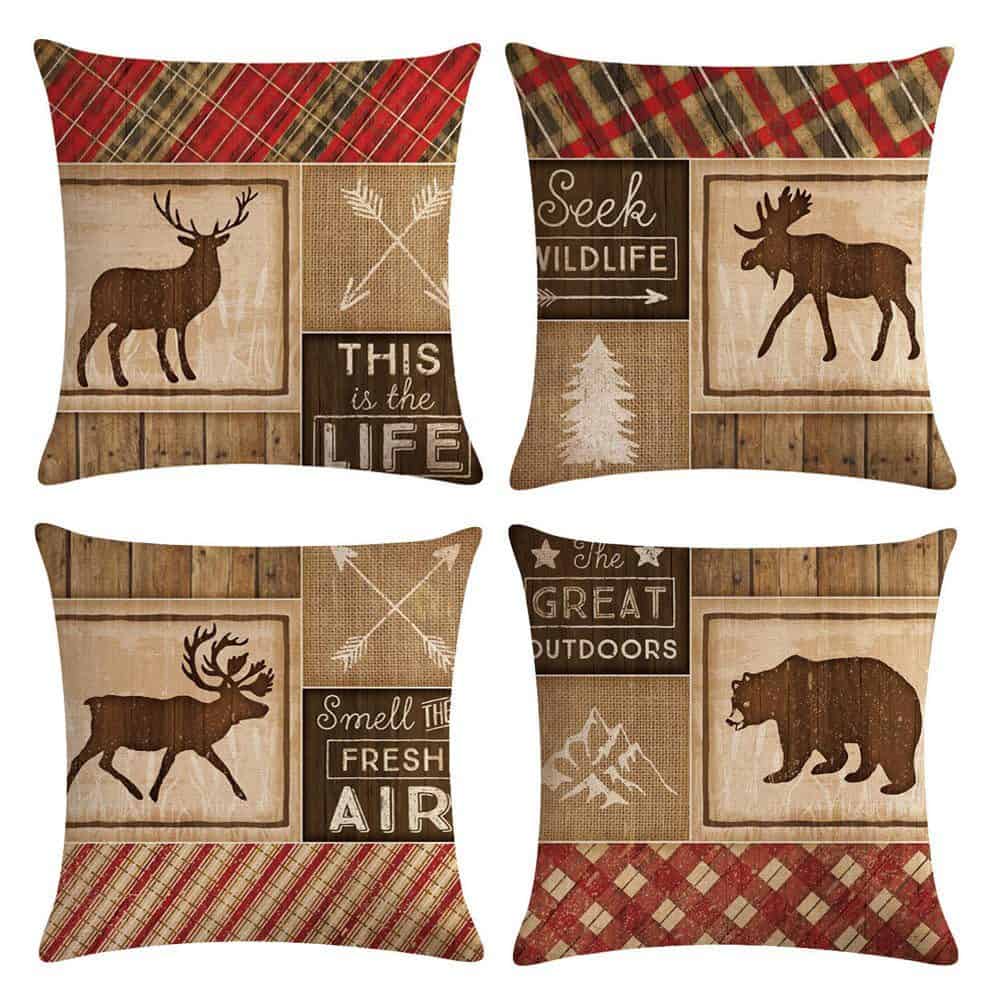 ---
28. Cabin Guest Book
If your cabin doesn't have a guest book…what are you waiting for?! One of the best parts of owning a cabin is reading the messages that guests leave and reflecting back on good memories 🙂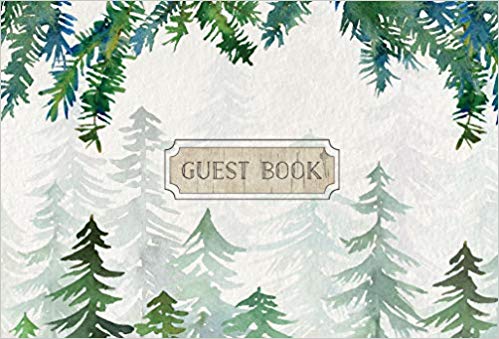 ---
29. Wax Pillar Candles with LED Flames & Remote Control
For the cabin owner who doesn't want to deal with real candles/flames, or who is intrigued by remote control candles… these blend into a rustic cabin but are LED and have a timer option available.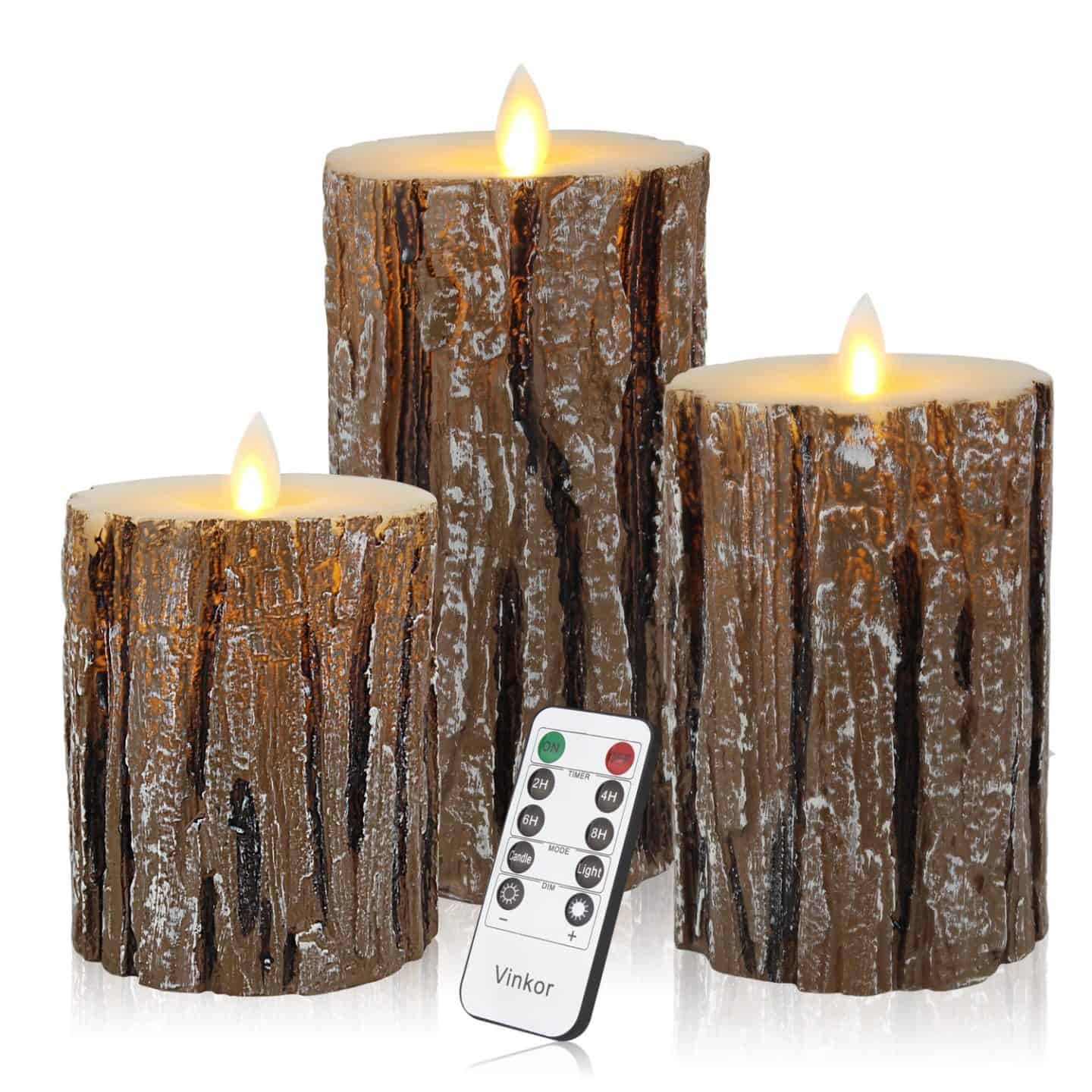 ---
30. Rustic Frame Felt Letter Board
Last but not least: a letter board. An expressive accessory to any room. Fill it with: quotes, reminders, sassy messages to your guests, or the dinner menu. Endless options with this one, all in a lovely rustic frame.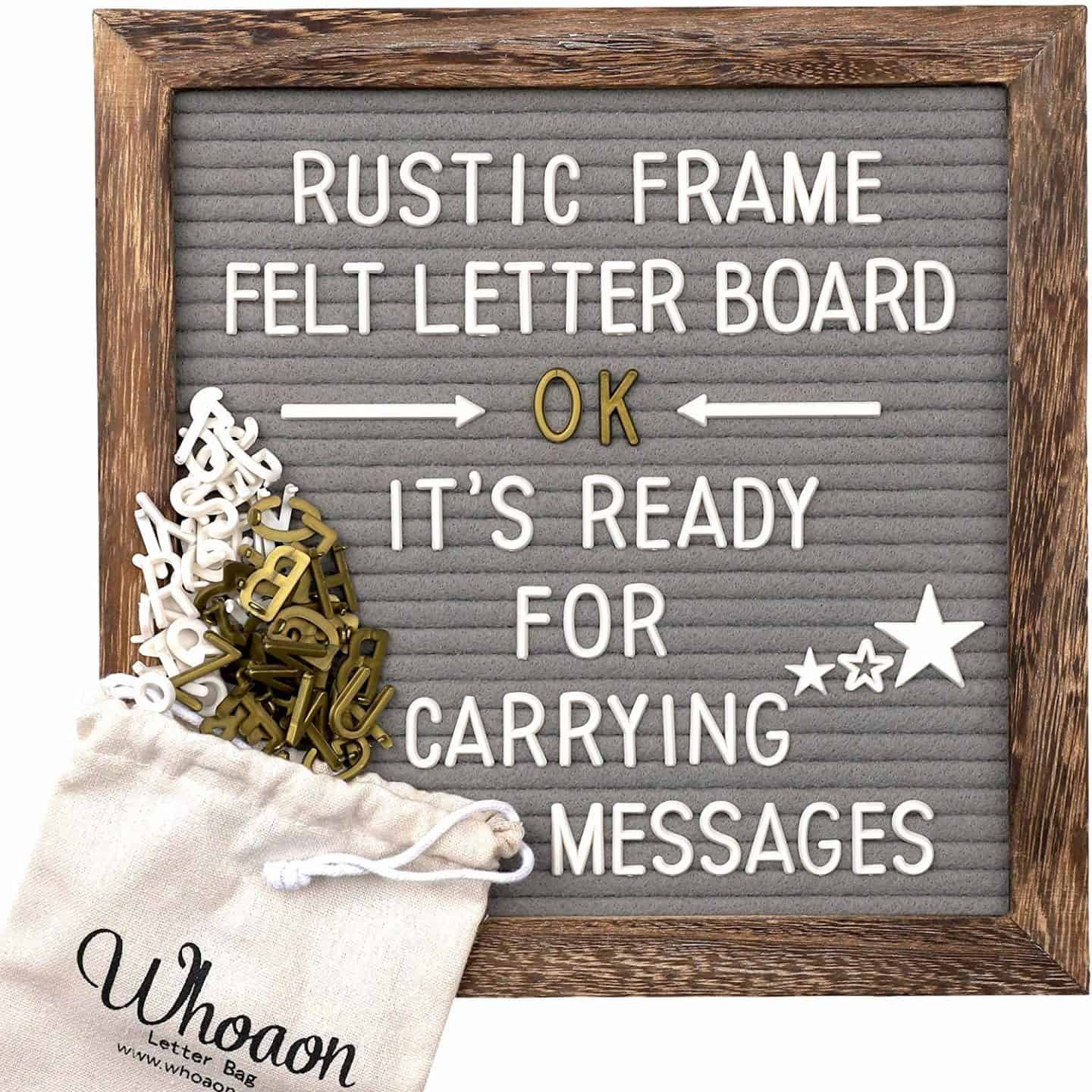 ---
Now I want to know – if you made it this far… you must have some ideas: what are some of your favorite cabin gifts to give or receive?! Drop a comment below with ideas!