This list covers the top sustainable kitchen products, all available on Amazon right now. The goal of each product is to replace a common single-use item with a sustainable, multi-use one.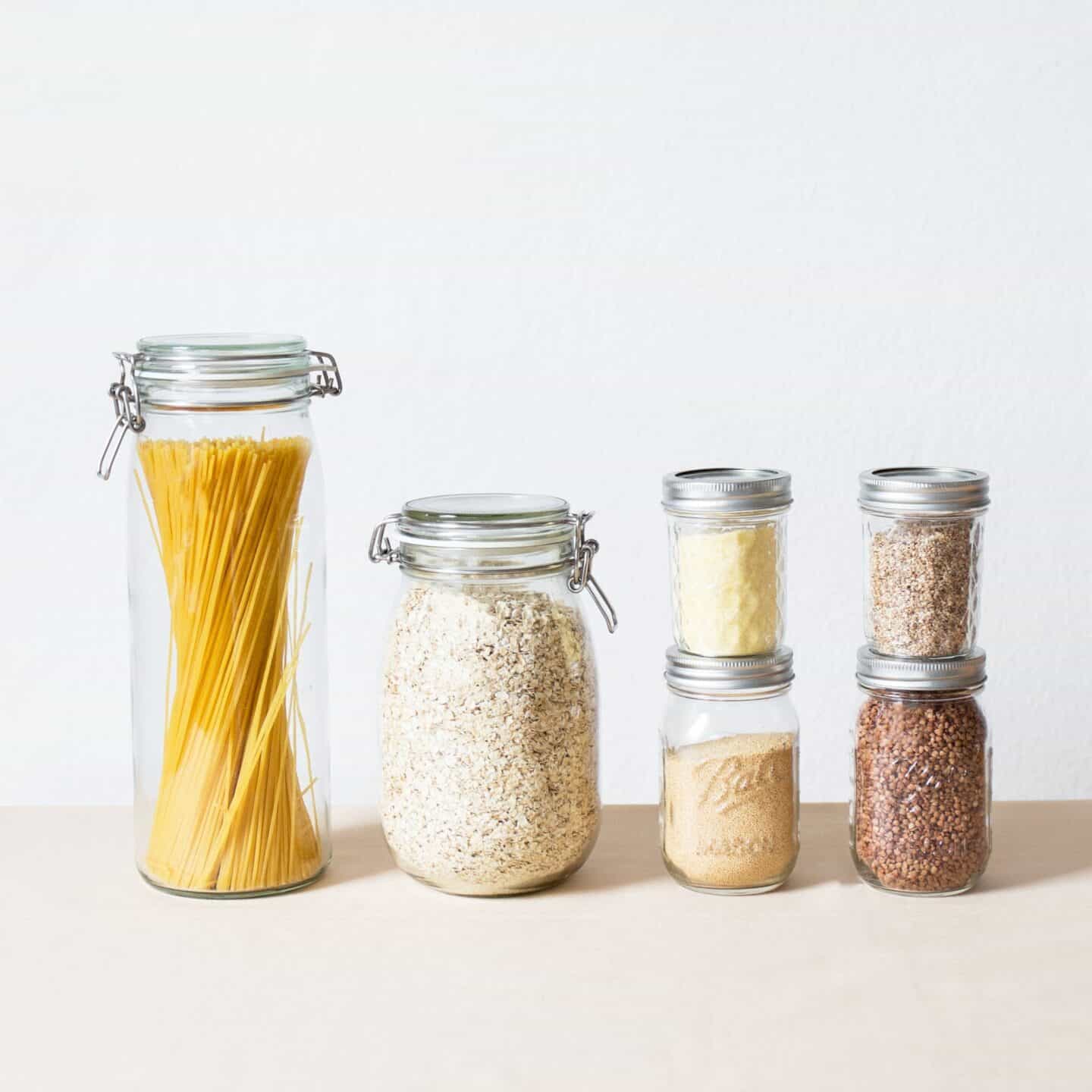 Items like plastic wrap, Ziploc bags, and paper towels are just a few examples of products in our kitchen that get used once and then are thrown away. This list has eco friendly alternatives to these and others.
Here's the shortlist of the products, but scroll down to see exactly what each one does + what it can replace in your kitchen 🙂
Not only are the alternatives on this list more sustainable, they'll also save you money. Because they can be used again and again, you'll save money as you reuse these items and avoid buying products that are single use.
Disclaimer: This post contains affiliate links. If you purchase through one of these links I may receive a small commission.
Top 7 Sustainable Kitchen Products
1. Bee's Wrap
A sustainable alternative to: plastic wrap.
This food wrap is free from synthetic chemicals and holds for up to a year. It can be easily placed over bowls or wrapped around food to keep it fresh. This is a sustainable, nontoxic alternative to plastic wrap. These wraps are also handmade in the U.S. and use GOTS-certified organic materials.
Click here to see it on Amazon:
2. Stasher Reusable Food Bags
A sustainable alternative to: Ziploc bags.
Stasher food bags are made of 100% pure, nontoxic silicone. They're the ultimate alternative to Ziploc bags: self sealing and dishwasher + microwave safe!
Use these as lunch bags, snack bags, bags for leftovers, bags to prepare and store food, etc. These are for anytime you want to keep your food fresh or take it on the go.
Click here to see it on Amazon:
3. Skoy Cleaning Cloths
A sustainable alternative to: paper towels, sponges.
These amazing little squares are a handy alternative to paper towels and sponges. Keep a stash a few of them in your kitchen for when you need to wipe down your towels or wash the dishes.
These are firm when dry (perfect for tough messes) and soft like cloths when wet (great for scrubbing, wiping). They're super durable and multi-purpose.
They're also easy to clean: simply throw them in the wash or top rack of your dishwasher. We use these regularly with our Homemade Natural Kitchen Cleaning Spray.
Click here to see it on Amazon:
4. Organic Cotton Mesh Grocery Bag
A sustainable alternative to: plastic grocery bags.
We love these bags because not only can you take them to the store and use them as grocery bags, you can hang them in your kitchen to store your fresh produce.
These are a must-have for any kitchen. They are machine washable, chemical free and the perfect size for over your shoulder or to hang in your kitchen.
Our favorites are the ones sold below — they're the most affordable I've seen and come in a pack of 5.
Click here to see it on Amazon:
5. Stainless Steel Metal Straws
A sustainable alternative to: plastic straws.
Plastic straws are one of the top offenders to our marine environment (they're in the top 10 items of marine debris). Swap out your plastic straws for these reusable metal ones, which are also dishwasher safe and BPA free.
Not only are these straws a sustainable alternative, they're a fun addition to a cocktail or smoothie and will fit in most tumbler sizes.
Click here to see it on Amazon:
6. Food Huggers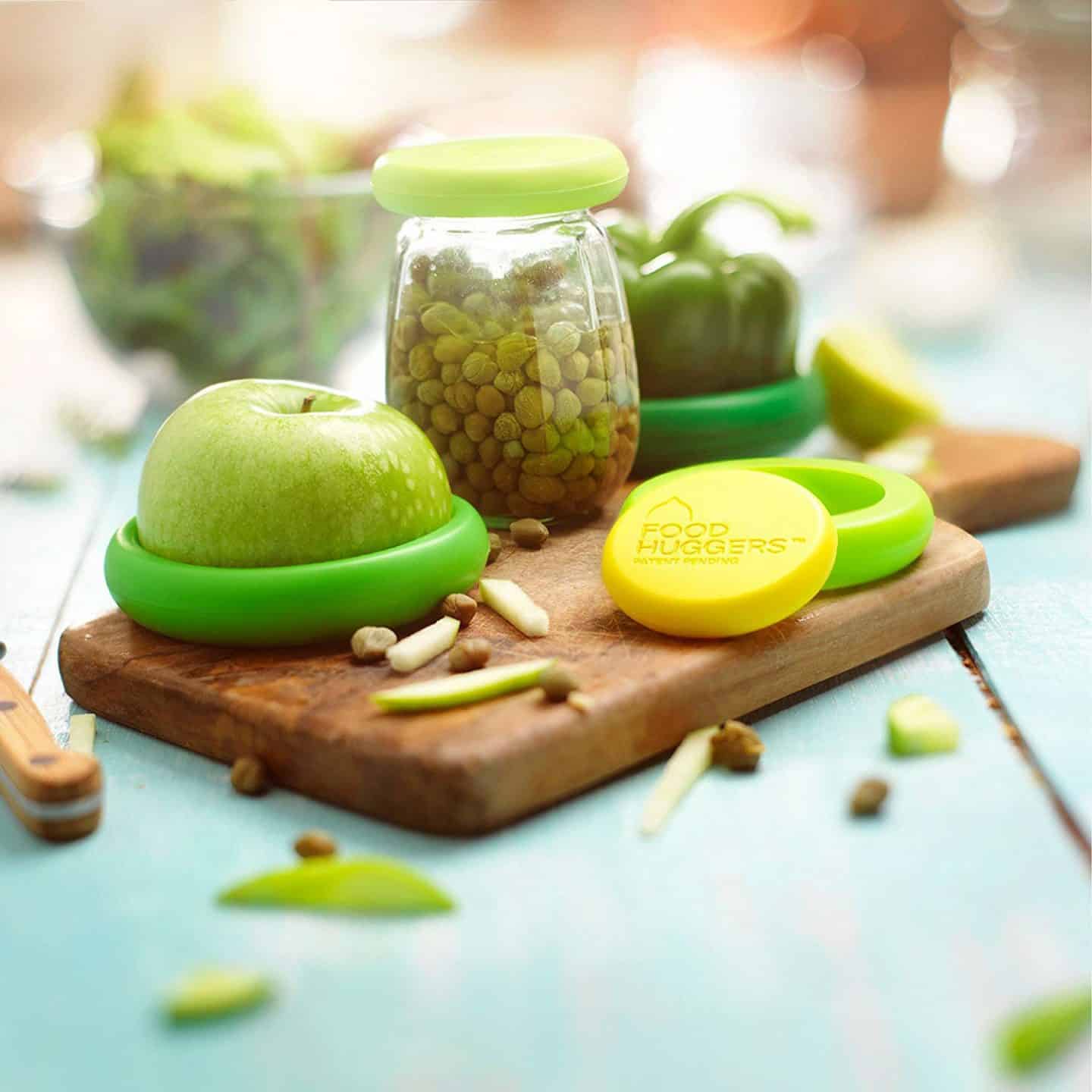 A sustainable alternative to: plastic wrap.
Food Huggers are an incredible invention. They fit to your fruit or veggies to keep them fresh. They'll save your leftovers and help prevent wasting half eaten items.
Use these on fruit, vegetables, cans — anything that you need to keep fresh. Not only are they an eco friendly alternative, they're also less bulky than using tupperware.
BPA and Phthalate Free. Dishwasher safe.
Click here to see it on Amazon:
Have other products that are your favorite sustainable kitchen finds? Share in the comments below!