Cabin decor can be hard to find — and even harder is figuring out exactly what you want your cabin's 'style' to be. 
In this post we'll look at 3 popular styles of cabin decor: rustic, loge, and mountain, PLUS tips for how to decorate your cabin.
If you're just looking for where to shop for cabin decor, we've got that covered in this post: Where to Find The Best Cabin Decor Online.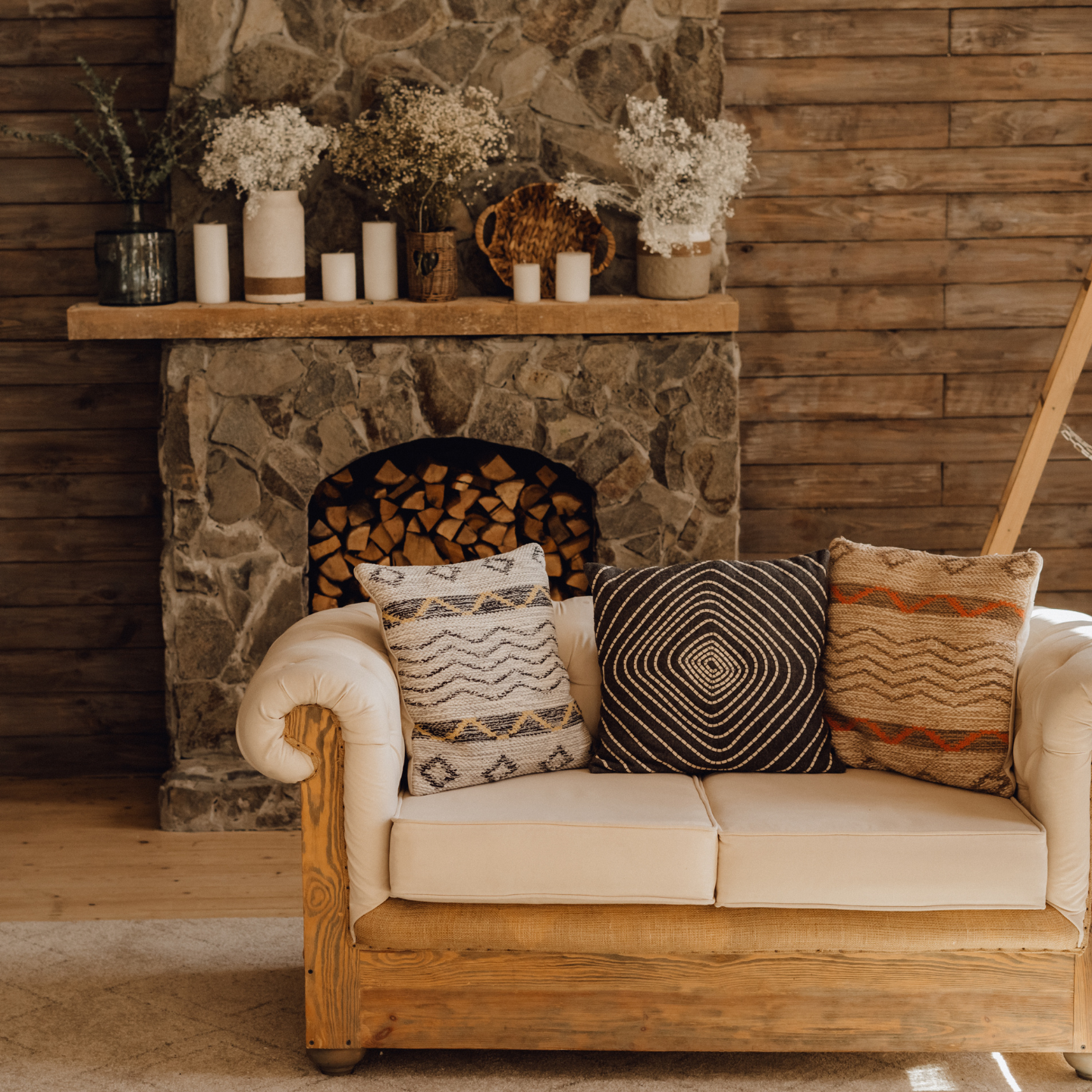 Cabin Decor Ideas: Rustic, Lodge & Mountain Decor
If you're having trouble figuring out how you want your cabin to look, below are 3 popular styles. You can hone in on one of these styles to create a cohesive look for your cabin.
Rustic Decor
Some of the most popular examples of rustic decor:
Antique furniture
Farmhouse accents
Whitewashed wood accessories
About Rustic Decor
Earthy-looking rustic cabin décor continues to be extremely popular. Creamy white-toned colors will go with all your furniture and accessories. Distressed, whitewashed, or antiqued furniture adds an air of authenticity.
Furniture that incorporates both wood and metal is also very striking. Natural greenery, such as fragrant evergreen branches, makes an ideal organic accent.
Lodge Decor
Some of the most popular examples of lodge decor:
Solid wood furniture
Rich colors
Wildlife themed accessories 
About Lodge Decor
If you've ever spent time in a cozy mountain lodge, it was probably furnished in classic lodge decor. A lodge's color scheme tends to include dark green, rich burgundy, and cool cream shades. Solid wood furniture is a lodge decor mainstay. 
Patterned textiles might include a patchwork quilt and throw pillows on the sofa. Accent pieces such as deer antler lamps, bear motif figurines, and other wildlife-themed pieces are common features of lodge decor.
Mountain Decor
Some of the most popular examples of mountain decor:
Neutral tones (like greys, tans, creamy whites) 
Cozy textures
Informal 
About Mountain Decor
Well-coordinated mountain decor has a cozy appearance and an informal feel. Neutral tones such as grays, tans, and creamy whites work well as background colors.
Velvet or chenille throw pillows, and other textile accents, provide splashes of color. Table lamps feature warm-toned bulbs and natural fabric shades.
Cabin Decor Tips: How to Decorate Your Cabin
Create a Focal Point
In the great room (or living room), create a gathering spot by placing an area rug near the fireplace. Arrange a comfortable seating group around the rug, making the area both functional and welcoming. Add a sturdy wooden coffee table, plus a matching end table or two, to complete the look.
With Cabin Decor, Less is More 
It can be tempting when first decorating your cabin to want to decorate every inch and every corner. Instead, it's also OK to decorate over time, adding things as you find them and simplifying your style.
With less decor, what you DO have is more likely to stand out. You'll have less clutter, less decor to dust & clean, and the pieces that you add will be more meaningful.
Where to Find Cabin Décor
1. In person: local furniture stores, thrift shops, mountain town boutiques
To locate quality cabin décor, visit furniture stores and upscale thrift stores in mountain towns. Some big box stores may carry a limited cabin décor selection. Specialty cabin décor shops often thrive in higher-end mountain vacation destinations.
2. Online: options for every budget
There are plenty of places to find cabin decor online for every budget and style. Here's the 8 Most Popular Places to Shop Cabin Decor Online as a roundup of the best options to start shopping.
More Cabin Decor Ideas
Looking for more cabin decor ideas? Check out our series of blog post on cabin decor: Click Here.