Thinking of buying a log cabin? This post will walk through 5 things that you need to think about before you start your search.
From maintenance needs to insurance and pest control, we'll break down some of the most common areas where potential log home buyers have questions.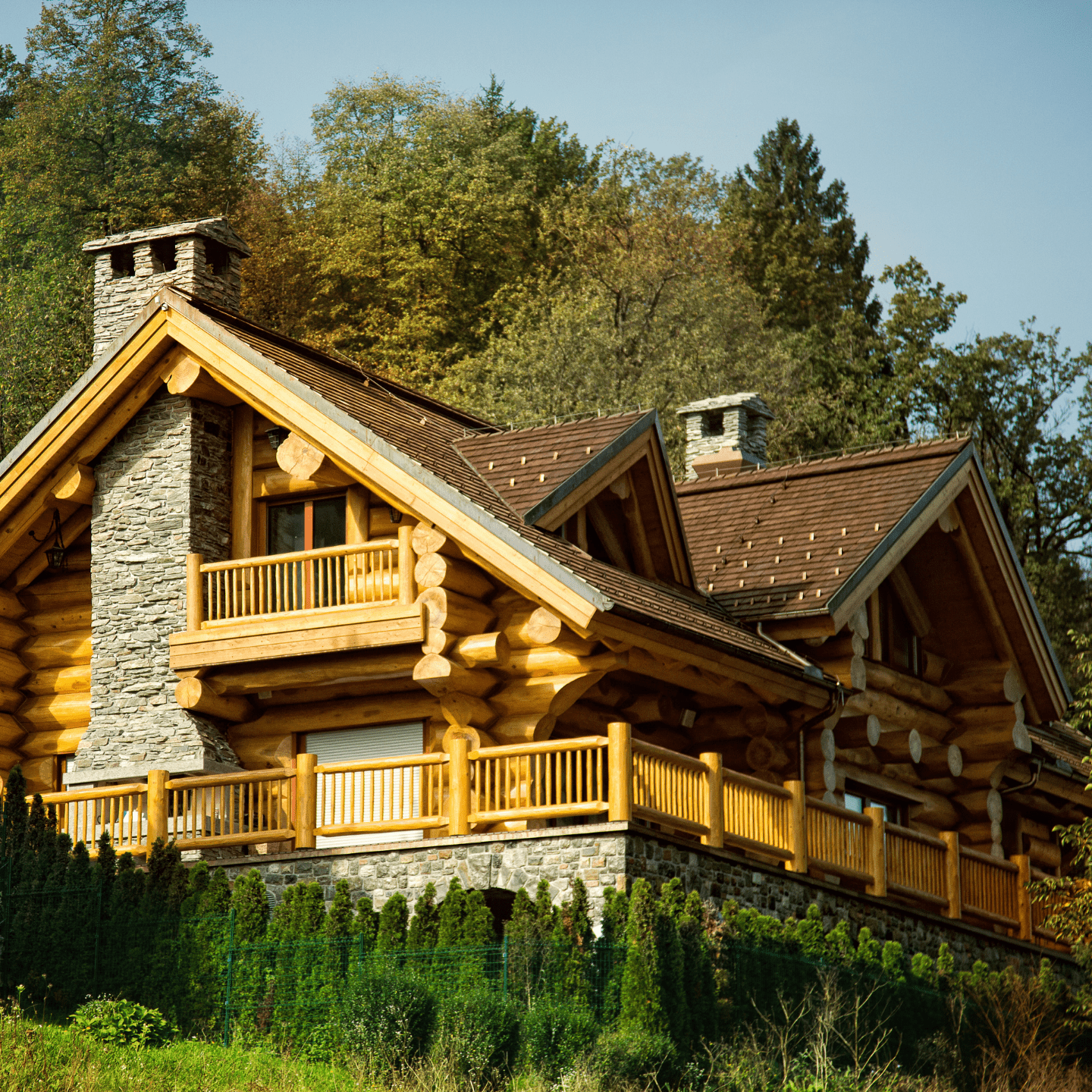 This post covers lots of information from the beginning to end process of buying a log cabin. Take notes or bookmark it for later — even if it isn't all applicable to where you're at right now, it can serve as a reference point and list of questions to ask as you search for your future cabin.
Soon you'll be sipping cocoa by a fire in your dream cabin, and you'll be glad that you knew about these topics before you bought your home!
Here's what to know before buying a log cabin:
1. A Log Cabin-Savvy Home Inspector is Like Gold
Hire a home inspector who has proven log cabin expertise. They're more likely to identify major issues such as rotted logs, compromised stain, interior wall leaks, and substandard flashing.
A log cabin-friendly inspector may find other troublesome problems. By catching these issues early, they're less likely to require expensive fixes.
2. Obtaining Insurance Might be Difficult
In some cases, buying log home insurance might be a little more challenging than for a traditional home. Log homes have unique challenges when it comes to insurance. Things like different materials, pest control, and remote locations can factor into the need for a specific type of insurance.
Where to Find Log Cabin Insurance
While several large insurance companies will cover log homes, they often have specialized plans. Once you find your potential cabin, research the policies of both large insurance companies (like Geico, All State, State Farm) to see if they cover log homes in your area as well as smaller, more specialized firms.
3. Log Cabins Maintenance Needs
Log cabins have different maintenance needs than traditional homes. While they don't necessarily need more maintenance, they will need upkeep.
You'll want to familiarize yourself with the routine care that log homes need through online resources (we have many here: Cabin Resources) and books (like Log Home Maintenance — this one is a must-read)! 
Typical Log Cabin Maintenance
A few examples of routine maintenance on your log home are:
Regularly search for (and replace) dried-out or missing caulking between the logs and around the windows.
Re-stain your logs every few years (may need to happen as often as every 2 years).
Look for (and repair) roof leaks, as that can increase moisture in the framework and result in rotting logs. Keep the gutters free of leaves so the rain flows away from the cabin.
4. Regular Anti-Insect Treatments Are Necessary
This topic is good to be aware of so that it's not a surprise: bugs and pests love log cabins! While it's rare to have a major issue, it's a good idea to to regularly inspect and treat your home for insects.
Insects to Watch Out For
There are insects like carpenter bees and ants as well as termites that are particularly destructive to log homes. If you have signs of these insects or high numbers of any other, call a professional to treat them and advise on how to keep them away.
Pests to Watch Out For
Other pests to keep an eye out for are mice, squirrels, and racoons, who can cause damage or be attracted to areas like wood piles, attics, and chimneys. Woodpeckers can also be destructive and are attracted by insects like bees.
5. Prepare for Difficult Home Access and Egress
If you've been searching for a log cabin with a stunning mountain view, realize there can be downsides to that spectacular vista. Without four-wheel drive, you may find it difficult to navigate the curves and switchbacks to or from your home.
Or in the winter, a steep asphalt driveway can become an impassable skating rink. You may need to park at ground level and haul your groceries up the mountain to your home.
The Takeaway: Think About winter
As you search for cabins, keep in mind what access will look like in the winter. There's usually a simple solution, but it's important to make sure that it's one you're comfortable with.
What's Next? More Resources for buying a log cabin:
Once you've thought through these topics, check out our cabin resources section for more real-life cabin resources and important information to know about cabin living!