It's time to get festive with this family-friendly, super fun, visually striking fruit trifle recipe for 4th of July! I love the outdoorsy vibe of camping out by the grill and snacking all day long. Talking about snacking, my cowboy caviar recipe paired with some tortilla chips is perfect for summer snacking! Followed then by a bonfire and fireworks in the backyard. So, my daughter wanted to know if we could have special fireworks treat this year! Behold – my take on an English classic! (That I had only seen on The Great British Baking Show but had never gotten to try).
You Don't Necessarily Need a Fruit Trifle Dish
Honestly, a factor that held me back from trying out a fruit trifle before was simple. I don't own a trifle dish. This can be easily remedied by checking out this beauty on Amazon. Or this very upscale trifle dish if you want to seriously impress.
I have kids and limited kitchen space, so I really think about what I can do with any item before adding it to my kitchen. For a trifle dish, you can use it as an everyday fruit bowl for your apples and oranges. Even make it a sweet stand, or make it your go-to salad bowl when you aren't layering your fruit trifle.
I knew for sure I would love fruit trifle. I mean, what's not to love? It's fresh fruit, homemade whipped cream, cake, and custard, and all layered enticingly. That inspired me to make this easy-to-assemble fruit trifle with my family. Your kids will be proud to show off at the barbeque spread!
I used a simple Pyrex baking dish (get a whole set here)  that I have on hand for all kinds of baking and cooking. I find this to be another versatile way of using it. You will definitely get more layers in a traditional trifle dish. But, you can still make a festive design, either way, to celebrate the holiday – fruit trifle style.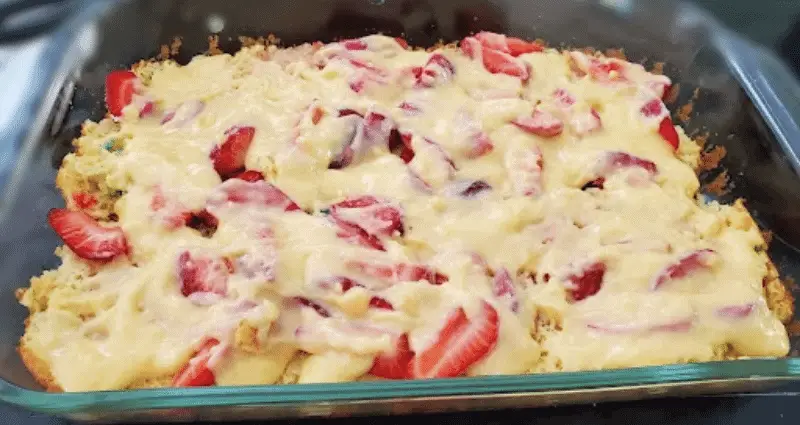 What makes fruit trifle so kid-friendly?
Fruit trifle can get messy! You are dealing with making layers with cake. Ideally a sponge cake-like pound cake or Angel food cake – while plopping and spreading custard, whipped cream, and fruit in between! Assembly foods are some of the easiest to make with a young chef because they aren't around anything too hot, enjoy the stand mixer, and get huge feelings of accomplishment. Whether a grandchild, neighbor, or children, I highly recommend making your Fireworks Fruit Trifle with a friend. Remember: there is nothing that extra whipped cream and berries can't fix.
Steps & Shortcuts:
Fruit trifle can be as made from scratch (or box) as you want it to be. Like I said before, this is an assembly dessert, so pick the speed that gets you to the potluck on time! The key components are:
Cake. I use a Funfetti cake mix with an extra egg to get closer to a pound cake, putting some FIREWORKS on display. You can use a white cake box or pound cake.
Custard. If you are a baker and can whip up a mean custard from lots of egg yolks, sugar, and magic, make your own! I took a shortcut on this one with Bird's Custard Mix and also used Vanilla Jell-O as a shortcut.
Whipped Cream. I have become a sucker for the homemade stuff now that heavy whipping cream is a standard item in my fridge, but two packages of Cool Whip are a sublime substitute!
Fruit! You can't have a fruit trifle without the fruit! I even macerated some of the strawberries to make a surprise strawberry syrupy layer here. Use your favorites, and feel free to up the berry count with blackberries and raspberries.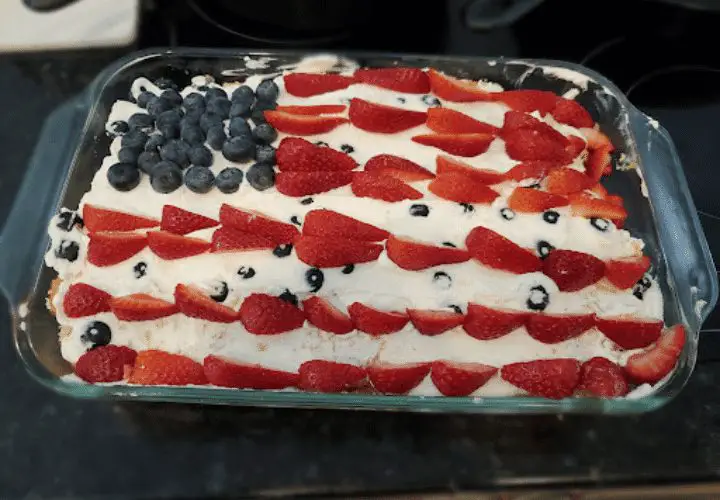 Definite Must Know Final Tip:
You want a cake that can soak in that moisture. Therefore, you want to time when you put all these layers together and use more of the custard and whipped cream than you might think if you lean on the conservative side with those like my mother. Otherwise, it will be more like a layered cake than a proper fruit trifle.
So, if you are making your own cake, make it with plenty of time to cool down before getting or preparing the custard and whipped cream. Other than prepping the fruit, you want everything ready to layer close to serving time.
If this is for a barbeque you are traveling to, do not worry! Just use some heavy dollops of whipped cream and ask for some fridge space when you arrive, and the fruit trifle will taste cool and refreshing.
Now, here are the steps to make your own super fun Fireworks Fruit Trifle American Flag showpiece for this 4th of July!
Print
Festive Fruit Trifle Recipe (For 4th of July)
---
Ingredients:
For the Cake:
1

box of funfetti or white cake mix

4

eggs with yolks

2 tbsp

of Birds Custard Mix

1 cup

of milk

⅓ cup

of vegetable oil

2

capfuls of vanilla extract
For the Custard:
2 tbsp

of Birds Custard Mix

3 tbsp

of sugar

2 cups

of whole milk
For the Whipped Cream:
4 cups

of heavy whipping cream

1 cup

of sugar

3

capfuls of vanilla extract
For the Fruit:
1

16 oz box of strawberries

1/3 cup

of sugar

3 tbsp

of water

1

8 oz box of blueberries
Blackberries and raspberries optional
---
Instructions
Step 1:
Pre-heat the oven to 350 degrees.
Step 2:
Using a stand mixer, mix all of the wet ingredients for the cake (eggs, milk, oil, and vanilla).
Step 3:
Add the custard mix and Funfetti cake mix. Stir until creamy and smooth.
Step 4:
Pour cake batter into a rectangular greased Pyrex baking dish.
Step 5:
Bake cake for about 30 – 35 minutes. Allow to cool completely in the refrigerator or at room temp before assembly.
Step 6:
Slice strawberries into slivers. Put ⅔ of the strawberries in a mixing bowl with sugar and water. Stir and set aside. (This will make a strawberry syrup, aka macerated strawberries.) Set other strawberries aside for flag decoration.
Step 7:
Clean your stand mixer. Place mixing bowl in refrigerator or freezer for best results when making the whipped cream in the next step.
After the Cake is Cool –
Step 8:
Use a stand mixer to prepare your whipped cream by combining all of the ingredients (heavy whipping cream, sugar, and vanilla) and whisking on medium-high until stiff peaks form. Keep cool and set aside.
Step 9:
In a saucepan on the stove, combine all of the custard ingredients on a medium heat. Stir continuously on the stove (or the gelatin will become clumpy) until custard has achieved a slow boil (about 4 or 5 minutes).
Step 10:
Remove custard from heat.
Time to Assemble –
Step 11:
Carefully remove cake from baking dish, trying to limit breakages. Slice cake in half horizontally to make two cake layers.
Step 12:
Spread a thin, even layer of custard on the bottom of the Pyrex baking dish.
Step 13:
Place down one rectangular cake layer. Add ⅓ of the custard, ⅓ of the whipped cream, and all of the macerated strawberries with juice, spreading as evenly as possible.
Step 14:
Place the rest of the cake, the remaining custard, and the remaining whipped cream.
Step 15:
Decorate!
Happy eating and happy 4th of July!