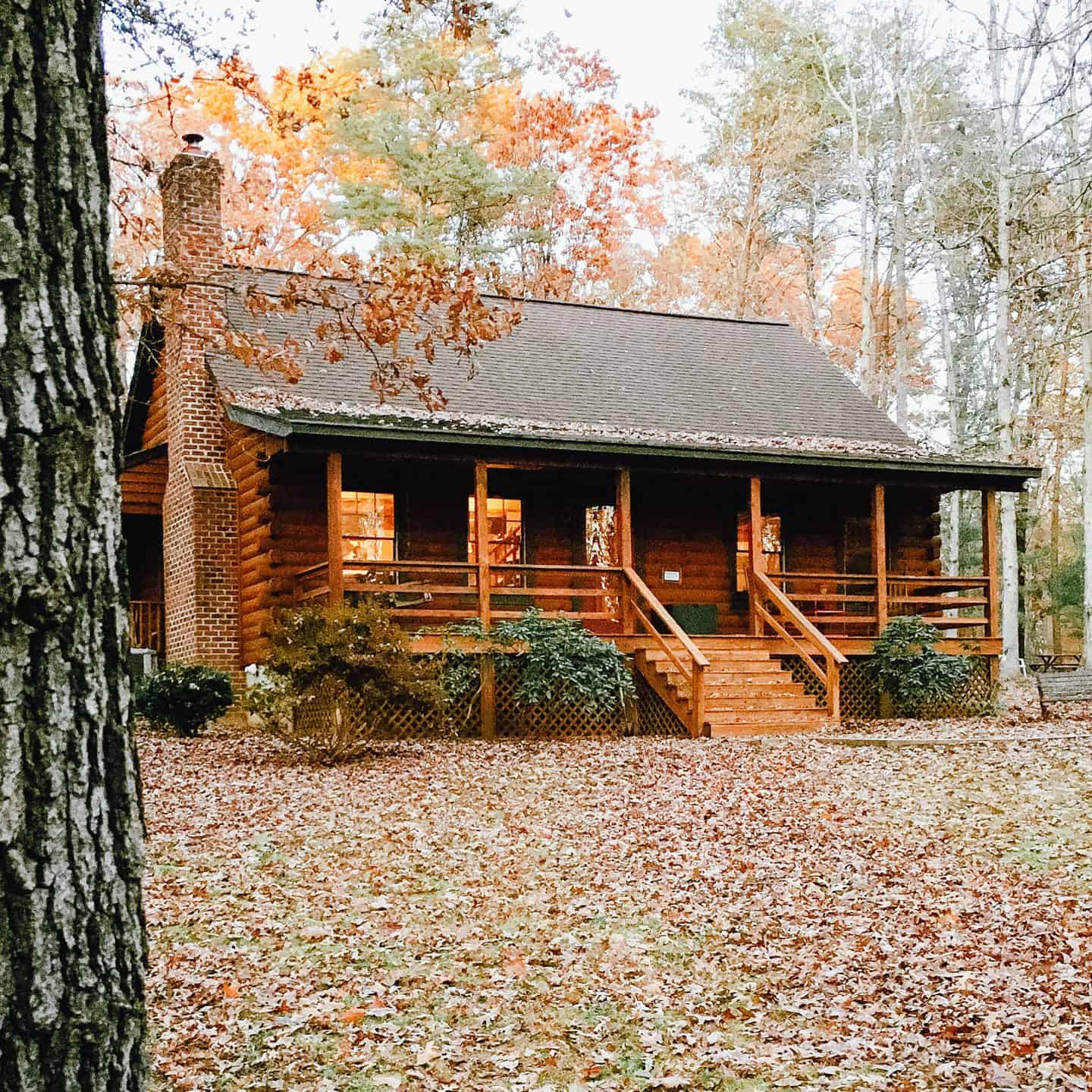 This is the story of how one family created their dream log home in rural Virginia.
They not only worked to create a beautiful home (inside & out) — but have made it an incredible haven: complete with bees, chickens, and plenty of space to make memories as they homeschool their 3 daughters.
1. Tell us a little bit about your cabin!
We live in a 2 bedroom log cabin built in 1987 located in 8 acres in rural Virginia. It has a loft overlooking the great room, with one bedroom upstairs and one on ground level, and a sunroom addition in the back.

2. What made you want to buy a cabin?
At the time we found this cabin, we lived in a subdivision with a tiny backyard, and in that backyard we had 2 beehives and 6 chickens! We knew we wanted to move away from the city and were hoping to find a house with 3-5 acres of land. Although this house was above our price range, we noticed it had been on the market for awhile, so we decided to make an offer. Our initial offer was rejected, but we later followed up with another offer.
To make a long story short, we ended up getting a good deal on the house when the appraisal came in well under our contracted price. Little did we expect to end up with a log house on 8 acres!
Ironically, though, before we married my husband had gone to a log-building school.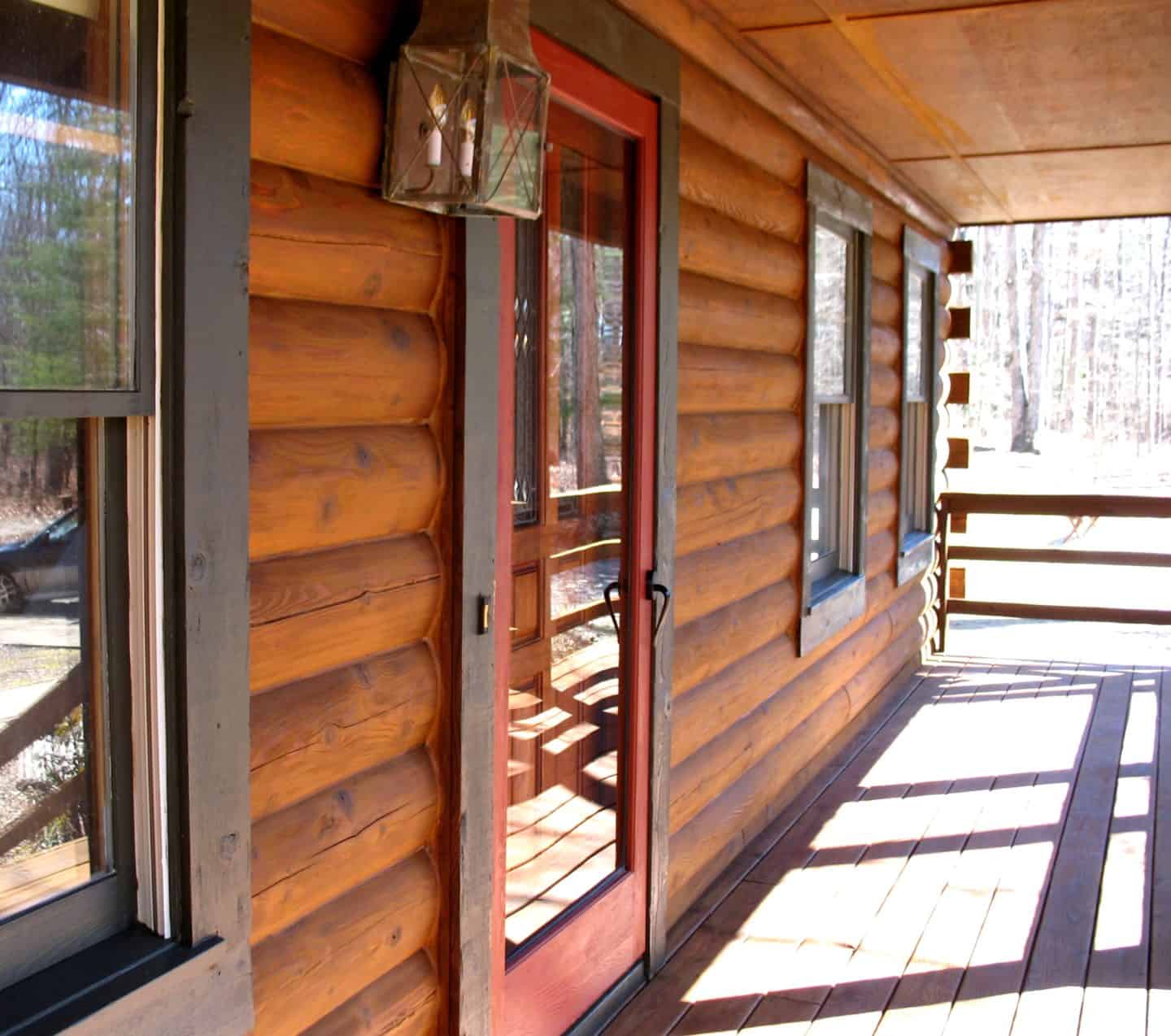 3. What are some of your favorite parts of living at your cabin?
I like the long front porch. The girls have a tradition of eating ice cream out there in warmer weather. We are surrounded by woods, and I love that my girls can go out and explore, and learn about native plants and wild animals.
We heat mainly with a woodstove, and my husband is able to harvest firewood from our own property. Fall and winter are probably my favorite times. Log cabins are made for winter! I love curling up by the woodstove under the glow of Christmas lights. So cozy!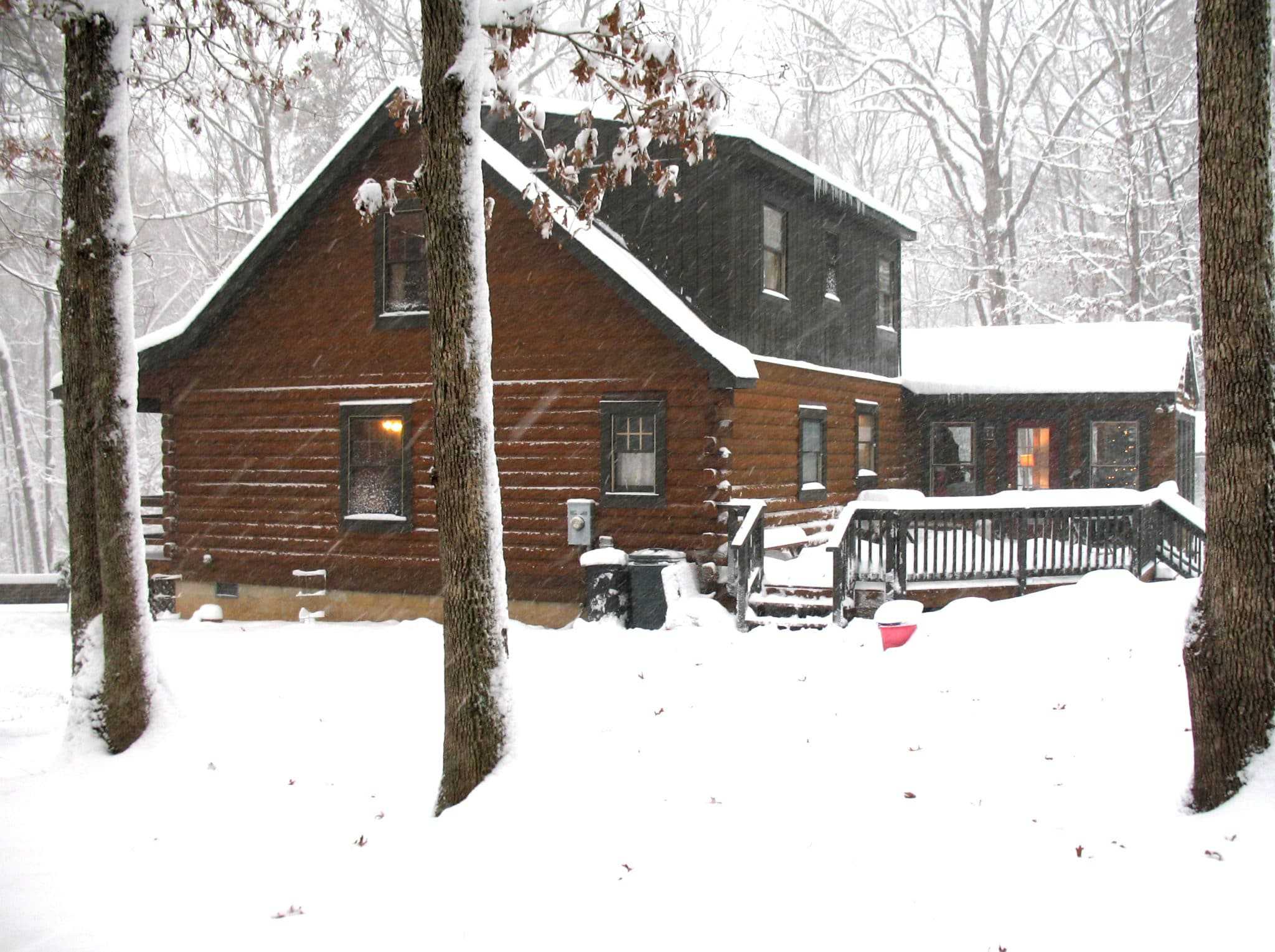 4. What has the renovation process been like? What are your goals for renovation in the future?
While our cabin was structurally sound when we bought it, the log exterior needed to be restored. We got quotes from a few companies and finally had the restoration completed last year (2018). The old finish was completely stripped off the exterior, the gaps were filled, and new stain was applied.
It's definitely an expensive undertaking, but logs have to be taken care of or they will rot. When the crew finished, it looked like a new house!
We have not done major renovations to the interior, mainly cosmetic projects like painting, replacing light fixtures, etc. One of our goals (as finances allow!) would be to add skylights in the great room to let in more natural light.

5. What has the experience been like adding bees & chickens to your home?
My husband is the beekeeper! He started with zero knowledge about keeping bees in 2015, and has educated himself by books, fellow beekeepers, online resources, and attending some area bee clubs. This summer we were blessed with about 100 lbs. of honey!
We started with 6 chickens in 2014, back at our former house. Only one of those original chickens, Matilda, is still alive today. Since then, other chickens have come and gone, and we now have 5. We love getting backyard eggs!
Not only have chickens proven to be low maintenance for us, but they also help by eating bugs and small snakes, and providing us with fertilizer for the garden. We also have a Great Pyrenees dog, Susie, who helps keep predators away.

6. The interior of your cabin is beautiful! Where do you find furniture/items to decorate?
We are a one-income family (I am a stay-at-home mom and homeschool our 3 girls), so I do a LOT of thrifting. In fact, most of our home furnishings have come from yard sales, Craigslist, and other secondhand sources. I have even gotten some free things from our county dump, believe it or not!
A sander and paint are some of my best friends! My husband also makes things for me, for example the large wood sign above the fireplace, the coffee table, and the pot rack hanging in the kitchen.

Follow along for more beautiful, inspiring cabin photos on Instagram: @simplevirginialife. I especially love how Amy shares moments of their everyday life at the cabin with plenty of animals, beautiful scenery, and homeschool rhythms!