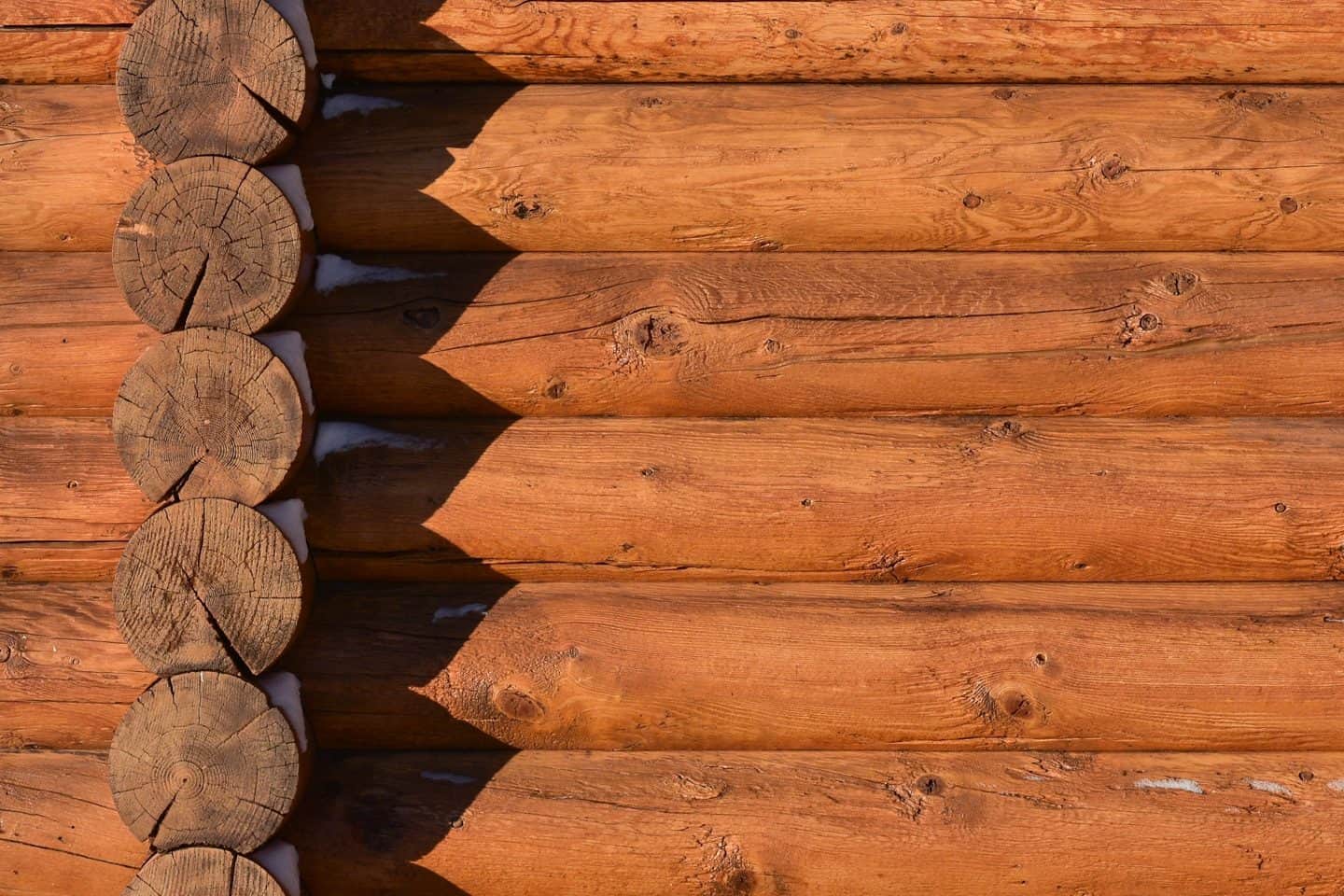 Your log home's stain is an important barrier that protects the logs from sunlight, dirt, and moisture. Choosing the right stain and applying it properly make all the difference in the longevity of your logs.

This Guide to Staining Your Log Home seeks to simplify the staining process. It covers questions like:

How do I stain a new log home?
What stain is best for my log home?
How do I prepare my home for staining?
How much stain do I need?
How often do I need to re-stain?
From start to finish, this guide will walk you through each part of the staining process. There's also links to helpful resources and recommended products.
How to Choose The Right Stain for Your Home
Choosing the right stain for your home is one of the most fun – and also one of the most stressful – parts of the staining process.

Let's look at the most important factors to consider:

Interior vs. Exterior Stain
Some stains are designed for the exterior of a home and others are for the interior. Exterior stains usually have UV protection built in. Make sure to choose the correct category when you are shopping for stains.

Oil vs. Water Based Stains
There's 2 primary bases that are used for stains. Each is a little different in application and appearance:

Oil Based Stains:
These bring out the grain of the wood and have a more natural appearance. The soak into the wood rather than sitting on top of it. Oil based stains can be messy to apply, but they look beautiful and have long durability.

Recommended Oil Based Stain: Sahsco's Transformation Stain. (This is an oil based stain that soaks into the wood on the first coat and then on the second coat sits on the wood and has a glossy appearance.)  
Water Based Stains:
These stains have good durability and are relatively easy to maintain. If you are re-staining your home and want to use a water-based stain, it's recommended to only use it over a previous coat of water-based stain.

Recommended Water Based Stain: Sashco's Capture Log Stain
Hybrid Oil-Water Stains:

It's worth noting that some stains have both oil and water properties. These often have resins (like oil-based stains) but can be cleaned up with soap and water. 

Recommended Hybrid Stain: Transformation Siding & Trim. (This soaks into the wood and leaves a more matte, natural finish).

Color
There's a few things to keep in mind when choosing a color for your stain:

Choose a stain color that you'll love for years to come. Changing a stain color is more difficult than changing a paint color!
Stain gets darker with each coat that you add. Choose a stain that's lighter than what you have in mind because it will darken after 1 – 2 coats. 
If you are re-staining logs that have previously been stained a dark color it will be harder to make a new coat look evenly brushed if it's a lighter stain.
Test out a sample area before you commit to a stain color. Stain looks different on different types of wood and won't exactly match a printed swatch or online photo.  
Ready to shop for your stain? Here's a full list of the stains we recommend.
Log Home Stain Calculator
When it comes to buying stain, determining how many gallons you need is tricky. Here's a handy calculator that will tell you exactly how much stain you need for 1, 2, or 3 coats:

Bookmark this stain calculator because you'll want to use it as a reference! This will save you buying too much or too little stain.
Preparing to Stain Your Log Home
The preparation for staining your home is just as important as actually staining it. Proper preparation makes sure that your stain protects your logs and lasts as long as possible.

Don't skip these steps:

Dry Your Wood
Before you apply your stain, make sure that your logs are dry. Moisture levels for applying stain should be below 18 percent so that the stain adheres properly.

Clean Your Wood
Dirt, dust, or pollen on logs can create issues when stain is applied on top of it. Make sure that your logs are clean by washing them first (you can use a pressure washer). And then don't forget to let them dry fully before staining.

Check The Weather
The ideal temperature for staining is between 50 – 90 degrees on days that aren't too wet or humid. For a full list of stains and correct application temperatures, click here.

It's also better to avoid staining in direct sunlight – this can cause the stain to look blotchy.
How to Stain Your Log Home
Now comes the exciting part: staining your home.
Step 1: Test The Stain in an Inconspicuous Area
Start by testing your stain in an area that's out of the way to make sure you get a feel for how it goes on and looks. Practice applying the stain a couple of times before you start on your main logs.

Step 2: Apply Your First Coat of Stain
Next, apply your stain following these best practices:
If indoors, make sure you have proper ventilation
Read and follow the manufacturer's instructions carefully
Stain one wall at a time, working horizontally
Apply stain with a heavy hand, back brushing strongly to make sure it goes on evenly
Brush stain to create an even look and prevent it from pooling in cracks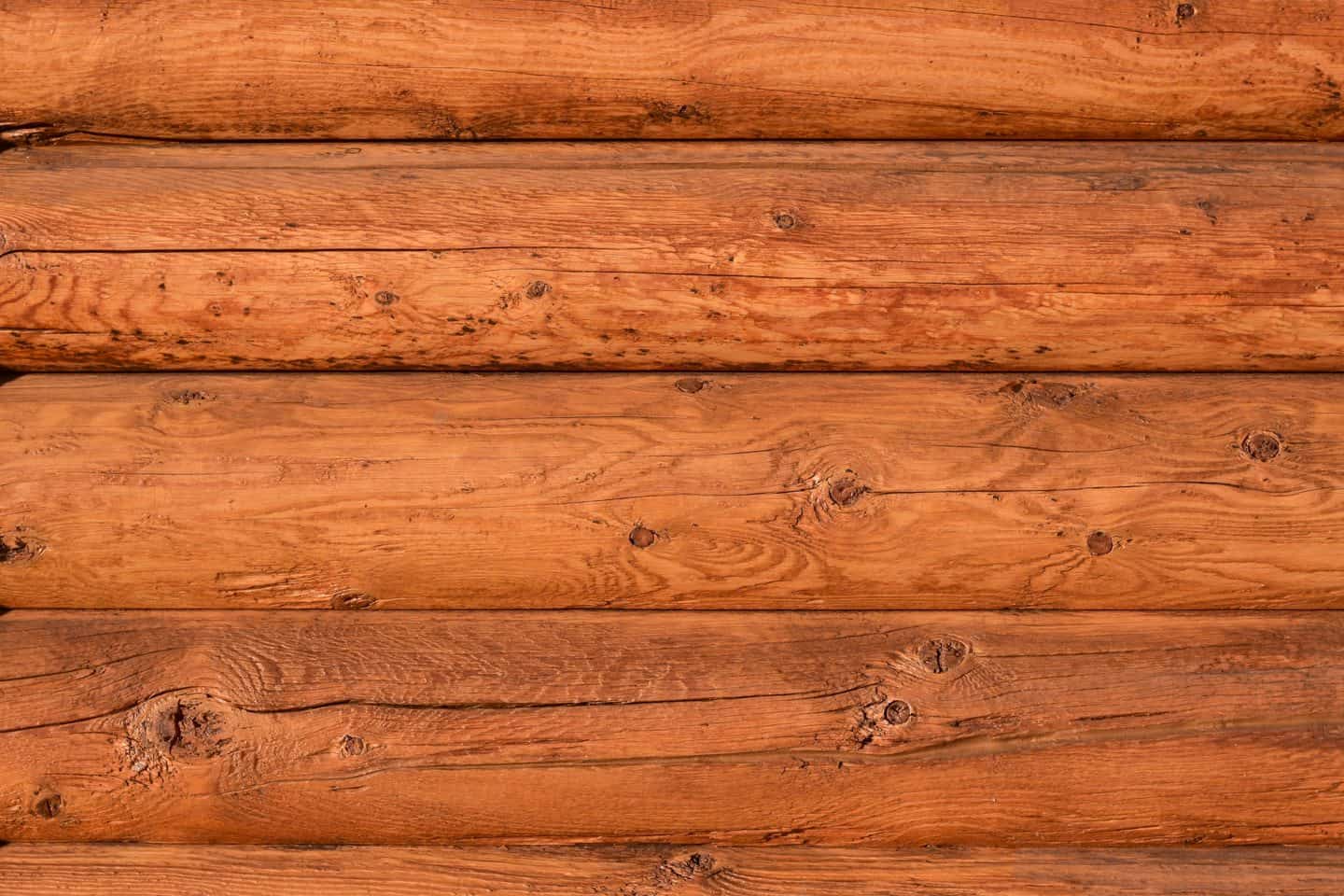 Step 3: Apply Your Remaining Coats of Stain
Apply 1 or 2 more coats of stain, allowing 24 hours of drying time in between each coat. For each coat, continue to back brush the stain to create a consistent look. Applying at least 2 coats of stain is recommended for longevity.

Step 4: Applying a Topcoat
A topcoat can be a great investment because it lengthens the life of your stain. Topcoats are clear or colored. When looking for a topcoat, choose one that boasts the ability to block UV rays.

Some manufacturers will specifically recommend a topcoat to go with your stain. A good example of this is using the recommended Sashco Capture Log Stain with a clear topcoat of Sashco Cascade. Cascade helps block UV rays, prevent mildew, and adds a long-lasting sheen to the logs.

Stain Maintenance
Most stains will need to be touched up after 2 years. A gentle power wash and re-stain is recommended every 2 – 5 years.
Still have questions about how to stain your home? Leave a comment below or get in touch with the stain experts over at Schroeder Log Home Supply: www.loghelp.com.

ABOUT SCHROEDER LOG HOME SUPPLY
This post is sponsored by Schroderer Log Home Supply.

Schroeder Log Home Supply has been serving homeowners for over 3 decades. They do more than offer the best products — they have the expertise and support to help you make the best choices for your log home. They believe that log homes leave a legacy, and their products help you take care of yours.