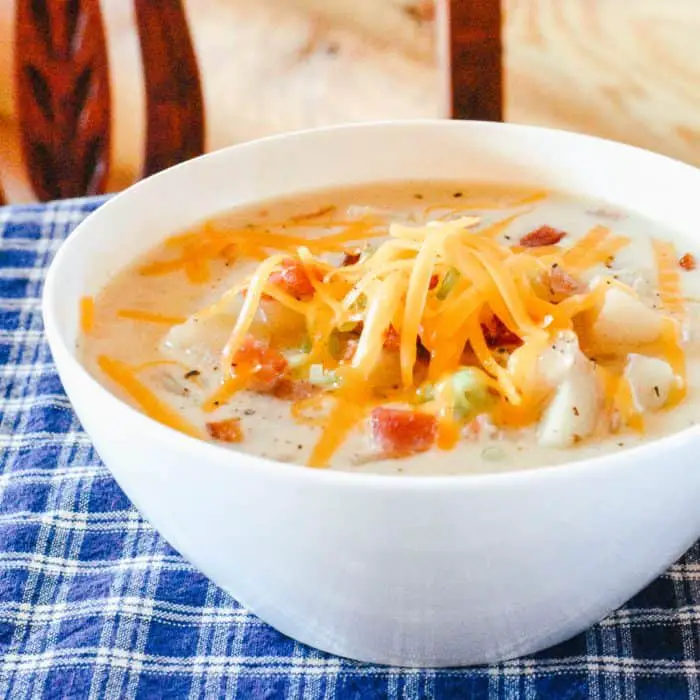 Loaded crockpot potato soup with bacon is the ultimate comfort food: it's perfectly satisfying and full of flavor. This recipe is easy to prepare and can be done in only 5 hours with your crockpot on high.
This recipe will also make enough to feed a group! Or if you're cooking for yourself, you'll have plenty of leftovers.
The best part of this recipe is that it uses red potatoes. Of all the potato soups I've tried (and I love potato soup), the red potatoes add an extra tasty element. Combined with the other flavors of the soup, and topped with more bacon, cheese, and green onions – this is the ultimate loaded potato soup.
Fire up your crockpot, and here's how to get started!
Time to cook: 
Prep time: 15 minutes
Cook time: 5 – 6 hours on high, 7 – 9 hours on low
Ingredients: 
10 red potatoes
1 small red onion
2 cloves garlic
5 slices bacon
3 tablespoons flour
2 chicken bouillon cubes
1 tablespoon ranch dressing mix
1 teaspoon salt
1/2 teaspoon black pepper
1/4 teaspoon thyme
3 cups water
1 cup half and half
Cheddar cheese + green onion for toppings
Loaded Crockpot Potato Soup with Bacon – Instructions: 
1. Cook 5 slices of bacon in the oven, save 1 to chop up and use as topping on the finished soup.
2. Cube the red potatoes. Place them in the bottom of your slow cooker. Sprinkle the 3 TBS flour over them and toss to coat.
3. Add to the slow cooker: chopped bacon, red onion, garlic, ranch 1 TBS dressing mix, salt, pepper, thyme.
4. Pour water into slow cooker.
5. Cook on low for 7 – 9 hours, or cook on high for 5 – 6 hours.
6. Add half and half to the soup, cook for 15 more minutes.
7. Top with cheddar cheese, green onions, and bacon and enjoy!
Loaded crockpot potato soup with bacon is a staple of ours, especially during fall & winter! Other favorites include Spicy Crockpot Chili & Easy Crockpot Beef Stew.
What are some of your go-to crock pot recipes? Drop a comment below to share!