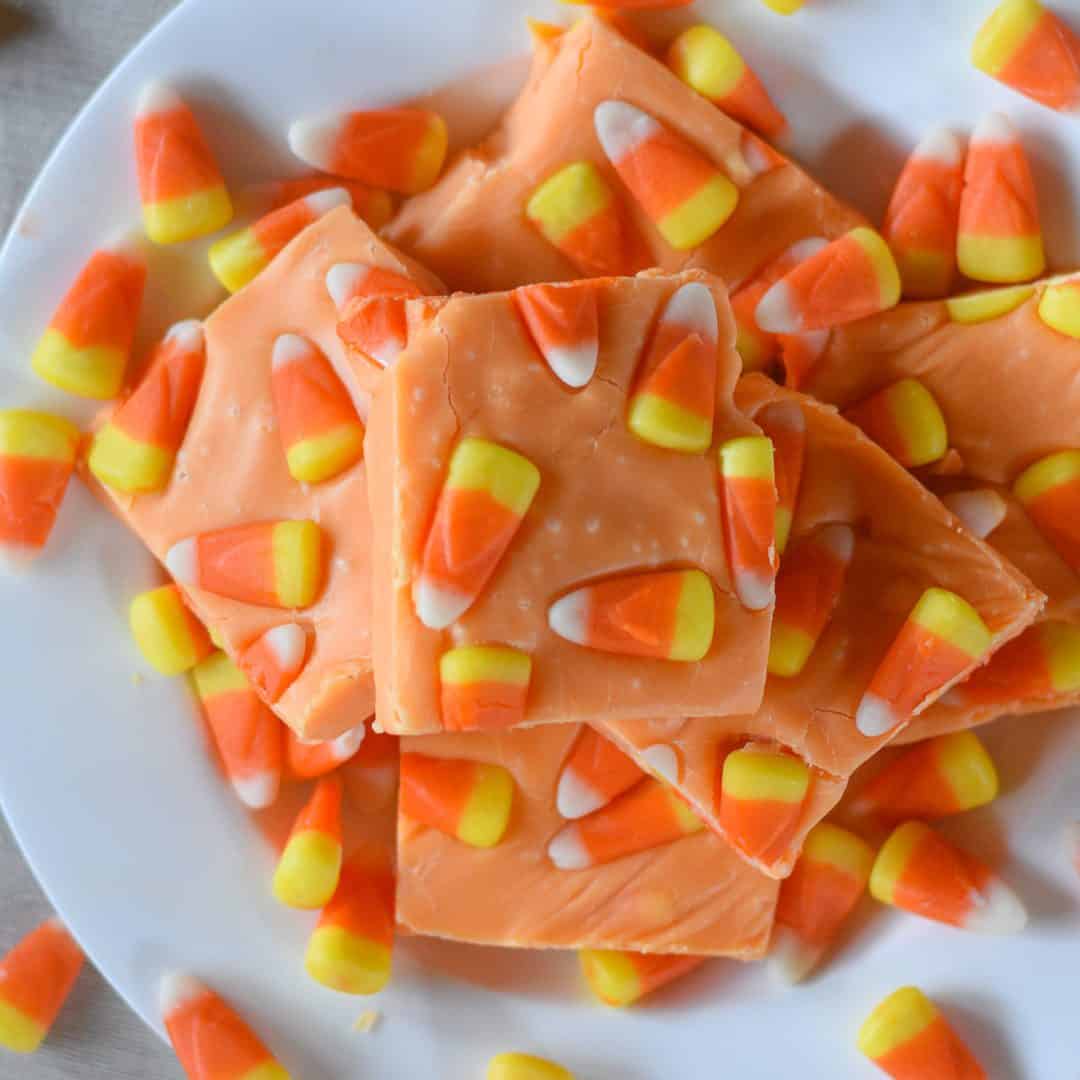 Fudge is my new go-to dessert for all occasions. Why? Because it's easy, delicious, and you can make it colorful/festive/decorative…
Basically… it's FUN 🙂
It's fun to bake, decorate and eat. And all you need is a basic fudge recipe that you can alter for each holiday. This recipe take my basic fudge recipe, adds some vanilla for flavor plus the candy canes.
This is actually the same recipe as my Peppermint Fudge for Christmas, minus all the peppermint!
How to Make Easy Candy Corn Fudge
Fudge is also super simple to make. This easy candy corn fudge recipe has only 5 ingredients and you don't need your oven. You'll put the ingredients in a bowl and mix them by microwaving for 30 seconds at a time.
It's worth noting that fudge is also a perfect holiday treat because you can make it ahead. In fact, you have to make it ahead. Fudge has to chill for 4 hours, and preferably overnight.
This fudge has candy corn inside of the fudge AND on top. It's just the right amount for some added texture but not an overload of candy corn flavor.
Easy Candy Corn Fudge
A simple recipe for cute orange candy corn fudge. Just the right amount of spooky for a Halloween treat.
Ingredients
1 1/2

cups

candy corn

14

oz

sweetened condensed milk

3

cups

white baking chips

1/2

tsp

vanilla

1/4 cup

butter

3 – 5

drops

yellow food coloring

1 – 2

drops

orange food coloring
Instructions
Line an 8 or 9 inch square baking pan with aluminum foil. Wrap the foil all the way over the edges of the pan.

Spray with no-stick cooking spray.

In a medium sized mixing bowl, combine white baking chips, sweetened condensed milk & butter.

Microwave mixture for 1 minute and then stir. Microwave again for 30 seconds in between, stirring after each time, until mixture is melted & combined.

Remove mix from microwave. Add food coloring & vanilla extract. Stir until combined & creamy.

Stir in about 1 cup of candy corn.

Pour mixture into baking pan & distribute evenly. 

Layer about 1/4 cup of candy corn on top.

Cover & refrigerate for a minimum of 4 hours. 

Once ready, lift fudge out of baking pan by lifting the edges of aluminum foil. Slice into squares & enjoy!
For more fun & themed recipes like this one, follow along on Pinterest: